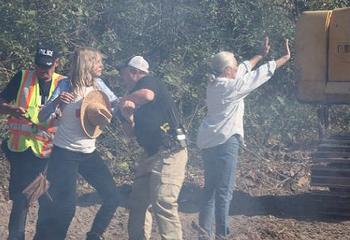 WINNSBORO, Texas, October 5, 2012 (ENS) – Eleanor Fairchild, 78, was arrested Thursday for trespassing on her own ranch as she tried to halt construction of TransCanada's Keystone XL pipeline. The pipeline is being built by the Canadian company to carry diluted bitumen from the Alberta tar sands to refineries on the Gulf of Mexico.
Actress and activist Daryl Hannah was also arrested as the two women stood in front of an excavator sent by TransCanada to clear trees along the pipeline route bisecting the east Texas ranch.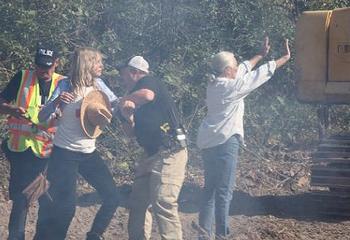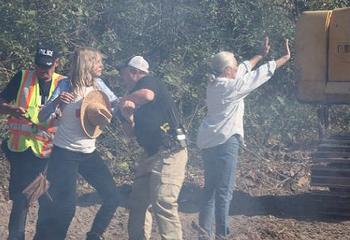 Early this morning, both Fairchild and Hannah were released from the Wood County jail in Quitman, Texas. They were both charged with criminal trespass; Hannah was additionally charged with resisting arrest.
Today both women are in Dallas appearing on TV news broadcasts.
TransCanada's construction crews worked through the night to bulldoze and burn piles of trees on Fairchild's 300 acre ranch.
Fairchild and her husband bought the land near Winnsboro when her husband retired as an oil industry geologist. The Keystone XL pipeline will permanently bisect the 300 acre ranch, which includes undeveloped wetland areas and natural springs producing over 400 gallons of fresh water per minute from her property.
Fairchild has been opposed to the pipeline since she was first informed that the route would cross her land years ago.
She has never signed a contract with the Canadian pipeline company, which expropriated her ranch through Texas eminent domain legal proceedings. She turned down the one-time settlement offered by the company.
TransCanada is currently facing several lawsuits from landowners challenging the legality of the company's use of eminent domain to take land for the tar sands pipeline project.
Some property owners who initially signed contracts but who have since come to oppose the project have been silenced through legal threats.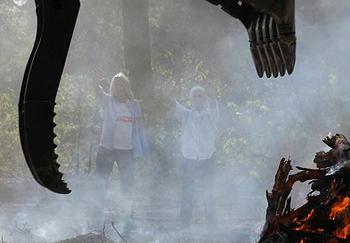 Fairchild, however, is not among them. She participated in last year's Tar Sands Action protests at the White House, which resulted in 1,253 arrests during the two week long civil disobedience.
Unwilling to take further action since then, Fairchild was inspired by the current Tar Sands Blockade tree sit to stop TransCanada land clearing on a property about five miles away.
"We're all neighbors here and everyone knows everyone's business, really, so I knew the group was up to something at the tree blockade, but hearing about the young girl, Maggie, on the 40-foot tall pole all alone the other day, I knew I had to do something myself," Fairchild said.
"I can't climb a pole like her, but if I can raise hell by sitting down, I'm going to!" she said. "What this foreign corporation's doing just isn't right."
"Tar sands is the dirtiest fuel on the planet, and I want the world to know that Texans do not want this pipeline forced through their homes," Fairchild said. "From the White House to my house, I don't want this pipe threatening anyone's house anywhere in the world!"
"I couldn't be prouder to take a stand with my new inspiration, Eleanor," said Hannah.
"We're rising up to defend homes here and now," Hannah said, "because if a multinational corporation like TransCanada can come in and steal private property from Texans, then they'll do it to anyone."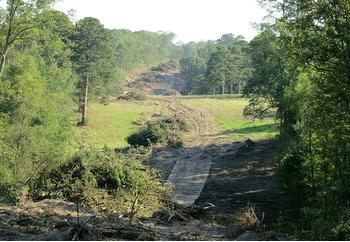 At the Tar Sands Blockade tree sit, spokesman Ron Seifert says TransCanada, "has increased the amount of oppression" by hiring the Wood County Sheriff to place armed private security personnel in the woods around the trees the demonstrators have occupied since September 24.
The company has positioned three sets of generator-powered floodlights to expose the demonstrators to intense noise and light 24 hours a day.
"The company pretends to be concerned about safety of the protesters," said Seifert, "but they putting the demonstrators at risk of psychological trauma. They are intentionally putting these protesters in a sleep-deprived state."
Between seven and nine people are on several tree-sit platforms in the path of the TransCanada pipeline route. They have built a 110-foot long blockade of trees lashed together with rope, with a catwalk atop it, that runs the northern length of TransCanada's original easement.
"There is no way to get onto that property without going through that wall," Seifert said.
A banner the size of an airline hanger flies from the catwalk proclaiming, "Rise up and defend your home!"
"The blockade is humbled by the efforts of Fairchild and Hannah," Seifert said. "We've been calling out to east Texans to defend their property. Fairchild and Hannah are acting in solidarity with our blockade, and the message is getting out there. People are getting the message they can rise up, they don't have to let a multi-national company destroy their lives."
Copyright Environment News Service (ENS) 2012. All rights reserved.