Cyclone Yasi Slams Coastal Queensland
BRISBANE, Queensland, Australia, February 3, 2011 (ENS) – Cyclone Yasi, a Category 5 storm packing winds of up to 285 kph (177 mph), roared across north Queensland Wednesday night, smashing buildings and infrastructure, and knocking out power in coastal towns and cities.
No fatalities have been reported, but a baby was born in an evacuation center in the coastal city of Cairns as the cyclone raged outside. Akiko Pruss went into labor while she and her family were taking refuge in state college building in Cairns. A British midwife on vacation in Cairns and sheltering in the same school delivered the baby.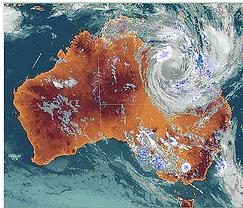 Map showing Cyclone Yasi over north Queensland (Map courtesy Australian Bureau of Meteorology)
Queensland Premier Anna Bligh said two more babies were born at Innisfail Hospital last night right in the midst of the storm.
The largest cities in the region, Cairns and Townsville, escaped major damage but up to 180,000 homes lost power and Townsville officials are worried about keeping water supplies flowing.
Tens of thousands of north Queensland residents could be without power or water for weeks, officials warned.
The Australian Bureau of Meteorology has issued a flash flood warning for a 400 km (250 mile) stretch of the Queensland coast from Mossman, north of Cairns, to Ayr, south of Townsville.
Hardest hit were the smaller towns of Mission Beach, Tully and Cardwell. Authorities evacuated the entire town of Cardwell before the cyclone struck, but a few residents refused to leave. They were trapped in buildings when a three meter (10 foot) storm surge inundated the lower floors.
Heavy rainfall continued today across north Queensland. The weather bureau says Cairns received more than 260 mm (10 inches) of rain since this morning and a similar amount is expected overnight.
Prime Minister Julia Gillard told reporters in Canberra today that the danger is continuing in the form of surging tides, downed power lines and flooding.
Around 50 percent of customers in the cyclone affected area are without electricity, according to the regional utility Ergon Energy.
Overall around 154,300 Ergon Energy customers in North Queensland are without power and this number could rise as the full extent of the damage is revealed in coming days, the company said in a statement.
In addition to "substantial damage" to the Ergon Energy network, there has also been damage to Powerlink Queensland's electricity transmission network, affecting electricity supply to the coastal communities of Mission Beach, Cardwell, Tully and Ingham.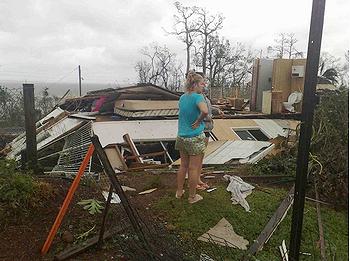 Cyclone Yasi smashed homes and downed power lines. (Photo by ABC Local)
Powerlink Queensland is the company responsible for the state's high voltage network and provides electricity to Ergon Energy to distribute to customers.
As the power restoration effort begins, Ergon Energy said many areas are still inaccessible to crews with roads blocked by fallen trees and braches.
Prime Minister Gillard announced that the Australian Government Disaster Relief Payment will be available to people in cyclone-affected areas. "This is the emergency money, $1,000 per adult and $400 per child, that can help people in circumstances where they've been evacuated, where their homes have been damaged," she said.
Premier Bligh said the Premier's Disaster Relief Fund, established to compensate victims of the December and January floods, will be extended to cover damage caused by Cyclone Yasi.
"The flooding disaster grew into something absolutely unprecedented in our state and now North Queensland has faced nature's fury," said the Premier. "The generosity of Australians to date has been incredible and we are going to need every ounce of their compassion to recover from what we have already faced and what now lies ahead."
Bligh said the fund now stands at $192,470,566 and called on Australians to dig deep again to help those in North Queensland.
The state government is encouraging people donating to the Premier's Disaster Relief Appeal to donate online or in person to free up call center staff and phone lines for emergency calls. Donations can be made on the Queensland Government website, wwww.qld.gov.au/floods. Prime Minister Gillard has already turned her mind to rebuilding the cyclone-struck and flood damaged areas of eastern Australia. "Right throughout these affected areas there is going to be a lot of damage and a lot of rebuilding to do," she said today. "I want to say to the people of Queensland and to the people of the nation generally that we will rebuild."
"We will rebuild from the floods. We will rebuild build from the cyclone. We will rebuild from anything that nature throws at us," said Gillard. "We will continue to work together and we will rebuild."
The rebuilding will take enormous amounts of money. The Gillard government has proposed to Parliament a A$5.6 billion flood recovery package that imposes a tax and cuts clean energy and other green programs to divert those funds into recovery.
Damages caused by Cyclone Yasi have added to the rebuilding costs.
"We will have to assess the damage from the cyclone and we will meet that damages bill from the federal budget," said the Prime Minister. "It will require cutbacks in other areas, there's no point sugar coating that, and I suspect when we make cutbacks in other areas to support the rebuilding, there will be people who aren't very happy about where the cutbacks are made, but we will rebuild from this cyclone and we will arrange the federal budget in order to do that."
Because Cyclone Yasi came ashore between the cities of Cairns and Townsville, it caused less damage than it might have. But Eqecat, a catastrophe-modeling firm used by the insurance industry, estimated today that economic losses resulting from the cyclone could range from A$2 billion to A$5 billion.
The Insurance Council of Australia said that, as of January 30, it received 38,460 claims worth A$1.51 billion from the Queensland floods.
Copyright Environment News Service (ENS) 2011. All rights reserved.
Environment News Service (ENS) © 2011 – 2012 All Rights Reserved.