Experts See 'Big Barriers' to Obama's One-Million EV Target
BLOOMINGTON, Indiana, February 4, 2011 (ENS) – An expert transportation panel doubts that the United States can hit President Barack Obama's target of putting one million electric vehicles on the road by 2015, but says the goal is achievable before the end of the decade.
In a report issued Wednesday by the school of Public and Environmental Affairs at Indiana University, the panel says automakers' production plans for electric vehicles are not sufficient to meet the 2015 target and consumer demand remains uncertain and likely too low.
"President Obama's dream is appealing and it may be achievable, but there are big barriers to overcome before the mass commercialization of electric vehicles will occur," said John Graham, dean of the School of Public and Environmental Affairs at Indiana University, which commissioned the study and convened the 13-member Transport Electrification Panel.
The year-long study, "Plug-In Electric Vehicles: A Practical Plan for Progress," is the first comprehensive evaluation of one of Obama's chief environmental campaign goals, its importance to the President underlined in his second State of the Union address on January 25.
The stakes are high, the expert panel says. "By reducing global dependence on petroleum, PEVs may help address some of the globe's most pressing risks: energy insecurity, environmental damages from oil spills, urban air pollution, and global climate change.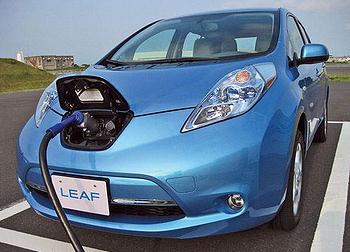 Nissan's plug-in electric LEAF (Photo by Los Angeles Auto Show)
If PEVs prove to be commercially viable and if U.S. companies and workers are leaders in this emerging industry, the economic payoff for the manufacturing sector of the U.S. economy, and the economy as a whole, could be enormous, the panel predicts. "If, instead, Asian and European firms dominate the emerging sector, the future of America's troubled manufacturing sector could become even bleaker."
The panel relied on input from the major automakers including Ford, GM, BMW, and Nissan, as well as the Center for Automotive Research, the International Council on Clean Transportation, and the Pew Center on Global Climate Change.
Panel chairman, former Ford Motor Co. executive Gurminder Bedi, said, "A successful national program for electric vehicles will require an unusual degree of cooperation between industry and government, and a clear focus on the needs and concerns of consumers."
Uncertainty about reliability and resale value, "range anxiety" plus a lack of consumer understanding of plug-in electric vehicles, contributes to a lack of demand, the panel said.
The high cost of plug-in electric vehicles and challenges related to recharging the vehicles pose "significant obstacles" to broader adoption and acceptance of this new technology.
Electric vehicles failed market tests in the past in part because many potential consumers experienced some degree of range anxiety. The report warns, "The nightmare of an exhausted battery and no nearby recharging station is readily compared to the convenience of today's gasoline refueling stations."
The report cautions against inflating the benefits of electric vehicles above their level of performance.
"Initial consumer experiences with PEVs – their real-world driving range, cost, safety, reliability, and ease of recharging and resale – will exert a significant influence over mainstream consumers' perceptions of PEVs. If customer expectations are inflated (by automakers, dealers, power companies, environmental groups and/or government officials) relative to what is actually experienced, the reputational damage to the technology could be significant and possibly irreparable."
Still, the report states, "A major experiment with plug-in electric vehicles (PEVs) is about to unfold around the world."
PEVs are coming to dealer showrooms this month. General Motors is offering the 2011 Chevrolet Volt, an EV with a supplemental gas engine; while Nissan is offering the all-electric 2011 LEAF. The Ford Focus electric is due for roll-out in 2012 and a Ford electric utility van is coming later this year.
In its recommendations, the panel says the federal government should create a national PEV demonstration program in up to 20 communities to familiarize consumers, utilities, municipal officials, dealers and manufacturers with plug-in hybrid electric and pure electric vehicles.
Additional cost-effective incentives to encourage more consumers to invest in these new vehicles should be enacted, the panel advises.
Broader investment in PEV infrastructure technology, particularly in recharging capability at the homes of potential PEV buyers, should also be a priority.
And finally, the panel says, long-term research and development investment by both government and the auto industry to help bring down the cost of batteries and related PEV technology must be enlarged.
"We believe that PEVs are an idea whose time has come," Bedi said. "But it's clear that the technology needs a redoubled investment in time, energy and money from both government and the auto industry before PEVs become part of our automotive mainstream."
The report comes as the administration and Congress may be ready to pour money into electric vehicles. U.S. Senator Carl Levin and Congressman Sander Levin, both Michigan Democrats, last week introduced legislation that would more than double the $7,500 tax credit consumers currently receive if they purchase a PEV. If enacted, the Levin bill could cost up to $19 billion over 10 years.
Separately, Vice President Joe Biden announced January 26 that the administration is seeking to create a competitive grant program worth up to $10 million apiece for up to 30 communities for the development of charging stations and electric-car requirements.
Copyright Environment News Service (ENS) 2011. All rights reserved.