GM Withdraws $14 Billion Loan Application for Advanced Vehicle Development
WASHINGTON, DC, February 3, 2011 (ENS) – General Motors is withdrawing its $14.4 billion application for U.S. Department of Energy low-interest loans to develop future advanced technology vehicles because executives say the company doesn't need the money.
Ed Welburn, GM's vice president for global design, announced the withdrawal of the company's loan application Sunday at the Washington Auto Show.
"GM is making money," said Welburn. "We find ourselves leaner, stronger and hungrier, and we plan to stand on our own two feet."
"Given our improved situation, GM is withdrawing the application and does not intend to access the Department of Energy funds," Welburn said.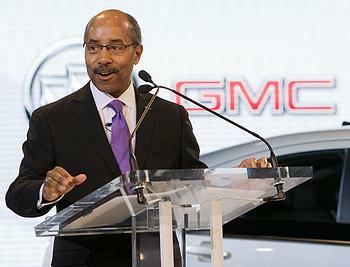 Ed Welburn, GM's vice president for global design, at the Washington Auto Show (Photo courtesy GM)
The announcement comes 18 months after GM emerged from one of the largest bankruptcies in U.S. history. Formed by the sale of most of the old company's assets out of bankruptcy, the new GM has fewer brands, fewer plants, fewer workers and fewer U.S. executives.
The U.S. Treasury Department took majority ownership of GM in 2009, extending a $50 billion bailout investment to the company. A Congressional oversight panel said in January that the Treasury has recovered $23 billion in bailout funds.
The automaker is racing to develop new vehicles. Its electric Chevrolet Volt with extended range was named North American Car of the Year, Motor Trend Car of the Year, Automobile Magazine Car of the Year, Green Car Journal Car of the Year, and has earned top honors from Car And Driver, Popular Mechanics and Popular Science magazines.
Welburn said that because the company website has registered interest in the Volt from "300,000 hand-raisers," GM is accelerating its launch plan to have Volts in all participating Chevrolet dealerships, in all 50 states, by the end of this year. The original Volt launch plan stretched into 2012.
For its gasoline-powered models, "We are committed to improving fuel economy and providing fuel-efficient choices for our customers," said Welburn.
At the North American International Auto Show last month in Detroit, GM debuted the Chevrolet Sonic, a gasoline-powered car that Welburn said is expected to test at 40 miles per gallon in highway driving. "Sonic is the only small car built in America by any automotive manufacturer," he said.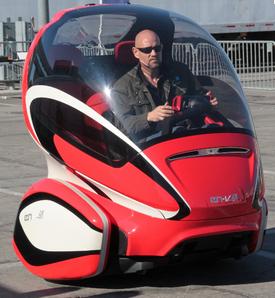 A General Motors EN-V at the Consumer Electronics Show, January 6, 2011 (Photo by Sam Abuelsamid courtesy GM)
GM's Chevrolet Cruze Eco is rated at 42 mpg on the highway.
Even without the Energy Department loan, GM is moving ahead with new technology like the EN-V concept vehicle the company showed at the World Expo 2010 in Shanghai and at the Consumer Electronics Show in Las Vegas in January.
GM is developing the EN-V (say "envy") or Electric Networked-Vehicle, in partnership with the Shanghai Automotive Industry Corp.
The enclosed two-seater is based on Segway stand-up two-wheelers. Segway has worked with GM to develop and deliver multiple copies of the drivetrain platform that connect to and power the three models of EN-Vs on display in Shanghai.
The EN-V is propelled by electric motors in each wheel powered by zero-emission lithium-ion batteries. It can carry two passengers and light cargo in a car about a sixth of the size of a traditional vehicle.
With a maximum speed of 25 mph, EN-Vs ride on two side-mounted wheels and are controlled using a hand/throttle steering mechanism. They have a zero turning radius – they can spin on a dime. Equipped with a wireless antenna and GPS sensors that communicate with a network, EN-Vs can drive themselves without an operator.
"EN-V reinvents the automobile by creating a new vehicle DNA through the convergence of electrification and connectivity," said Kevin Wale, president and managing director of the GM China Group. "It provides an ideal solution for urban mobility that enables future driving to be free from petroleum and emissions, free from congestion and accidents, and more fun and fashionable than ever before."
Copyright Environment News Service (ENS) 2011. All rights reserved.