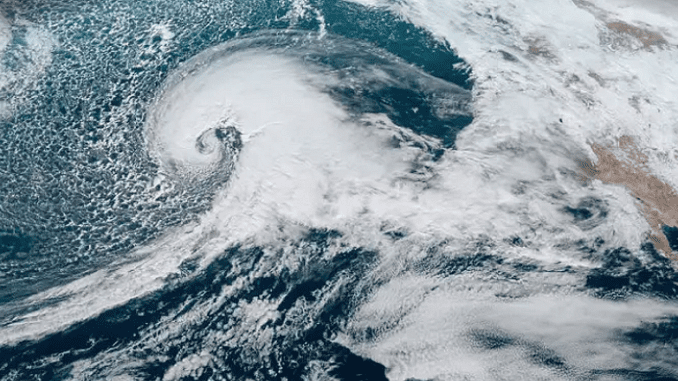 SACRAMENTO, California, January 7, 2023 (ENS) – What the National Weather Service calls an "incessant parade of storms" continues to batter California with heavy rain, damaging winds, and heavy snow. Flooding, rapid river rises, mudslides, and burn scar flash floods or debris flows all are possible in the week ahead, the NWS predicts.
The fierce weather pounding California is rooted in two unusual weather events happening at the same time. An vast airborne stream of dense moisture from the ocean known as an atmospheric river is bringing storm after storm, and also, a hurricane-force low-pressure system, called a bomb cyclone because the storm intensifies so rapidly, is unloading rain.
Torrential rains hit southern California on Wednesday in the form of just such a bomb cyclone. At least two people have died, one just a toddler. Aeon Tocchini, 2½-years old, died when a rain-soaked redwood tree fell, crushing his family's mobile home in Sonoma County.
Rain totals topped two inches in some areas of Los Angeles County by mid-morning with higher totals in the mountains and coastal valleys of Ventura County. The National Weather Service said the storm produced up to 1.25 inches of rain an hour in some locations.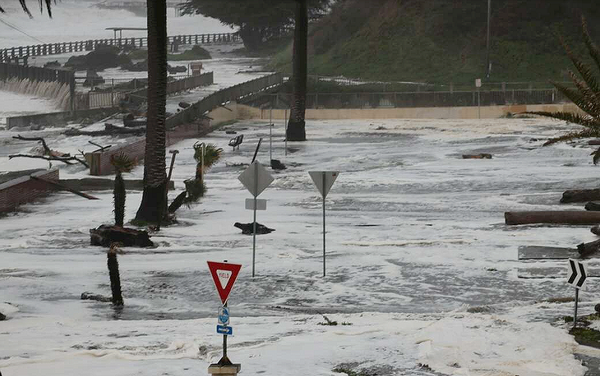 "The next in the parade of Atmospheric River events to impact the West Coast will produce additional heavy rain on saturated soils, heavy mountain snow, and damaging winds across northern and central California, and into Oregon this weekend," the NWS forecasters warned today.
As of this afternoon, utility repair crews from PG&E have restored power to more than 610,000 customers since the last storm began January 4. Crews have restored power to more than a million customers since the initial storm hit on New Year's Eve. About 80 percent of all customers have been restored within 12 hours, and nearly 90 percent have had power restored within 24 hours, PG&E said.
PG&E has more than 3,800 personnel responding to the storm, including mutual-aid and contractor resources from southern California, Oregon, Idaho, Utah, Wyoming, New Mexico, Colorado, Washington, and Canada.
View PG&E's online outage map and search by address, by city or by county.
But forecasters at the NWS Los Angeles station say the worst is yet to come. "Unsettled weather will set up across the region late today and continue through Wednesday with another significant storm on tap late Monday into Tuesday. A brief lull is expected by Thursday with potentially active weather returning next weekend."
The NWS forecaster wrote today, "The main show is later Monday into Tuesday. Guidance indicates good confidence in a strong and powerful storm, but lower confidence on the details. There has been a trend away from a single cold front passage, towards at least two cold fronts to push through the region, the first Monday evening and night and the second Tuesday."
"Strong and potentially damaging winds along and just ahead of each cold front" are forecast, "with peak gusts of 50 to 70 mph likely for the mountains, possible in the Antelope Valley with gusts to 60 mph for some coasts and valleys north of Point Conception with widespread advisory level winds elsewhere." Residents are advised to expect downed trees and powerlines.
On January 4, Governor Gavin Newsom proclaimed a state of emergency to support the ongoing response to the storms. The governor authorized mobilization of the California National Guard to support disaster response, directed Caltrans to request immediate assistance through the Federal Highway Administration's Emergency Relief Program to support highway repairs and other support for local response and recovery efforts.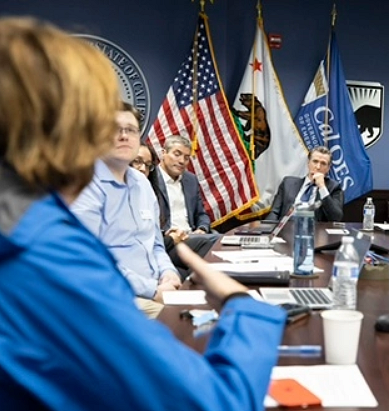 The governor has also activated the State Operations Center to its highest level, and the state and federal government have stood up the Flood Operations Center, which covers forecasting, reservoir operations coordination, and provides technical support as well as flood fighting materials like sandbags for local agencies.
"California is mobilizing to keep people safe from the impacts of the incoming storm," said Governor Newsom. "This state of emergency will allow the state to respond quickly as the storm develops and support local officials in their ongoing response."
Heavy rain and mountain snow began late Friday night in northern California, spreading to central California on Saturday.
One to three feet more snowfall is expected in the mountains of northern and central California this week, making travel dangerous and putting extra weight on infrastructure.
"The next series of atmospheric rivers are set to produce additional impacts to travel & infrastructure due to heavy rainfall, heavy mountain snow & damaging wind gusts. Impacts to infrastructure include but are not limited to; river flooding, mudslides, power outages & snow load," the NWS forecast.
"The significant Sierra snowpack is good news but unfortunately these same storms are bringing flooding to parts of California," said Karla Nemeth, Director, California Department of Water Resources. "This is a prime example of the threat of extreme flooding during a prolonged drought as California experiences more swings between wet and dry periods brought on by our changing climate."
"Big snow totals are always welcome, but we still have a long way to go before the critical April 1 total," said DWR's Snow Surveys and Water Supply Forecasting Unit Manager Sean de Guzman. "It's always great to be above average this early in the season, but we must be resilient and remember what happened last year. If January through March of 2023 turn out to be similar to last year, we would still end the water year in severe drought with only half of an average year's snowpack."
Sound Advice From the State
Driving and Road Closures
Avoid non-essential travel during the peak of the storm. If you must drive, download the QuickMap app or visit QuickMap (ca.gov) to learn up-to-the-minute information on road conditions, traffic, closures, chain control, and more.
Power Outages
Take inventory of the items you need that rely on electricity. Plan for batteries and other alternative power sources to meet your needs if the power goes out such as a portable charger or power bank. Have flashlights for every household member. Determine whether your home phone will work in a power outage and how long battery backup will last.
Emergency Alerts
Californians are reminded to dial 2-1-1 or 3-1-1 to get help or ask questions. If you have a critical emergency, call 911.
Staying informed by signing up for emergency alerts including warnings and evacuation notices. Go to CalAlerts.org to sign up to receive alerts from your county officials.
Flood Risk
If you are under a Flood Warning:
Find safe shelter right away.
Do not walk, swim or drive through flood waters. Turn Around, Don't Drown!
Remember, just six inches of moving water can knock you down, and one foot of moving water can sweep your vehicle away.
Stay off bridges over fast-moving water.
Know Your Medical Needs
Talk to your medical provider about a power outage plan for medical devices powered by electricity and refrigerated medicines. Know how long your medications can be stored at higher temperatures and get specific guidance for any medications that are critical for life.
Generator Safety
Portable back-up generators produce the poison gas carbon monoxide (CO), an odorless, colorless gas that kills without warning. It claims the lives of hundreds of people every year and makes thousands more ill. Follow these steps to keep your family safe.
When using Portable Generators:
Never use a generator inside your home or garage, even if doors and windows are open.
Only use generators outside, more than 20 feet away from your home, doors, and windows.
Install battery-operated or battery back-up CO detectors near every sleeping area in your home.
Check carbon monoxide (CO) detectors regularly to be sure they are functioning properly.
Food Storage
Have enough nonperishable food and water for every member of your household for three days. Open freezers and refrigerators only when necessary. Your refrigerator can keep food cold for four hours. A full freezer will maintain temperature for two days. Use coolers with ice if necessary. Monitor temperatures with a thermometer. Throw out food if temperatures reach 40 degrees or higher.
To handle this emergency, the state has prepositioned resources of all kinds. For instance, the Emergency Medical Services Authority is prepared to deploy Ambulance Strike Teams.
Featured image: A satellite image shows a bomb cyclone over the Pacific Ocean just off the California coast. January 3, 2023. (Image courtesy NOAA)