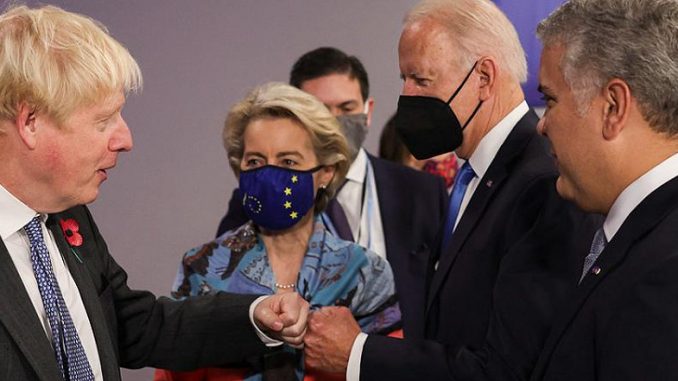 GLASGOW, Scotland, November 3, 2021 (ENS) – After two days of speeches and announcements from world leaders, the focus today at the UN climate summit COP26 intensified on raising the funding needed to accomplish the goals of the Paris Agreement. But as the day unfolded, protests disrupted finance sessions, frustrated attendees waited in lengthy lines to get into the conference venue, and activists, shut out of discussions, dismissed the commitments as too little, too late.
UN climate conference organizers traditionally permit NGOs and activists to observe the negotiations so they can monitor progress.
Yet while thousands of observers from environmental NGOs had been accredited to attend COP26, just four were allowed in the room, said Sébastien Duyck, a senior attorney for the Washington-based Climate & Energy Program at the Center for International Environmental Law. Duyck told reporters it was "an outrage."
The day began with an announcement from the Glasgow Financial Alliance for Net Zero, GFANZ, that firms representing US$130 trillion in assets have now committed to net-zero carbon emissions by 2050 at the latest.
Mark Carney, a Canadian economist and banker and the UN Special Envoy for Climate Action and Finance, assembled GFANZ, a group of bankers, insurers and investors who have committed to make climate change central to their work.
'The Money Is There'
"The core message today is that the money is there, the money is there for the transition, and it's not blah blah blah," Carney told delegates at a COP26 climate finance event.
By phrasing his announcement that way, Carney was responding to Swedish climate activist Greta Thunberg, 18, who criticized the climate talks at the October 8 Youth4Climate: Driving Ambition Summit in Milan, Italy. There, she slammed world leaders. "There is no Planet B, there is no planet Blah, blah blah blah," Thunberg said.
At a Fridays for Future rally outside the COP26 conference venue Monday, Thunberg used even more colorful language, telling the crowd, "We say no more blah blah blah, no more exploitation of people and nature and the planet… No more whatever the f**k they're doing inside there."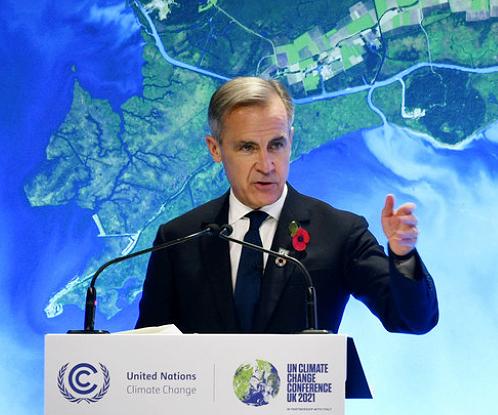 Carney was undeterred. Governor of the Bank of England, he underscored that he sees net zero as the "critical infrastructure of the new financial system."
Nearly 500 global financial services firms agreed to align US$130 trillion – some 40 percent of the world's financial assets – with the climate goals set out in the Paris Agreement, including limiting global warming to 1.5 degrees Celsius.
Firms across the financial spectrum – banks, insurers, pension funds, asset managers, export credit agencies, stock exchanges, credit rating agencies, index providers and audit firms – have committed to high ambition, science-based targets, including achieving net zero emissions by 2050 at the latest, GFANZ said in a statement.
These firms have committed to delivering "their fair share of 50% emission reductions this decade, and reviewing their targets towards this every five years."
"I think we're in the early stages of a sustainability revolution that's the biggest opportunity in history," said former U.S. Vice President Al Gore, who conducted climate change education with books and films and with the Climate Reality Project after he left office. "And those who don't recognize that and adapt to it are in commercial risk. They're going to be left behind."
The investment firm co-founded by Gore, Generation Investment Management LLP, will not be left behind. The firm, which oversees $36 billion, is partnering with financial giants such as Goldman Sachs Asset Management to create Just Climate, a new impact venture it says will target private markets with the greatest potential for quick decarbonization.
Gore said, "Just Climate aims to prioritize impact, to challenge conventional thinking and to inspire the sort of innovations that are now required for us to overcome the climate challenges ahead of us."
"As a sector, we urgently need to seriously rethink how capital is allocated in order to deliver real progress toward the net zero commitments we have made," Gore said.
Co-investors include the Microsoft Climate Innovation Fund, Harvard Management Co., and the Ireland Strategic Investment Fund. Just Climate will make investments to limit global warming to the Paris Agreement goal of 1.5 degrees Celsius above pre-industrial levels.
The High-Level Ministerial Dialogue on Climate Finance, convened by the COP Presidency, featured panels on enhancing support for developing countries and realizing the Paris Agreement goal of raising US$100 billion annually for that support.
The Dialogue covered supporting a financial system for a resilient, net-zero future, and scaling climate finance to mobilize the trillions needed for developing countries.
The ministers concluded that although climate finance continues to grow, accessing funds remains a challenge and finance flowing to emissions-intensive industries remains of high concern.
Biden Made Infrastructure a Priority at COP26
On Tuesday, on the margins of COP26, President Joe Biden and European Commission President Ursula von der Leyen hosted a meeting with several G7 partners to hear from countries that need help with infrastructure on how major democracies of the world can meet the enormous infrastructure needs in the developing world.
Participants included Prime Minister Justin Trudeau of Canada, Prime Minister Boris Johnson of the UK, and Prime Minister Fumio Kishida of Japan. Italy also participated.
Leaders of countries with major infrastructure needs included: President Felix Tshisekedi of the Democratic Republic of the Congo; Prime Minister Narendra Modi of India; President Ivan Duque of Colombia; Prime Minister Mia Mottley of Barbados; President Guillermo Lasso of Ecuador; and President Muhammadu Buhari of Nigeria.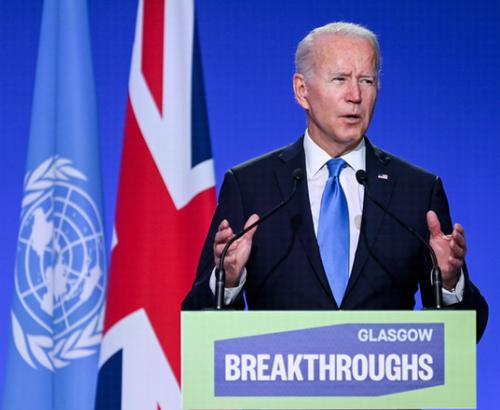 Discussions focused on how Build Back Better World, B3W, an initiative announced by G7 countries on June 12, can help narrow the US$40+ trillion infrastructure need in the developing world, made even worse by the COVID-19 pandemic.
The Biden Administration will proceed with the hope that, together with the private sector, other U.S. stakeholders, and G7 partners, "B3W will collectively catalyze hundreds of billions of dollars of infrastructure investment for low- and middle-income countries in the coming years."
"This meeting is also a clear contrast with other global actors like China who are building infrastructure that locks developing countries into unsustainable debt traps and fossil-dependent infrastructure for decades to come," a U.S. State Department spokesperson said.
B3W is "Values-Driven," the State Dept said. "Infrastructure development carried out in a transparent and sustainable manner – financially, environmentally, and socially – will lead to a better outcome for recipient countries and communities. We will offer countries a positive vision and a sustainable, transparent source of financing to meet their infrastructure needs."
B3W efforts will be guided by "high standards and principles, such as those promoted by the updated Blue Dot Network, relating to the environment and climate, labor and social safeguards, transparency, financing, construction, anticorruption, and other areas," said the State Dept.
Launched this year by the United States, Japan, and Australia, Blue Dot operates on the idea that by setting a common standard of project excellence, private capital will be attracted to infrastructure projects in developing and emerging economies. 
Blue Dot certification will serve as a globally recognized symbol of market-driven, transparent, Paris Agreement-aligned, and financially, socially, and environmentally sustainable infrastructure projects. 
Von der Leyen Focuses on Forests
European Commission President Ursula von der Leyen announced that €1 billion is the European Union's contribution to the Global Forests Finance Pledge made at COP26 by the international community on Tuesday, when 110 world leaders, including Brazil, vowed to end and reverse deforestation by 2030.
President von der Leyen said, "Forests are the green lungs of the earth. We need to protect and restore them. I gladly announce that we are pledging €1 billion to protect world forests. This is a clear sign of the EU's commitment to lead global change to protect our planet, in line with our EU Green Deal."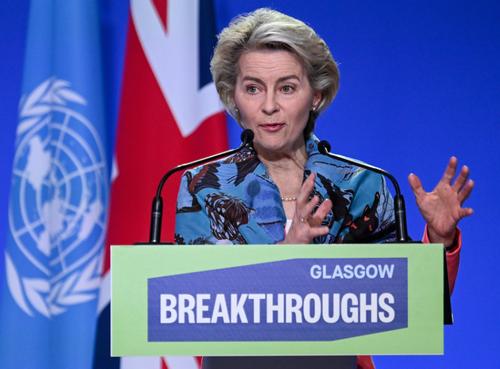 This five-year support package from the EU budget will help partner countries to protect, restore and sustainably manage forests worldwide and deliver on the Paris Agreement.
The pledge includes almost £14bn (US$19.2bn) of public and private funds. Forest conservationists welcomed the move, but Professor Simon Lewis, an expert on climate and forests at University College London, warned that a similar deal in 2014 had "failed to slow deforestation at all."
Clearcutting trees, often for agriculture and livestock grazing, depletes forests that absorb vast amounts of the most prevalent greenhouse gas, carbon dioxide, CO2, while releasing oxygen.
UK Prime Minister Boris Johnson, who is hosting the global meeting in Glasgow, told the BBC, "We have to stop the devastating loss of our forests," and "end the role of humanity as nature's conqueror, and instead become nature's custodian."
Jutta Urpilainen, European Commissioner for International Partnerships, said, "The EU's contribution pledged today to sustainably manage, restore and protect forests will support sustainable growth and jobs, climate mitigation and adaptation, as well as preservation of biodiversity in our partner countries."
Within the €1 billion pledged today, €250 million will go to the Congo Basin, covering eight countries – Cameroon, Central African Republic, Democratic Republic of the Congo, Republic of the Congo, Equatorial Guinea, Gabon, Burundi and Rwanda – to protect the world's second largest tropical rainforest region while improving livelihoods for its populations.
"The European Union will work in partnerships with governments, civil society, indigenous peoples and private actors, in a multilateral approach, to achieve the Sustainable Development Goals and to put people and planet first. The specific focus on the Congo Basin is a timely message on the importance of this unique area and its ecosystem," Urpilainen said.
Philanthropists Extend Support to Indigenous Peoples, Vulnerable Countries
The UK, Norway, Germany, the United States, and the Netherlands, in partnership with 17 funders, opened COP26 with a pledge to invest US$1.7 billion to help Indigenous and local communities protect the biodiverse tropical forests that are vital to protecting the planet from climate change, biodiversity loss, and pandemic risk.
"We are demonstrating our commitment today by announcing an initial, collective pledge of $1.7 billion of financing, from 2021 to 2025, to support the advancement of Indigenous Peoples' and local communities' forest tenure rights and greater recognition and rewards for their role as guardians of forests and nature," says a statement released November 1 by the donors. "We call on other donors to significantly increase their support to this important agenda."
Indigenous Peoples and local communities manage half the world's land and care for 80 percent of the world's biodiversity, primarily under customary tenure arrangements. A recent study showed, however, that Indigenous communities and organizations receive less than one percent of the climate funding meant to reduce deforestation.
"This pledge signals our commitment to protecting the world's tropical forests and those who live in them," said Lord Goldsmith, UK Minister of State for Pacific and the Environment. "The evidence is overwhelming that Indigenous Peoples and local communities are forests' most effective guardians, often in the face of acute danger, and so they should be at the heart of nature-based solutions to the climate emergency. By investing in tropical forest communities and expanding their communal rights, we will also tackle poverty, pollution, and pandemics."
Among the philanthropic groups joining the new pledge at a critical moment for addressing the climate crisis are the Ford Foundation, Children's Investment Fund Foundation, the Christensen Fund, David and Lucile Packard Foundation, Sobrato Philanthropies, Good Energies Foundation, Oak Foundation, William and Flora Hewlett Foundation, and, as part of the Protecting our Planet Challenge members, Arcadia, Bezos Earth Fund, Bloomberg Philanthropies, Gordon and Betty Moore Foundation, Nia Tero, Rainforest Trust, Re:wild, Rob and Melani Walton Foundation and the Wyss Foundation.
The new Global Energy Alliance for People and Planet, GEAPP, was launched Tuesday at COP26 to accelerate investment in green energy transitions and renewable power solutions in developing and emerging economies worldwide.
Over the next decade, the Alliance announced it aims to unlock US$100 billion in public and private capital, a reference to the 2009 pledge by rich nations to provide $100 billion per year by 2020 to help developing countries tackle climate change.
To date, the wealthy nations have failed to meet that pledge, resulting in mistrust among some developing nations and reluctance to accelerate their emissions reductions.
However, Italian Prime Minister Mario Draghi said at the meeting of the G20 wealthy nations in Rome last week, that the funding gap had narrowed to less than $20 billion and predicted it could be closed further. He said G20 nations are considering using financing from the International Monetary Fund to make up the shortfall.
GEAPP plans to use its financial power to tackle three profound human problems simultaneously – reaching one billion people with reliable, renewable energy; avoiding and averting four billion tons of carbon emissions; and creating, enabling, or improving 150 million jobs.  
In June, IKEA Foundation and The Rockefeller Foundation jointly committed US$1 billion to GEAPP to fight climate change and energy poverty. The Global Energy Alliance now has an additional $500 million from the Bezos Earth Fund along with $9 billion from international development banks such as the African Development Bank and the International Finance Corporation.
The grant capital provided by these anchor partners is expected to unlock billions of dollars in investment capital from multilateral and development finance institutions. 
Indonesia's President Joko Widodo commented, "Indonesia is proud to endorse the Global Energy Alliance for People and Planet, which is holding the G20 Presidency in 2022. The initiative brings together the critical stakeholders that must align and co-create a sustainable path for our nations and for our grandchildren. It is our task to restore the triple happiness envisaged by the Balinese Tri Hita Karana three balances – people with people, people with nature, and people with spiritual harmony."
Amazon Founder Shows Private Sector Muscle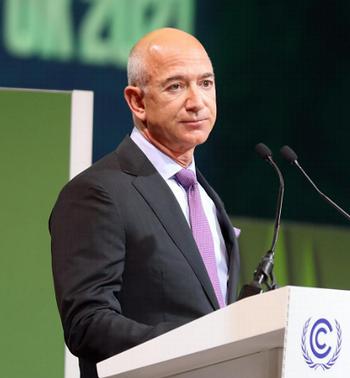 As part of the stream of financial pledges and commitments in Glasgow on Tuesday, Amazon founder Jeff Bezos, the world's second richest person, announced a $2 billion pledge from his Bezos Earth Fund towards restoring nature.
This pledge adds to the $1 billion conservation pledge Bezos announced in September.
In Glasgow, Bezos said the total $3 billion pledge will drive a three-pronged plan of action: conserving wild spaces, restoring natural landscapes and food transformation.
From his near orbital space flight in July, Bezos said he was inspired to protect the environment.
"Looking back at Earth from up there the atmosphere seems so thin, the world so finite and so fragile," he said.
"We must all stand together to protect our world," said Bezos. "Climate change gives us a powerful reason to invest in nature."
"We must conserve what we still have, we must restore what we've lost, and we must grow what we need to live without degrading the planet for future generations to come," Bezos said.
Decarbonizing South Africa With US$8.5 Billion
The governments of South Africa, France, Germany, the United Kingdom and the United States, along with the European Union, Tuesday announced a new ambitious, long-term Just Energy Transition Partnership to support South Africa's decarbonization efforts.
The group aims to accelerate the decarbonization of South Africa's economy, with a focus on the electricity system, to help it achieve the ambitious goals set out in its updated Nationally Determined Contribution emissions goals.
They have pledged to mobilize an initial commitment of US$8.5 billion for the first phase of financing, through mechanisms including grants, concessional loans and investments and risk-sharing instruments, and mobilizing the private sector.
The Partnership is expected to prevent up to 1-1.5 gigatonnes of climate-heating emissions over the next 20 years and support South Africa to move away from burning coal for power and accelerate its transition to a low emission, climate resilient economy.
South Africa's President Cyril Ramaphosa, called it a "watershed moment."
Ramaphosa said, "We look forward to a long term partnership that can serve as an appropriate model of support for climate action from developed to developing countries, recognizing the importance of a just transition to a low carbon, climate resilient society that promotes employment and livelihoods."
"South Africa's current reliance on coal power is a serious problem," says the international NGO Global Citizen. The country's power utility, Eskom, is not only the 12th-biggest carbon emitter in the world, it has had trouble keeping the lights on in South African homes, which endured scheduled power cuts of up to four hours a day in recent weeks, even on the same day this green energy partnership was disclosed.
South Africa's coal mining and processing industry is the biggest emitter of sulfur dioxide in the world according to the BBC.
At a COP26 press conference announcing the partnership, President Biden said, "By closing South African coal plants ahead of schedule and investing in clean power alternatives for the people of South Africa and supporting an equitable and inclusive transition in South Africa's coal sector we are following through on the pledge the G7 partners made in Cornwall [at this year's G7 Summit] to accelerate the transition away from coal in developing countries."
Featured image: Celebrating the United States' return to the Paris Climate Agreement, President Joe Biden, right, fist bumps with UK Prime Minister Boris Johnson. European Commission President Ursula von der Leyen, center, and COP26 President Alok Sharma, far right, look on during COP26, the 26th Conference of the Parties to the UN Framework Convention on Climate Change. November 2, 2021, Glasgow, Scotland (Photo by Andrew Parsons / No 10 Downing Street)