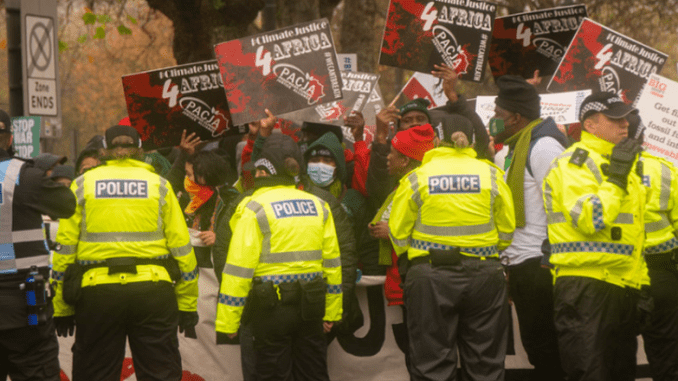 GLASGOW, Scotland, November 7, 2021 (ENS) – Thousands marched peacefully in the streets of Glasgow Saturday demanding more funding and action as week one of the UN climate summit here winds down. Civil society representatives young and old called on governments to get serious on the substance of COP26 negotiations and come up with ambitious and concrete proposals to move discussions forward in the coming week.
Police arrested 21 people during the rally, removing activists from the Scientist Rebellion movement who had chained themselves to the King George V Bridge over the River Clyde in Glasgow city center.
"Youth are again leading hundreds of thousands of people into the streets with a simple challenge to world leaders: prove them wrong. Prove that COP26 will be a turning point towards justice and a safe future. Prove that you have come to Glasgow with more than empty words and will do everything possible to secure a livable planet," Eddy Perez, international climate diplomacy manager with Climate Action Network Canada.
"This first week has been stuffed with announcements and deals – on methane, on coal, on forests, on finance. Some are promising and some greenwash, said Perez, with his eye on the goal – limiting global warning to 1.5° Celsius above pre-industrial levels – the Paris Agreement's lowest target.
"Even with the updated climate pledges submitted to the UN as of Tuesday, the world is still on track for a 13.7 percent increase in temperature emissions from 2010 levels by 2030 – far from the 45 percent decrease needed to limit warming to 1.5°C," Perez said.
"Negotiators must not leave Glasgow without a deal that will keep 1.5 within reach and support the leadership of those on the front lines of the climate crisis," he said.
Mary Church, Friends of the Earth Scotland, head of campaigns, said, "We've seen lots of fine words and polished speeches from world leaders, but this week's wave of announcements and pledges should not distract from the actual negotiations that must deliver real emissions cuts and support for the countries and people on the front line of the climate crisis."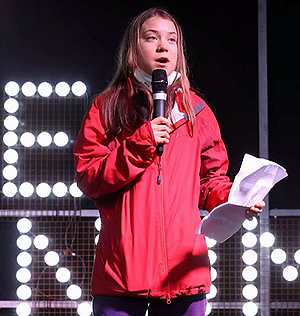 Swedish teen activist Greta Thunberg took that skepticism to another level during a large demonstration she led outside the climate summit venue on Friday, the key day of the week for her group, Fridays for Future.
Thunberg called the COP26 summit a "failure" even before the first week of the two-week event was over. Thunberg called the conference "a global north greenwash festival" and "a two-week long celebration of business as usual."
"Many are starting to ask themselves, what will it take for the people in power to wake up? But let's be clear: they are already wake. They know exactly what they are doing," Thunberg said. "The leaders are not doing nothing. They are actively creating loopholes – to benefit themselves."
During the first few days of COP26, world leaders and business executives made serious commitments. On Tuesday, more than 100 countries agreed to cut emissions of methane, a potent greenhouse gas, 30 percent by 2030. On Wednesday a coalition of the world's biggest investors, banks and insurers that control a total of US$130 trillion committed themselves to financing projects to get nations and companies to net-zero greenhouse gas emissions by 2050.
What's Wrong With Net Zero
But net zero is not a solution, rather it's an obstacle to limiting climate change, many activists say.
In a new report entitled "Net Zero: The Big Con," the nonprofit organization Corporate Accountability, headquartered in Boston, Massachusetts, presents "clear evidence that 'net zero' climate plans are simply the latest attempt by polluting industries, and the neoliberal governments doing their bidding, to escape responsibility to act to address climate change or to repair the damage they've imposed on ecosystems and frontline communities. Their proposed plans could even worsen the climate crisis."
Corporate Accountability reports that the concept of net zero is being misused to evade action and avoid responsibility.
"The idea behind Big Polluters' use of 'net zero' is that an entity can continue to pollute as usual – or even increase its emissions – and seek to compensate for those emissions in a number of ways."
"This equation is simple in theory but deeply flawed in reality: These schemes are being used to mask inaction, foist the burden of emissions cuts and pollution avoidance on historically exploited communities, and bet our collective future through ensuring long-term, destructive impact on land and forests, oceans, and through advancing geoengineering technologies," the report states.
In Glasgow, Africa Climate Campaign Director at Corporate Accountability Hellen Neima of Uganda said, "Week one has been a show of power and manipulation, with Global North governments knowing what catches the attention of some Global South governments, which is money."
As an African climate justice activist, it was difficult to watch African governments throw in the towel and shut their doors on us, the people, and our cry for real solutions," Neima said. "Forgetting very fast how polluting governments and corporations have refused to pay their historical debt in finance and loss and damage talks, just for a little promise of a share of proceeds … We need African governments to stand up and do what we sent them to COP for – delivering real solutions."
Featured image: Glasgow police and climate demonstrators face off during a peaceful protest of ineffective climate commitments at the United Nations climate summit on from October 31-November 12, 2021 in Glasgow, Scotland, November 6, 2021 (Photo by francis mckee)
© 2021, News Editor. All rights reserved.