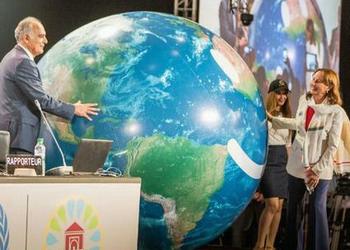 MARRAKECH, Morocco, November 11, 2016 (ENS) – Today is Energy Day at COP22, the UN Climate Change Conference in Marrakech – a day to demonstrate action on global efforts to decarbonize the energy system – globally, country by country, city by city, and business by business – now that the Paris Agreement on Climate is in effect.
The urgent need to forestall catastrophic climate change is motivating action from a wide range of players less than a year after COP21, the historic Paris Conference of Parties to the UN Framework Convention on Climate Change, at which the Paris Agreement was adopted by world governments.
One of a series of thematic days hosted by the Climate Champions of France and Morocco, Energy Day is taking place under the auspices of the COP22 Presidency.
"The great dynamic of climate action is now growing strong," the COP22 Climate Champions, Laurence Tubiana of France and Hakima El Haité of Morocco, said today in a joint statement.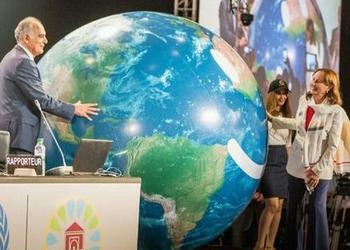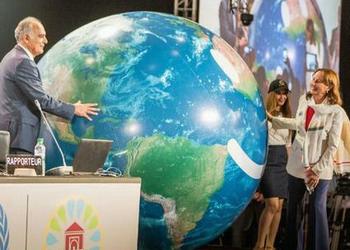 "The science is clear: the path towards achieving the long-term goals should bring us to peaking greenhouse gas emissions by 2020. This is a challenge, and we are not there yet," they said.
"On the current trends, we will be in 2030 between 11 to 14 gigatonnes above Paris-compatible pathways. The purpose of these days is to strengthen all efforts and take them to the next level to stay on track for the objectives: stay well below 2°Celsius and if possible 1.5°C [below the global temperature in pre-industrial times], increase adaptation and resilience capacities and reorient financial flows."
Tubiana and El Haité said, "It is our responsibility, as champions, to make the link between the real world and the COP process. Political leaders from all around the world should hear and be inspired by the solutions at our reach."
With the Paris Agreement having entered into force on November 4, companies and investors are now focused on the implications for their business models, the risks of energy intensity and the opportunities of new products and services for the low carbon energy system.
Commitments made before and in Paris are now being turned into action and new commitments are being made.
In this carbon constrained world the private sector increasingly sees energy productivity as the crucial but often overlooked 'first fuel'. It can deliver 40 percent of necessary emission reductions, while reducing the world's fossil fuel bill by more than $2 trillion and creating more than six million jobs globally by 2020.
New announcements made on Energy Day include:
Dalmia Cement and Helvetia have publicly committed to use 100 percent renewable power across their operations and join RE100; a global, collaborative initiative with more than 80 of the world's most influential companies who are working to massively increase demand for – and delivery of – renewable energy.
Philips Lighting and Swiss Re who have committed to double their energy productivity and join EP100, a global campaign that works with companies to maximize the economic benefits of every unit of energy they consume.
The RE100 and EP100 initiatives are designed to work together to provide the least-cost decarbonization pathway for business, and today three companies – Dalmia Cement, Philips Lighting and Swiss Re – become the first companies to be part of both campaigns led by The Climate Group, in partnership with CDP and the Global Alliance for Energy Productivity.
Together, RE100 companies are collectively creating over 100TWh of demand for renewable electricity – more than enough to power Morocco three times over. Members speaking today include Alejandro Agag, CEO, Formula E, Kevin Rabinovitch, Global Sustainability Director for Mars, and Bill Weihl, Director of Sustainability, at Facebook. Rabinovitch announced a new wind power purchasing agreement to power Mars' Mexican operations.
A new private-sector led initiative, the Renewable Energy Buyers Alliance (REBA), was also announced – REBA builds connections between corporate electricity demand and renewable energy supply.
Since COP21, the SIDS Lighthouses Initiative grew rapidly to include 39 States and 19 development partners and developed an innovative island renewable energy support programme.
Nineteen renewable energy projects in the Caribbean were registered on the Sustainable Energy Marketplace, representing an investment volume of $1 billion.
Two island States, Antigua and Barbuda and Cabo Verde, were selected to receive funding from the IRENA/ ADFD Project Facility and other co-financiers for a total of $45 million. In addition the UAE recently announced $50 million for renewable energy projects in the Caribbean States.
The Formula E racing circuit for electric cars is zooming ahead with a new zero-emissions fuel.
Alejandro Agag, CEO, Formula E, commented, "Electric vehicles reach their full potential when coupled with renewable energy charging – which is why all the fully-electric Formula E cars are powered by a revolutionary zero-emission glycerine. The future is electric!"
There have been pre-launch commitments to "One for All," a global campaign to be launched in early 2017 that seeks to mobilize new forms of capital and new investors to end energy poverty before 2030.
Developments in the Small Island Developing States (SIDS) Lighthouses Initiative, launched in Paris last year aimed at supporting islands in the transformation of their energy systems.
Developments related to the Africa Renewable Energy Initiative (AREI)
This year's COP host, the country of Morocco is proud of its remarkable renewable energy transformation.
"Closing the energy gap offers us one of the greatest economic opportunities of our lifetime," said Rachel Kyte, CEO and Special Representative of the UN Secretary-General for Sustainable Energy for All. "In 2016, the world needs an energy system that allows universal access, supports new jobs and meets our aspirations of a just, fair future for all. To achieve this, promises made must be promises kept."
"The climate objectives agreed in Paris require nothing less than the radical decarbonization of the global economy," said Adnan Amin, IRENA Director-General. "Transitioning rapidly to a future fuelled by renewable energy, combined with improving energy efficiency, is the single most effective way to stave off catastrophic climate change while providing citizens with a better quality of life."
"But the pace and scale of change needs to dramatically increase if we are to fulfil the promise of the Paris Agreement. Governments need to create the necessary policy and finance frameworks to catalyse a groundswell of initiatives, as the private sector develops its own decarbonization strategies," said Amin. "This is well within our reach."
Copyright Environment News Service (ENS) 2016. All rights reserved.