Climate Pledge Tracker Compares Nations' CO2 Emissions Limits
NAIROBI, Kenya, December 30, 2009 (ENS) – Anywhere that people can go online they can trace the proposals and plans of countries to combat climate change through an online climate pledge tracker website newly established by the United Nations Environment Programme.
Launched during the UN climate summit in Copenhagen earlier this month, the tracker is constantly updated. It compares and consolidates all the national pledges made to date.
The tracker currently has pledges and proposals from 25 countries plus the European Union's 27 member states.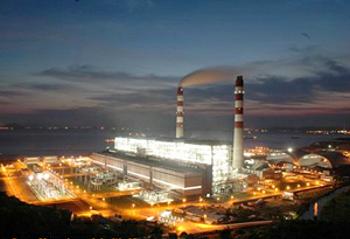 China's largest thermal power generating station is the coal-fired Huaneng Yuhuan on the southeast coast of Zhejiang province. (Photo courtesy China Huaneng Group)
Eleven of the 25 countries are developing economies ranging from China and India to Costa Rica and the Maldives.
The tracker includes recent proposals from countries such as South Africa, India and Kazakhstan.
With the tracker it is easy to see that China has pledged to reduce the intensity of carbon dioxide, CO2, emissions per unit of production in 2020 by 40 to 45 percent compared with the 2005 level.
By comparison, India has pledged a 20 to 25 percent reduction in emission intensity by 2020 compared to the 2005 level.
And also by comparison, Malaysia has pledged a 40 percent reduction in emission intensity by 2020 compared with the level of 2005.
The tracker has a separate section for countries with Kyoto Protocol commitments, the so-called Annex I countries.
The 27 European Union countries have pledged to reduce their collective greenhouse gas emissions 20 percent compared to 1990 levels by 2020.
Japan has pledged to cut emissions 25 percent from 1990 levels in 2020.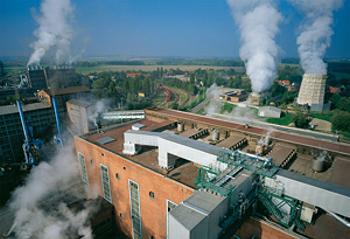 Coal-fired power plant at Deuben, Germany (Photo courtesy Mibrag)
The United States has pledged to cut emissions by 17 percent from 2005 levels by 2020; which translates to a three percent in 2020 based on 1990 levels.
UNEP Executive Director Achim Steiner says the climate pledge tracker was created with the aim of getting the world to stabilize atmospheric greenhouse gases at concentrations that will keep the planet cooler than a two degree Celsius rise in temperature compared to pre-industrial levels.
"Experts estimate that what is needed is to bring emissions of greenhouse gases down to 44 billion tonnes (44Gt) of CO2 equivalent by 2020 in order to give the world a 50 percent chance of meeting that temperature target," Steiner said.
After 2020, emissions need to be cut to 16 billion tonnes (16 Gt) of CO2 equivalent in 2050.
The tracker currently estimates that if the most ambitious existing pledges were fully implemented, with financial support for developing economies, the world might achieve emissions reductions of 47.5 billion tonnes by 2020.
This indicates a gap of around 3.5 billion tonnes.
The figure, which has a margin of error of plus or minus two billion tonnes, is within the range of a study, released by the British economist Lord Nicholas Stern and UNEP on December 6, 2009, indicating that the gap is between one billion and five billion tonnes of CO2 equivalent.
The tracker also looks at the emissions reduction pledges up to 2050 when scientists estimate that global greenhouse gas emissions need to be down to 16 billion tonnes (16 Gt) of C02 equivalent.
Copyright Environment News Service (ENS) 2009. All rights reserved.