Postal Service to Deliver Medicine in Case of Anthrax Attack, Obama Orders
WASHINGTON, DC, December 30, 2009 (ENS) – President Barack Obama today ordered federal agencies to establish a national system for dispensing medical countermeasures in the event of a large-scale biological attack, "with anthrax as the primary threat consideration."
The U.S. Postal Service would be responsible for delivering the medical countermeasures, such as antibiotics, to residents for self administration across all communities in the United States, according to the President's Executive Order issued today.
Anthrax is an acute infectious disease caused by the spore-forming bacterium Bacillus anthracis, which can cause human disease through ingestion, through the skin, and by inhalation.
Although clinical manifestations of the disease differ by route, inhalational anthrax is the most lethal. The threat from a potential antibiotic-resistant strain of B. anthracis is also recognized.
"An aerosol anthrax attack could result in hundreds of thousands of casualties. Anthrax spores can persist in the environment and pose a continued risk for infection, particularly for workers who decontaminate an infected area," the Department of Health and Human Services stated in a December 2008 report to Congress.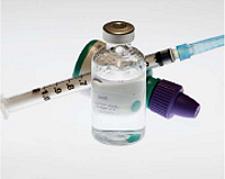 Medical countermeasures against anthrax would be delivered by the U.S. Postal Service. (Photo courtesy DHHS)
Within 90 days, the Secretaries of Homeland Security and Health and Human Services, in coordination with the Secretary of Defense, shall develop a concept of operations and establish requirements for a federal rapid response to dispense medical countermeasures to an affected population following a large-scale biological attack, President Obama ordered.
The Order requires that a plan for supplementing local law enforcement personnel with local federal law enforcement officers as well as other appropriate personnel, to escort U.S. Postal workers delivering medical countermeasures must be developed within 180 days.
This plan will be developed by the Secretaries of Homeland Security, Health and Human Services, and Defense, and the Attorney General, in coordination with the U.S. Postal Service, and in consultation with state and local public health, emergency management, and law enforcement officials.
This policy seeks to "mitigate illness and prevent death; sustain critical infrastructure; and complement and supplement state, local, territorial, and tribal government medical countermeasure distribution capacity," President Obama said in his order.
To ensure that mission essential functions of federal agencies continue to be performed following a biological attack, the federal government must establish mechanisms for the provision of medical countermeasures to personnel performing these essential functions, the order states.
On January 20, 2004, the Secretary of Homeland Security determined that anthrax is a material threat to the U.S. population sufficient to affect national security.
Project BioShield, enacted into law on July 21, 2004, provides the Department of Health and Human Services with authorities to expedite research, development, acquisition, and availability of priority medical countermeasures for public health emergencies caused by terrorist attacks.
The $5.6 billion that became the BioShield Special Reserve Fund for the acquisition of medical countermeasures was appropriated in the fall of 2003.
The Department of Health and Human Services has acquired medical countermeasures such as vaccines, antibiotics, and therapeutics to meet immediate public health needs in the event of an attack.
Anthrax vaccines offer pre-exposure protection to those at risk from anthrax, and they may provide added protection when given with antibiotics as part of post-exposure treatment.
Antibiotics remain a cornerstone of the response strategy to anthrax and the Strategic National Stockpile now has sufficient quantities of antibiotics for over 40 million individuals.
During the period August 2007 – December 2008, the federal government awarded advanced development contracts for anthrax therapeutics, anthrax vaccine, and broad-spectrum antibiotics.
Copyright Environment News Service (ENS) 2009. All rights reserved.