UK: Holiday Households Dump 230,000 Tonnes of Food Waste
LONDON, UK, December 29, 2009 (ENS) – Roughly 230,000 metric tonnes of food ends up in rubbish bins across Britain over the Christmas period, the equivalent in weight to 4.6 million whole turkeys, according to new research by the Department for Environment, Food and Rural Affairs released today.
This waste often ends up in landfills, contributing to harmful methane emissions, Defra says, but, with separate food waste collections, leftovers such as turkey and Christmas pudding could all be recycled and turned into compost for local parks or used to create energy to heat homes.
Environment Secretary Hilary Benn said the research shows that a majority of the public supports local food waste collection and recycling. "How can it make sense to feed our landfill sites with our Christmas leftovers every year when we could be recycling them and turning them into something useful? asked Benn.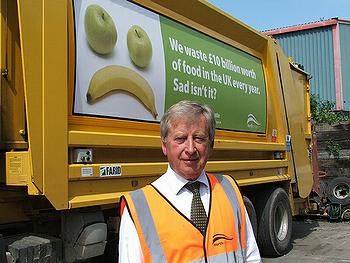 New food waste messages on North Devon Council bin lorries (Photo courtesy NDC)
"Our latest research is very encouraging as it shows that separate food waste collections are definitely working in the areas that are using them, and more importantly, people are happy with them," Benn said. "We would like to see all local authorities collecting food waste as soon as possible and by 2020 at the latest."
Benn announced earlier this year that Defra is exploring banning food waste from landfills; options will be published in the New Year, he said today.
Over 4,000 households in six varied communities around the country were surveyed for the newly published research report commissioned and funded by Defra. The survey shows that 78 percent of respondents support having a separate food waste collection to enable recycling of food.
Around a third of local authorities now provide food waste collections for their residents. Two-thirds of households who have them said they used their separate food waste collection. And 92 percent of people who frequently use their council's food collection said they found it easy to use.
The project ran from October 2006 to March 2008, with the majority of the primary data collection and analysis being completed between April 2007 and December 2007. The results are expected to help local authorities, Defra and other agencies identify what action can be taken in order to maximize public engagement in food waste recycling.
The six local authorities selected for the study were Bexley, Cambridge, Fenland, Hackney, Taunton Deane and Weymouth and Portland. Bexley is a unitary authority, Weymouth is a collection authority, while Cambridge, Fenland, Taunton and Hackney are all part of wider waste partnerships.
Domestic food waste generates more tonnes of waste than packaging, accounting for 19 percent of municipal waste arisings. In total, UK households create 6.7 million tonnes (7.3 tons) of food waste each year, including 5.5 million tonnes in England alone. Of this, 4.1 million tonnes could have been eaten, the study found.
Household food waste also has a substantial climate impact, accounting directly for around five percent of UK annual carbon dioxide emissions as well as emissions of methane, a more potent greenhouse gas.
On average, each household produces 276 kilograms (608 pounds) of food waste a year, or 5.3 kg (11 pounds) per week, of which 3.2 kg (7 pounds) could have been eaten, the study shows.
Households that produce less food waste than average include people over 65 years of age, single person households and households in which people are employed professionally.
Households that produce more food waste than the average include those with more than five people, households with children, those where the household head is aged 16-24, semi-skilled and unskilled working people and those who are unemployed, the researchers found.
From a resident's perspective, the main factor limiting participation is, "Fear that dealing with and storing food waste separately will be smelly, dirty and attract vermin," the study shows. "Authorities and experts alike suggested that perception is a much stronger barrier than actual experience. Once services are introduced user surveys generally report high levels of satisfaction and previous problems with vermin can decline where sack-based residual collections are replaced by rigid bins.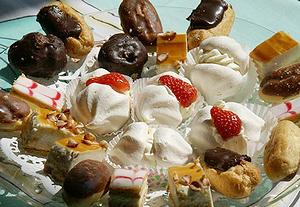 Holiday desserts (Photo by Ian Britton courtesy FreeFoto.com)
Other limiting factors are perception of added "hassle" such as separating "yucky" items in the kitchen; having an extra bin; and needing to wash bins more often or at all.
Non-meat collections tend to capture around half what meat-inclusive collections achieve. The study shows that providing caddies and caddy liners can increase capture, because they reduce the "hassle factor" for users by containing liquid better and keeping bins cleaner, but researchers said more evidence is needed.
Researchers found a greater need to return bins to the same household, an issue they say has been reported for dry recycling but could be even more marked for food. They found lack of consumer knowledge about end uses for recycled household food waste also is a limiting factor.
And finally, a number of local authorities noted "householder apathy and disinterest" as a key reason for non-participation in food waste collection and recycling.
To increase participation, around one in 10 non-users mentioned without prompting that a council tax reduction would encourage them to participate. Reducing council tax is far more popular than making food waste recycling compulsory. When prompted, 82 percent of all respondents think a local tax rebate would be an effective means of increasing participation, while half support compulsion.
Food waste mixed with general rubbish. (Photo by Ian Britton courtesy FreeFoto.com)
More communication is needed, the study found, particularly on reasons why people should want to participate, for example, why food waste is a problem, its relationship to climate change, the benefit of end uses, and reducing vermin in high rise buildings.
More ongoing customer support is also needed, especially specific instructions about what foods to recycle and collection dates.
The research shows that well-run food waste collections can generate high levels of participation, capture up to half of the available food waste and be widely supported by residents. The highest performing collections in the Defra study were capturing around 90-100 kilograms of food waste per household per year.
Secretary Benn has announced that £1.3 million (US$2 million) will be split between eight local authorities to enable more separate food waste collection through the Waste and Resources Action Programme, WRAP, which is funded by Defra.
At the same time as the Defra study was underway, WRAP was supporting 21 authorities in trials of food waste collections. The trials identified how much material can be captured through food-only organics collections, and the key operational characteristics which support successful performance.
Benn said, "It's not about making it more difficult for everyone to sort out their rubbish, and we'll be using the evidence from this research plus the experience of the areas introducing or extending food waste collections under the funding announced by WRAP, to help us make decisions on the next steps."
Copyright Environment News Service (ENS) 2009. All rights reserved.