CITES Leaves Trade in Precious Corals Unrestricted
DOHA, Qatar, March 22, 2010 (ENS) – Proposed trade regulations for red and pink precious corals used in jewelry were turned down Sunday by governments at the Convention on International Trade in Endangered Species, CITES, meeting in Doha.
The United States and the European Union wanted to regulate international trade in 31 species of corals from the western Pacific Ocean and the Mediterranean Sea but the proposal failed to reach the two-thirds majority that was needed, with 64 countries voting in favor, 59 against and 10 abstaining.
According to the U.S. proposal, the greatest risk to coral populations is fishing to supply international trade, with landings that have declined by 60 to 80 percent since the 1980s, and reductions in the size structure of populations in fished areas equivalent to a loss of 80 to 90 percent of the corals' reproductive modules.
These species have been fished for millennia, and millions of items are traded internationally each year. But today consumer demand is threatening the species' survival. International demand has depleted most known populations of pink and red corals, and newly-discovered stocks have been rapidly exhausted.
A similar proposal, covering only one species of red corals, was presented at the previous CITES Conference of the Parties in the Hague in 2007. It was defeated due to the challenges of implementing the regulations for a single species among the many that had similar appearances.
In response to those challenges, a new proposal covering the entire family Corallidae was presented to governments in Doha.
The proposed listing of red and pink corals in CITES Appendix II would have allowed trade under a strict permit system. It would have ensured that countries had legally binding measures governing the international trade of this group of corals and that stocks of these slow-growing, long-lived species were sustainably harvested.
But in December 2009, an expert panel of the UN Food and Agriculture Organization concluded that the available evidence did not support the proposal to include the entire family Corallidae in Appendix II. The panel said seven of the species in this family of corals did not meet the biological criteria for an Appendix II listing.
Lack of sufficient scientific evidence and the impact on the livelihoods of costal local populations depending on corals were the main arguments advanced by the opponents to this proposal.
Major harvesting and processing areas include Italy, Japan and Taiwan.
Kristian Teleki, vice president of science initiatives for SeaWeb, whose campaign Too Precious to Wear had called for governments to protect Coralliidae, called the decision "a major step backward for the long-tem survival of red and pink coral and the industries that depend on them."
"Coralliidae are in desperate need of a mechanism that controls the immense trade in these species. CITES could have provided that, but today the representatives failed to heed the science showing these populations are in steep decline," said Teleki. "It is now up to the jewelry and design industries, and their customers, to act where governments have failed."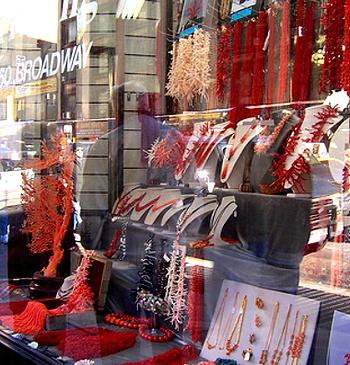 Red and pink coral jewelry in a New York City shop window (Photo by RedXdress)
SeaWeb is asking jewelers and designers to refuse to use or purchase red and pink coral until sound management is in place and populations of these long-lived, slow growing species have recovered.
Jewelry retailer Tiffany & Co., jewelry designer Temple St. Clair, ocean conservationist Celine Cousteau and many others supported the proposal to protect red and pink coral under Appendix II.
"The irony is that the Italian artisans who work in coral and helped create this resistance to an Appendix II listing feel that it would threaten their livelihood," said St. Clair, who has lived and worked in Italy for 25 years. "As we know, the real threat to their livelihood is not protecting these corals. If they stay on their current track, there will be no more coral for them to harvest."
"It's now up the jewelry and design industry to stop buying and using this coral so populations can recover. If consumer demand is lessened, perhaps governments and the coral industry will get serious about protecting these precious animals for future generations," St. Clair said.
The coral trade is worth tens of millions of dollars each year, with between 30 and 50 metric tonnes of red and pink corals harvested annually.
Between 2001 and 2008 the United States alone imported 28 million pieces of red and pink coral. Necklaces can fetch hundreds of thousands of dollars.
Coral grow less than one millimeter a year and can live up to 100 years old. According to the International Union for the Conservation of Nature, IUCN, Colonies are currently removed when they are between seven to 10 years old. For populations to be sustainable, they should not be harvested until they're 98 years old.
Black corals are already protected under the CITES treaty.
"This is a shame for CITES governments because it was an opportunity to show that the convention has not entirely lost the capacity to face down vested interests that oppose CITES protection for marine species," said Dr. Colman O'Criodain, wildlife trade policy analyst at WWF International.
China has already listed four of the threatened coral species found in its waters in Appendix III of the Convention. Such a listing requires that trade must be conducted only with the appropriate paperwork, and it allows countries to track and assess levels of international trade.
But several countries considered the identification of corals a serious stumbling block for implementing trade regulations.
"Bringing up coral identification was just a smokescreen to confuse the issue," said Ernie Cooper of TRAFFIC Canada. Cooper has recently published a method for using DNA to identify manufactured coral products and is soon to complete a guide to allow identification of corals.
"Today's decision was a question of expediency rather than a full examination of the facts," said Cooper. "Commercial lobbying won through."
Copyright Environment News Service (ENS) 2010. All rights reserved.