U.S. Federal Agencies Honored for Smashing Sea Turtle Smuggling Rings
DOHA, Qatar, March 19, 2010 (ENS) – A successful seven year undercover investigation into the black market exploitation of endangered sea turtles has earned the U.S. Fish and Wildlife Service and the U.S. Department of Justice a prestigious conservation award.
The two agencies were jointly awarded the Animal Welfare Institute's prestigious Clark R. Bavin Law Enforcement Award at the triennial meeting of the Parties to the Convention on International Trade in Endangered Species, CITES, now under way in Doha.
The award was presented by CITES Secretary-General Willem Wijnstekers at a reception sponsored by the Species Survival Network.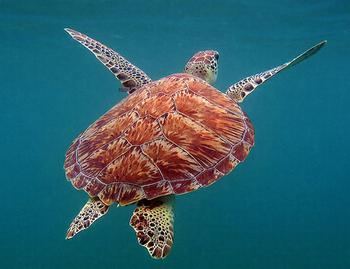 Sea turtle swims off the coast of Mexico (Photo by Chan Chemuyil)
Operation Central, as the investigation was named, began in 2004 and is still ongoing. It stands as the largest probe ever of the unlawful commercial exploitation of endangered sea turtles. All species of sea turtles are listed under Appendix I of CITES, which bans international trade.
Operation Central was planned and designed to infiltrate two active segments of the black market wildlife trade – sea turtle skin and skin products moving illegally from Mexico to the United States and sea turtle shell and shell products being smuggled to the United States from China.
The operation uncovered four sea turtle smuggling rings – two based in Mexico and two in China – engaged in illegal trafficking in endangered and threatened sea turtles and other protected species, and products made from their parts.
Several of the sea turtle species illegally traded nest solely in Mexican waters, and this illegal trade had a significant impact on populations of these species.
The investigation also documented the role of U.S. retailers in the illegal commercial exploitation of other CITES-listed species, including caimans and lizards, in the exotic boot trade. The government of Mexico coordinated enforcement activities with the Fish and Wildlife Service that also resulted in arrests in Mexico.
Operation Central documented the smuggling of more than $1 million worth of sea turtle parts and products into the United States. The seven defendants arrested all pleaded guilty to felony violations and served federal prison sentences of up to two years.
Prosecutions of 19 additional defendants in the United States are still in progress and are expected to be completed during 2010.
"I have asked Benito Perez, chief of the Fish and Wildlife Service's Office of Law Enforcement, to accept this award on behalf of the wildlife special agents and U.S. Justice attorneys who worked tirelessly to uncover and prosecute these criminals," said Jane Lyder, deputy assistant secretary for fish and wildlife and parks and head of the U.S. CITES delegation.
"These dedicated public servants secured the evidence needed to document crimes that ranged from wildlife take and trade violations to smuggling, money laundering, and conspiracy," she said, "evidence that provided the basis for multiple felony indictments and convictions."
"The national and international coordination required to successfully implement Operation Central should be a model for countries around the world that combat wildlife crime," said Cathy Liss, president of the Animal Welfare Institute.
"One can only hope that the success of Operation Central can spread like wildfire around the world so that illicit international wildlife trade can be eliminated to protect the world's wildlife," she said.
Ignacia Moreno, assistant attorney general for the Justice Department's Environment and Natural Resources Division said, "This award appropriately recognizes the talented and dedicated prosecutors in the Environmental Crimes Section, who worked tirelessly to break up these international smuggling rings."
"Let there be no doubt," said Moreno, "the United States is not a safe-market for illegal wildlife products. We will continue to work with our allies around the world to stop the destructive practice of illegal wildlife smuggling."
The Clark R. Bavin Wildlife Law Enforcement Awards are named in memory of the late chief of the U.S. Fish and Wildlife Service's Office of Law Enforcement, who pioneered the agency's effective use of covert investigations and "sting" operations to uncover illegal wildlife trade.
Copyright Environment News Service (ENS) 2010. All rights reserved.