Unclean Water Claims More Lives Than War
NEW YORK, New York, March 22, 2010 (ENS) – Unsafe water kills more people than war plus all other forms of violence combined, said United Nations Secretary-General Ban Ki-moon in a message to the world today, designated as World Water Day.
The 2010 World Water Day theme is Clean Water for a Healthy World, but every day two million tons of sewage, industrial and agricultural wastes enter the Earth's waters, while every 20 seconds a child under the age of five dies from water-related diseases.
The World Health Organization reports that unsafe water, sanitation and hygiene claim the lives of an estimated 1.5 million children under the age of five each year.
"These deaths are an affront to our common humanity, and undermine the efforts of many countries to achieve their development potential," Secretary-General Ban said today.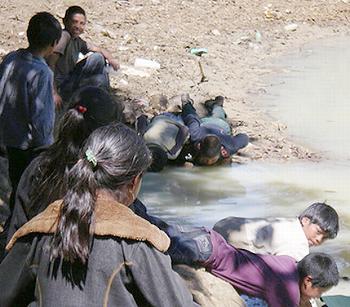 In Chiapas, Mexico, these children drink polluted water from a pond because they have no choice. (Photo by Dr. Diane Livingston, The Maya Village Project)
"Our growing population's need for water for food, raw materials and energy is increasingly competing with nature's own demands for water to sustain already imperiled ecosystems and the services on which we depend," he said.
"Day after day, we pour millions of tons of untreated sewage and industrial and agricultural waste into the world's water systems. Clean water has become scarce and will become even scarcer with the onset of climate change," warned Ban.
The UN General Assembly designated the first World Water Day in 1993, and on March 22 every year since, the focus has been on a different aspect of freshwater sustainability, including sanitation and water scarcity.
The 192-member body today is holding an interactive dialogue on water and the "Water for Life" International Decade 2005-2015, featuring three panel discussions on climate change, peace and security, and the Millenium Development Goals, an agenda for poverty reduction agreed by world leaders in 2000 that includes clean water and sanitation.
"Access to clean water and adequate sanitation are a prerequisite for lifting people out of poverty," UN Deputy Secretary-General Asha-Rose Migiro said at the event in New York.
Currently, seven out of 10 people without improved sanitation live in rural areas, but the number of people without adequate sanitation is set to soar as urban populations grow, she said.
Unclean drinking water leads to the spread of diseases such as cholera, typhoid and childhood diarrhea, one of the leading causes of death in children.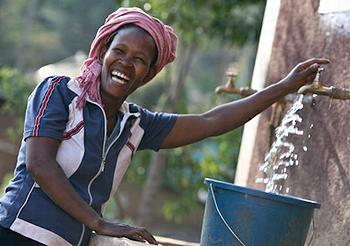 New clean drinking water supply delights resident of the Kechene district in Addis Ababa, Ethiopia. (Photo by Tim Bishop/Diageo courtesy AMREF UK)
A new joint report from the World Health Organization and the UN Childrens Fund shows that 87 percent of the world's population, about 5.9 billion people, are now using safe drinking water sources, so the world is on track to meet or even exceed the drinking water target of the Millennium Development Goals.
But with almost 39 percent of the world's population, or over 2.6 billion people, living without improved sanitation facilities, the report estimates that the international community will miss the sanitation Millenium Development Goal by almost one billion people by 2015 – the date when the goals are intended to be accomplished.
"The good news is that open defecation, the riskiest sanitation practice of all, is on the decline worldwide, with a global decrease from 25 percent in 1990 to 17 percent in 2008, representing a decrease of 168 million people practicing open defecation since 1990," the WHO/UNICEF report finds.
However, this practice is still widely spread in Southern Asia, where an estimated 44 percent of the population defecate in the open.
"We all recognize the vital importance of water and sanitation to human health and well-being and their role as an engine of development," said Dr. Maria Neira, WHO's director for the Department of Public Health and Environment. "The question now lies in how to accelerate progress towards achieving the Millenium Development Goal targets and most importantly how to leap a step further to ultimately achieve the vision of universal access."
Lack of access to water, sanitation and hygiene affects the health, security, livelihood and quality of life for children, impacting women and girls first and most. They are much more likely than men and boys to be the ones burdened with collecting drinking-water.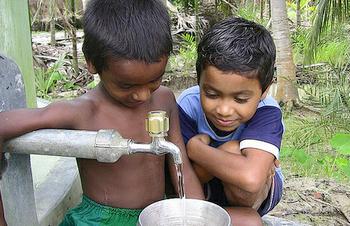 Children in Bangladesh drink clean water from a pond sand filter installed by Save the Children USA (Photo by The Uncultured Project)
"With almost 884 million people living without access to safe drinking-water and approximately three times that number lacking basic sanitation we must act now as one global community to ensure water and sanitation for all," said Clarissa Brocklehurst, UNICEF chief of Water, Sanitation and Hygiene.
When the UN General Assembly opens a new session in September the UN will host a high-level thematic debate on water and sanitation. Secretary-General Ban has called on member states to approve and incorporate an accelerated action plan during the summit, saying an inability to meet the MDGs would be an "unacceptable failure, moral and practical."
In a new report, "Clearing the Waters: A focus on Water Quality Solutions," UNEP shows that an investment of $20 million in low-cost water technologies, such as drip irrigation and treadle pumps, could potentially lift 100 million poor farming families out of extreme poverty.
In some poorer nations, more than half of treated water is lost to leaks, but saving just half of the water by repairing leaky water and sewage networks could benefit 90 million people without additional investment, the report shows.
In another report also launched today, UNEP shows that that many substances that make wastewater a pollutant, such as nitrogen and phosphorus, can be used as fertilizers for agriculture and can generate gases to fuel power stations and for cooking.
"Human activity over the past 50 years is responsible for unprecedented pollution, and the quality of the world's water resources is increasingly challenged," said UNEP Executive Director Achim Steiner.
"It may seem like an overwhelming challenge," Steiner said, "but there are enough solutions where human ingenuity allied to technology and investments in nature's purification systems, such as wetlands, forests and mangroves, can deliver clean water for a healthy world."
Copyright Environment News Service (ENS) 2010. All rights reserved.