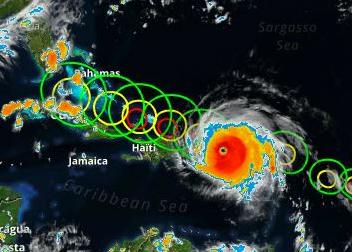 MIAMI, Florida, September 6, 2017 (ENS) – Hurricane Irma, one of the strongest storms ever recorded in the Atlantic, slammed Puerto Rico's north shore Wednesday night after devastating several small northern Caribbean islands. At least three people have lost their lives to the storm.
Two people died and two others were seriously injured in the islands of St. Barts and St. Martin, French Overseas Affairs Minister Annick Girardin said.
Puerto Rico Police Superintendent Michelle Hernández confirmed that while preparing for the hurricane a 75-year-old man died in Orocovis, a small city located in the Central Mountain Range.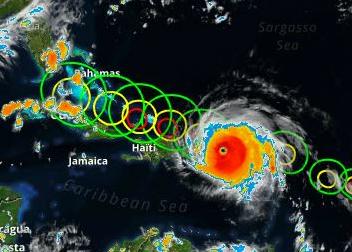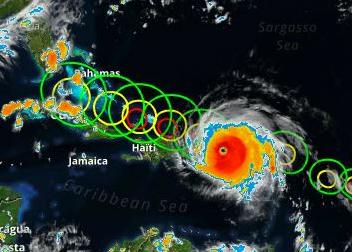 At 11 pm Wednesday night, Irma was about 100 miles northwest of Puerto Rico's capital San Juan, packing maximum sustained winds of 185 mph (295 km/h).
The eye of Category 5 Hurricane Irma passed just to the north Of Puerto Rico and is now moving toward the Florida coast at 16 miles per hour. This general motion is expected to continue for the next couple of days.
On the forecast track, the extremely dangerous core of Irma will continue to pass just north of Puerto Rico tonight, pass near or just north of the coast of Hispaniola Thursday, and be near the Turks and Caicos and southeastern Bahamas by Thursday evening.
Irma is forecast to remain a powerful category 4 or 5 hurricane during the next couple of days.
Hurricane-force winds extend outward up to 50 miles (85 km) from the center and tropical-storm-force winds extend outward up to 185 miles (295 km).
The Puerto Rico National Guard and the Puerto Rico Police evacuated flood-prone areas in the north and east of the island territory, to safeguard the lives of the residents of these zones.
Governor of Puerto Rico, Ricardo Rosselló urged citizens to cooperate with the relocation and warned that those who refuse to move to a shelter, or the safe house of a relative or friend, could be removed from their residences for their own safety.
The Government of Puerto Rico has 456 shelters available with capacity for 63,229 people. At this time, 156 shelters have been activated at the request of the municipalities.
Rosselló said President Donald Trump, signed his request to declare a state of emergency for the island before the disaster.
The Luis Muñoz Marín International Airport is closed to commercial planes, but it will remain available for military and emergency operations.
Hurricane Irma is one of three hurricanes in the Atlantic basin, the first time since 2010 that three active hurricanes have been in the Atlantic.
Jose, in the open Atlantic far to the southeast of Irma, became a hurricane tonight. Katia, in the Gulf of Mexico, also became a hurricane.
On Thursday Irma is expected to move over the Turks and Caicos islands, with catastrophic damage predicted. The storm will pass just north of the Dominican Republic and Haiti, bringing hurricane force winds to northern sections of the island of Hispaniola, with flooding and mudslides forecast.
It is still too early to tell whether Hurricane Irma will make landfall on the U.S. mainland. Computer models show it could pass near Florida's east coast by late Sunday, and forecasters warn the core still could hit the Florida.
This evening, Florida Governor Rick Scott received a full update on Hurricane Irma at the State Emergency Operations Center. The governor traveled the state today to meet with local officials, ensure communities have all the resources they may need, and to encourage families and visitors to be fully prepared.
Mandatory evacuation orders have been issued in Florida's Miami Dade and Monroe Counties and voluntary evacuation orders have been issued in Broward and Collier Counties. Additional orders are expected as the storm nears the state.
Governor Scott has activated a total of 1,000 members of the Florida Air and Army National Guard to support with planning, logistics and operations in preparation for potential impacts from Hurricane Irma. These members are stationing across the state and actively assisting with preparation efforts.
At the direction of Governor Scott, all remaining 6,000 National Guard members will be reporting for duty no later than Friday morning. More guard members will continue to be activated this week as needed.
The Florida National Guard has coordinated with the North Carolina National Guard to utilize air assets to assist with ongoing evacuations in the Florida Keys.
The Florida National Guard has 1,000 high water vehicles, 13 helicopters, 17 boats and more than 700 generators on standby.
All Florida state offices will be closed Friday as the hurricane nears.
Governor Scott directed the Florida Department of Transportation to suspend tolls across the entire State of Florida in preparation for Hurricane Irma.
Real-time traffic information and evacuation routes are available at www.FL511.com.
While the state is working with retail partners to fill grocery store shelves with water and other emergency resources as quickly as possible, the governor reminds Floridians that it is important to be considerate of neighbors and take only what each family needs to be prepared.
The state is staging mass care supplies such as meals, shelter support trailers and water at the State Logistic Response Center in Orlando for deployments as needed.
Volunteer Florida is coordinating with volunteer organizations across the state and has partnered with the American Red Cross to provide shelter operations training to volunteers and AmeriCorps grantees. To volunteer, go to volunteerflorida.org or call 1-800-FL-Help-1.
School closures are available at www.fldoe.org/irma.
Governor Scott has set a goal of 17,000 volunteers. So far, more than 700 state employees and more than 3,200 members of the public have signed up with Red Cross to take the volunteer sheltering training.
Copyright Environment News Service (ENS) 2017. All rights reserved.
Environment News Service (ENS) © 2017 All Rights Reserved.