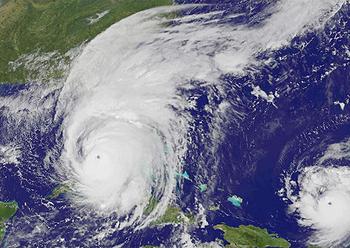 MIAMI, Florida, September 10, 2017 (ENS) – Hurricane Irma made landfall twice in Florida as a Category 4 hurricane Sunday morning and is currently blasting up the state's Gulf coast. Irma first touched land just after 9 am at Cudjoe Key in the Florida Keys archipelago; the second landfall occurred at Marco Island, at 3:35 pm local time.
Irma may return over water for a brief time and make a third landfall as a Category 1 hurricane southeast of Tallahassee, Florida, Monday morning, weather forecasters say.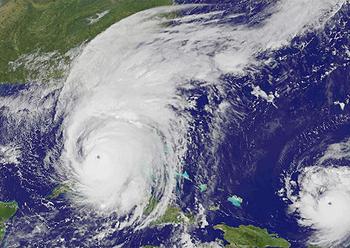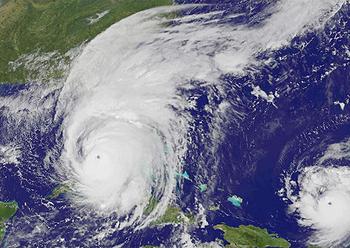 Now located about 35 miles south of Naples on Florida's Gulf Coast, Hurricane Irma is packing top winds of 115 miles per hour with higher gusts, says the National Weather Service, NWS. Hurricane-force winds extend about 80 miles from the center, and tropical storm winds extend out for 220 miles.
The National Hurricane Center reported a sustained wind of 62 mph at Miami International Airport, with a 99 mph gust. An 81 mph gust was recorded at the NHC office in Miami.
The boom of a crane at an apartment building under construction at 300 Biscayne Blvd. in downtown Miami collapsed this morning in Hurricane Irma's strong winds.
The boom is still connected to the crane's tower by a cable, and it is hanging over the building's side, the "Miami Herald" reports. City officials have instructed people living nearby to shelter on the side of their own buildings away from the fallen crane or in a stairwell. The general contractor, John Moriarty & Associates, of Florida has been contacted.
The weather service warns the storm will cause structural damage to sturdy buildings, and complete roof and wall failures of many buildings.
Floridians farthest from the storm are the safest, and millions have fled their homes. The Florida Division of Emergency Management estimates that 6.5 million Floridians have been ordered to evacuate. See the DEM website for useful information on preparation and recovery.
More than 390 shelters are open throughout Florida and more than 72,000 are now sheltering there. More than 60 special needs shelters are open with a total population of more than 5,000.
Forecasters warns that complete destruction of mobile homes is expected, with further damage caused by large airborne projectiles. They expect many large trees will be snapped or uprooted, fences and roadway signs blown over.
Widespread power and communications outages are already happening. Florida Power and Light reports more than six million customers are without power, about 34 percent of all its customers.
"Locations may be uninhabitable for weeks or months," NWS forecasters expect.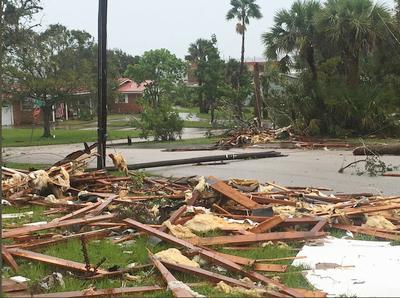 Large amounts of debris will block many roads, more within urban or heavily wooded places. Many bridges, causeways, and access routes will be impassable. Florida authorities have already closed many bridges, roads and public lands throughout the peninsula.
All the state's airports and sea ports are closed until the storm passes, and all fuel ports in Florida are now closed for safety.
Howling winds and torrential rains are already pounding Florida, and the NWS forecasters are especially concerned about storm surge, saying, "The combination of a dangerous storm surge and the tide will cause normally dry areas near the coast to be flooded by rising waters moving inland from the shoreline."
Storm surge is a major hazard along the west coast of Florida.
The shoreline from Cape Sable, at the western side of Everglades National Park, for about 120 miles north to Captiva will experience a 10 to 15 foot storm surge, the highest in the state, if the peak surge occurs at the time of high tide, the weather service warns.
"The deepest water will occur along the immediate coast in areas of onshore winds, where the surge will be accompanied by large and destructive waves," the NWS says.
Captiva to Ana Maria Island will get six to 10 feet, while the area from the Card Sound Bridge through Cape Sable, including the Florida Keys will get a five to 10 foot storm surge.
Ana Maria Island to Clearwater Beach, including Tampa Bay is predicted to experience a five to eight foot storm surge.
On Florida's Atlantic coast, North Miami Beach to the Card Sound Bridge, including Biscayne Bay, is predicted to get a storm surge of three to five feet.
The South Santee River to Fernandina Beach will get a surge of four to six feet; and so will be area from Clearwater Beach to Ochlockonee River.
On Florida's Atlantic coast Sunday morning, St. Lucie County received the heaviest rainfall in the state from Hurricane Irma, with more than 10 inches falling around Fort Pierce, a city of 42,000 on Florida's east coast, about 125 miles north of Miami. The weather service says the heavy rainfall also has flooded homes in Fort Pierce and roads are impassable.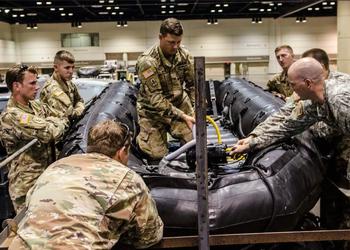 When the storm has passed, there will be an immediate all out search, rescue and recovery effort, which is already staged, says Governor Rick Scott.
The state is coordinating with utilities to identify potential fuel, equipment, lodging or resource needs as utility providers stage assets to help restore power as quickly as possible following the storm. At least 24,000 restoration personnel have been activated to help restore power as quickly as possible following the storm.
Duke Energy Florida is mobilizing some 7,000 lineworkers, tree professionals, damage assessment and support personnel to safe locations prepared to respond to outages.
Florida Power and Light has activated its emergency response plan and has thousands of workers preparing to respond to Irma. FPL is also working with out-of-state utilities and electrical contracting companies to secure additional resources and has opened more than 20 staging sites throughout the state, where restoration crews, trucks and equipment are stationed.
Governor Scott has activated the entire force of the Florida Army and Air National Guard – 7,000 guard members – to support with planning, and logistics operations in preparation for potential impacts from Hurricane Irma.
The Florida National Guard has 1,000 high water vehicles, 13 helicopters, 17 boats and more than 700 generators on standby.
The Florida National Guard is coordinating a multi-state response focused on planning and preparation of thousands of forces available to enhance security and support humanitarian assistance and disaster relief.
States that have deployed troops or are positioning support include North Carolina, Ohio, Wisconsin, Tennessee, Kentucky, Illinois, Connecticut, Mississippi and New Jersey.
The Florida National Guard is coordinating with the National Guard Bureau to identify 30,000 troops, 4,000 trucks, 100 helicopters, and air evacuation crews that are standing by for Hurricane Irma support, if needed.
The Florida National Guard is currently engaged in more than 100 shelter missions across the state and is staged in Orlando alongside the Florida Fish and Wildlife Conservation in preparation for potential search and rescue missions.
Free Xfinity WiFi hotspots are available throughout the state for individuals in need, including non-Xfinity customers, to help residents and emergency personnel stay connected if Hurricane Irma makes anticipated landfall in Florida. For a map of Xfinity WiFi hotspots, which are located both indoors and outdoors in places such as shopping districts, parks and businesses, visit Xfinity.com/wifi.
Charter Communications opened all of their Spectrum WiFi hotspots across Florida to help those affected by Hurricane Irma get connected.
At the direction of Governor Scott, the state Department of Environment Protection, DEP, requested, and the U.S. Environmental Protection Agency has approved, reduced regulations for emergency and backup electric generating units in Monroe County to facilitate the supply of needed electricity during and after Hurricane Irma.
Everglades National Park and Florida State Parks and most state public lands are currently closed for safety.
DEP is reaching out to drinking, wastewater and hazardous waste facilities to help ensure preparation steps are being taken, and has issued an emergency final order to ensure recovery efforts are not hampered or delayed.
DEP has inspected to ensure the security of all of the 48 state-regulated hazardous waste cleanup sites statewide.
To prepare for heavy flooding and run-off from the storm, the U.S. Army Corps of Engineers Jacksonville District has completed pre-storm drawdowns that includes water releases from Florida's largest lake, Lake Okeechobee, in the south-central part of the state. The lake level is currently at 13.66 feet.
The South Florida Water Management District continues to manage water levels in canals, moving as much water as possible to tide and south through flood control structures throughout its flood control system in preparation for the storm.
Field station staff have completed inspections of key parts of the flood control system and ensuring adequate supplies of fuel and equipment for pump stations. Pump stations will be staffed and operating around the clock during and after the storm.
Tornadoes are possible through tonight, mainly across southern, central, and eastern portions of the Florida Peninsula, the weather service warns.
"Do not venture outside when the calm eye of the hurricane passes over, as dangerous winds will return very quickly when the eye moves away," NWS forecasters warn.
Finally, the surf is dangerous all along the southeast coast of the United States, with swells generated by Irma likely to cause life-threatening surf and rip current conditions.
One bit of relief – Hurricane Jose now moving westward across the Atlantic, does not pose a threat to Florida, says the National Weather Service.
Copyright Environment News Service (ENS) 2017. All rights reserved.
© 2017, News Editor. All rights reserved.