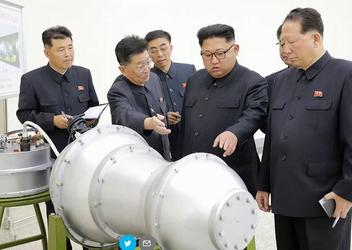 TOKYO, Japan, September 3, 2017 (ENS) – A strong magnitude 6.3 earthquake at the surface of the Earth struck North Korea on Sunday, raising suspicions that an explosion likely caused the quake.
The shaking was felt in China. Minutes after the first temblor, which occurred at 0330 GMT, the China Earthquake Networks Center, CENC, reported a second shallow tremor nearby, saying that it may have been a collapse earthquake.
The CENC said a 4.6-magnitude earthquake occurred eight minutes after the first quake, also with an epicenter zero km deep.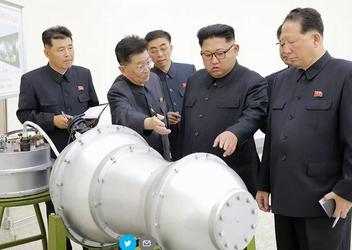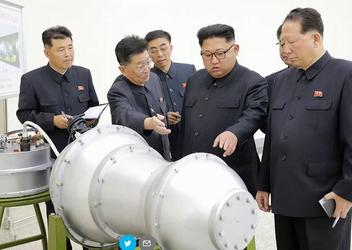 The U.S. Geological Survey reported that a 6.3-magnitude tremor happened at 0330 GMT, 11 am North Korean time, in a location 22 km east-northeast of Sungjibaegam, North Korea in an area where the Kim Jong-un administration has set off nuclear tests in the past.
North Korea's state-run Korean Central Television announced Sunday at 3:00 pm local time that the country had conducted its sixth nuclear test at its site in the northeast.
KCT said the test was for a hydrogen bomb that can be mounted on an intercontinental ballistic missile. The announcement said the test was successful. It has been one year since the last test, and this is the first time the North has conducted a nuclear test two years in a row.
The top security officials of South Korea and the United States on Sunday discussed how to deal with the aftermath of North Korea's sixth nuclear test, Cheong Wa Dae from Seoul's presidential office told South Korea's Yonhap News Agency.
Chung Eui-yong, South Korea's National Security Office chief, and his U.S. counterpart, H.R. McMaster, held 20-minute telephone talks, shortly after Pyongyang conducted what it claims to have been a test of a hydrogen bomb mountable on an intercontinental ballistic missile.
The talks were the latest in a recent series of phone conversations held after Pyongyang's missile provocations.
Amid the North's continued missile launches over the last months, Chung, McMaster and their Japanese counterpart Shotaro Yachi have strengthened their communication to coordinate joint responses.
Japan's Prime Minister Shinzo Abe says North Korea's nuclear test poses a new level of threat to Japan and undermines peace and stability in the region and the world. Abe said Japan condemns the act in the strongest possible terms.
Abe called a National Security Council meeting Sunday to deal with the threat. "Chances are there that North Korea carried out a nuclear test," Abe told reporters arriving at his office to convene the meeting.
"The North's nuclear test, if it turns out to be true, could never be tolerated," the Japanese Prime Minister said.
Abe ordered Chief Cabinet Secretary Yoshihide Suga to gather and analyze information, immediately provide related information to the people and respond to the situation in cooperation with South Korea, the United States, China and Russia.
Vladivostok, Russia, a Pacific port city in the far Southeast corner of Russia near the borders of China and North Korea, is just 204 miles (329 km) from the site of the quake or explsion.
Starting Wednesday, more than 40 representatives of U.S. companies and local government bodies are scheduled to attend the third Eastern Economic Forum, EEF, hosted by Russia in Vladivostok on September 6-7.
More than 3,000 participants from 50 states are expected to visit the Eastern Economic Forum.
Forum guests will discuss prospects of developing international cooperation in areas from politics and economy to environmental protection, EEF organizers said in statement Friday.
California Governor Jerry Brown is expected to hold business meetings at the Forum, participate in the environmental session Specially Protected Natural Areas: Opportunities for Government and Business, and give a lecture to students and faculty members of the Far Eastern Federal University, EEF organizers said.
Governor Brown said he will attend the Eastern Economic Forum in Vladivostok to further expand California's trans-Pacific collaboration to combat climate change.
"This Pacific forum on trade isn't just an occasion to promote investment, it's an opportunity to strengthen our commitment to decarbonizing the economy," said Governor Brown. "Every government and every business is responsible for making this radical turn and from Victorville to Vladivostok, California will continue to lead the charge."
The Governor plans to depart California on Sunday, September 3, and stop in Nome, Alaska to meet with scientists and researchers studying the impacts of climate change. He is expected to arrive in Vladivostok on Tuesday, September 5, 2017, local time.
Russian President Vladimir Putin may meet with South Korean President Moon Jae-in during the event, the Russian news agency TASS reported.
Japanese Prime Minister Abe is also expected to participate in the Forum.
Copyright Environment News Service (ENS) 2017. All rights reserved.
Environment News Service (ENS) © 2017 All Rights Reserved.