Cancun Climate Outcome 'Consistent With U.S. Objectives'
WASHINGTON, DC, December 14, 2010 (ENS) – The United States government is pleased with the outcome of the United Nations climate talks in Cancun, which ended Saturday, top U.S. climate negotiator Todd Stern said today. "From our point of view, what just happened is really very significant. It kind of lays out the structure of an international agreement in all of the crucial areas."
Briefing reporters at the State Department, Stern said, "This package of agreements obviously is not going to solve climate change by itself, but it is a very good step and a step that's very much consistent with U.S. interests and will help move the world down a path toward a broader global response to stopping climate change."
Over the last two weeks, representatives from 194 nations met in Cancun for the 16th Conference of the Parties of the UN Framework Convention on Climate Change with the goal of reaching new agreements to advance collective efforts to limit global warming to an increase of two degrees Celsius above pre-industrial levels.
This is the maximum increase most scientists agree is necessary to avert the worst consequences of climate change – extreme weather patterns, droughts and floods, heat waves and wildfires, melting of glaciers and polar ice caps, sea level rise, ocean acidification, coral bleaching, migration of tropical diseases toward the temperate latitudes, as well as species extinctions.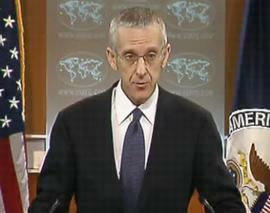 U.S. Special Envoy for Climate Change, Todd Stern, briefs reporters at the State Department. (Photo courtesy State Dept.)
In the early morning hours of Saturday in Cancun, the parties did reach a deal. "This result was fundamentally consistent with U.S. objectives," said Stern, the Obama administration's special envoy for climate change.
At the contentious 2009 UN climate conference in Copenhagen, attempts to forge a legally-binding global climate treaty to take effect when the Kyoto Protocol first commitment period expires at the end of 2012 were not fruitful.
Instead, the hastily drafted voluntary Copenhagen Accord, presented to delegates in the final moments of the meeting, was approved over the past year – country by country signing on – or not.
Stern called the language used in the Copenhagen Accord "politically binding."
"It's not legally binding but these are serious decisions made under the auspices of a legally binding treaty," he said. "These are all decisions made under the kind of umbrella of the UN Framework Convention on Climate Change. Governments do not take these things lightly."
In Cancun, said Stern, the Copenhagen Accord was legitimized.
"Throughout the year, our strategic vision was to consolidate and elaborate on the progress made last year in Copenhagen by many of the world's leaders, including President Obama, and to have such outcome fully endorsed by the Conference of the Parties, all the nations to the Climate Treaty, as the Copenhagen Accord obviously was not," Stern said today.
"The resulting Cancun Agreement advances each of the core elements of the Copenhagen Accord," he said.
The financial promises that were made in Copenhagen and continued in the Cancun agreements are "a core part of the deal," Stern said. These include fast-start funding of $30 billion from industrial countries to help vulnerable countries cope with the warming climate. In addition, rich countries agreed to jointly come up with $100 billion annually by 2020 to mitigate the impacts of climate change on developing countries that emitted few climate-warming gases.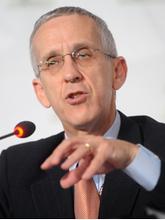 Todd Stern explains the U.S. position in Cancun (Photo courtesy ENB)
The Cancun Agreement "anchors the accord's mitigation pledges by both developed and developing countries in a parallel manner," Stern explained, referring to the voluntary pledges countries have made to reduce emissions of greenhouse gases that blanket the Earth, trapping the Sun's heat close to the planet.
"It outlines a system of transparency with substantial detail and content, including international consultations and analysis; that was the negotiated phrase from the Copenhagen Accord," Stern explained. "And this will provide confidence that a country's pledges are being carried out and help the world keep track of the track that we're on in terms of reducing emissions."
The Cancun Agreements launches a new Green Climate Fund with a process for setting it up, create a framework to reduce deforestation in developing countries, establishe a technology mechanism which will include a new technology executive committee and a climate technology center and network, and set up a framework and committee to promote international cooperation and action on adaptation.
"The U.S. is pleased that parties showed the flexibility and pragmatism that was necessary to make progress in each of these areas," Stern said. "The two-week conference posed a number of quite difficult challenges. It was anything but clear for a long time that we were actually going to get this agreement. But guided by what I think was a really outstanding Mexican team, parties worked through the various problems with patience, and pragmatism, allowing us to reach the result that we did."
Whether or not to extend the Kyoto Protocol beyond 2012, an issue that has divided the parties for years, does not involve the United States, which signed but has not ratified the protocol adn is not bound by it.
As a result, said Stern, "We don't take a side on this. We are comfortable with however the Kyoto issue gets resolved."
Japan, Russia, Canada and Australia – all bound by the Kyoto Protocol – have indicated that they are not willing to extend the treaty. Many vulnerable developing countries say the world must retain the only treaty that puts hard limits on greenhouse gas emissions.
The protocol requires 37 signatory countries to reduce emissions an average of 5.2 percent below 1990 levels by the end of 2012.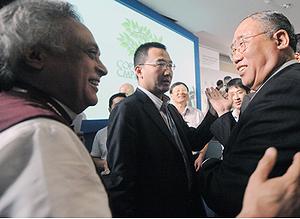 Jairam Ramesh, Indian Minister of Environment and Forests, left, and Zhenhua Xie, Minister/Vice-Chairman, National Development and Reform Commission, China greet one another in Cancun, December 6, 2010. (Photo courtesy ENB)
"You can understand the hesitance on the part of some countries to want to go into a second period, given that a second Kyoto period would probably only cover 20-something percent of global emissions," said Stern. "It doesn't have the United States in it and you don't have any commitments from the major developing countries. … But Kyoto is not the larger agreement that includes emission commitments from the U.S., China, India, Brazil, et cetera."
Stern says on the Kyoto Protocol track there may be some kind of legal treaty in the future, "that's not happening, I think, anytime soon for the reason that we're not prepared to enter into legally binding commitments to reduce our emissions unless China, India, and so forth, are also prepared to do that. And at the moment, they're not."
The U.S. position on China, said Stern, "is that China needs to make significant reductions in its emissions. But for China or other developing countries, at this stage, those are going to be relative reductions. Those are going to be reductions against the so-called business-as-usual path that they would be on."
At this stage in life, Stern explained, "the movement of emissions is very linked to the movement of economic growth. So you're not going to get a Chinese economy growing at 10 percent to have a below-zero reduction in emissions."
"It's not so much that we're calling on China or India to make legally binding commitments right now. What we're saying is we will do legally binding commitments only if they are symmetrical, if the emerging market countries do that also," he said.
"If they're not ready to do it, it's not so much that we're criticizing that, it's just that we say, if that's where we are globally, then we need to push forward in the kind of politically binding structure that we're doing now," Stern said. "And we're comfortable with that, and we can do it either way. We're just not going to have a completely asymmetrical system."
"The critical direction that we need to move on is to separate growth from the path of emissions," said Stern, "so that growth goes up but emissions can still go down, because you've got so much of your energy coming from low carbon sources."
Copyright Environment News Service (ENS) 2010. All rights reserved.