UK Offers 25% Grants to Buyers of Nine Electric Car Models
LONDON, UK, December 14, 2010 (ENS) – The government drove the UK into the fast lane of the electric and ultra-low emission car circuit today as ministers unveiled nine models that will be eligible for grants of up to £5,000 (US$7,880) to purchasers.
The Plug-In Car Grants will be available to motorists across the UK from January 1, 2011, reducing the cost of eligible cars by a quarter, up to a maximum of £5,000.
Transport Secretary Philip Hammond and Business Minister Mark Prisk said the grants will make 2011 "the year of the electric car for the UK."
The first nine cars to become eligible for eco-friendly car grants are: Mitsubishi iMiEV; smart fortwo electric drive; Peugeot iON; Citroen CZero; Nissan Leaf; Tata Vista EV; Toyota Prius Plug-in; Vauxhall Ampera and Chevrolet Volt. More will follow next year.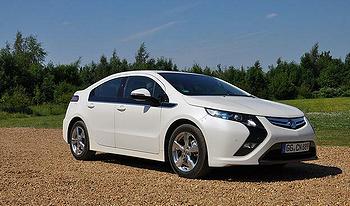 London's Metropolitan Police will try out the Vauxhall Ampera extended range electric car. Its lithium-ion battery is fully charged in three hours. (Photo courtesy Metropolitan Police)
The Government is also encouraging a new network of electric vehicle recharging points in streets, car parks and commercial retail and leisure facilities as driving electric cars becomes a part of everyday life for British drivers.
The ministers revealed five more regions that will be installing local charging points having successfully bid for a share of a £20 million (US$31.5 million) fund – the Midlands; Greater Manchester; East of England; Scotland and Northern Ireland.
Transport Secretary Philip Hammond said, "A few years ago, ultra-low emission cars with mass market appeal appeared just a pipe dream. Now they are a reality and we can have all the convenience of the car without all the carbon that normally goes with it."
"Government action to support affordable vehicles and more local charging points means we are on the threshold of an exciting green revolution," said Hammond. "2011 could be remembered as the year the electric car took off."
"The British public has in the past shown it's ready to embrace new technology and take practical steps to adopt a lifestyle kinder to the environment, so we could really be at the start of something big," Hammond said.
The ministers said today's announcement further confirms the UK as a global front runner in the market for ultra-low emission cars and open for business for hi-tech green manufacturing. This builds on Nissan's decision to produce its electric car, the Leaf, in Sunderland and the work the Automotive Council is doing to improve the way government works with industry.
Business Minister Mark Prisk said, "Today's news that motorists will be able to choose from at least nine cars under the consumer incentive scheme and that we are expanding the infrastructure for charging electric vehicles will further reinforce the message that the UK is Europe's leading producer of ultra low carbon vehicles."
The first review of the Plug-In Car Grant will take place in 2012.
Copyright Environment News Service (ENS) 2010. All rights reserved.