Russian Police Use Force to Break Up Environmental Rally
KRASNODAR, Russia, December 14, 2010 (ENS) – A peaceful and legal environmental rally in support of the Utrish nature reserve, organized by Environmental Watch on North Caucasus in Krasnodar, had barely begun when it was dispersed by police on Sunday.
Policemen detained the four activists by force. Numerous policemen forced two EWNC members, Dmitry Shevchenko and Suren Gazaryan, to the ground, twisting their arms and fingers, pushing their faces onto the pavement. They kicked Gazaryan, who was wearing a racoon costume and carrying a green coffin to represent the destruction of the Utrish forest to make way for ecotourism development.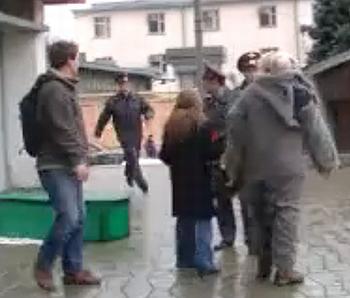 Krasnodar police confront, from left, Dmitry Shevchenko, unknown woman, Suren Gazaryan. (Image from video courtesy EWNC)
Although a dozen witnesses were present, taking pictures and videos, and protesting their actions, police did not show any documents, or say why the activists were arrested.
Gazaryan, a Krasnodar resident who holds a PhD in bat biology, is senior research associate of the Laboratory of Biodiversity, Institute of Ecology of Mountain Territories at the Kabardino-Balkarian Scientific Centre of the Russian Academy of Sciences in Krasnodar.
Shevchenko is a Krasnodar-based freelance journalist.
After forcing the handcuffed activists into a van, police took them to the police station, where Gazaryan was kept in handcuffs for another three hours.
A spokesman for Krasnodar police said Monday that police may open a criminal probe against Gazaryan for "using violence against the police."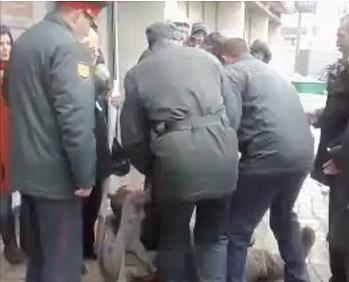 Krasnodar police haul away Suren Gazaryan in racoon suit and handcuffs (Image from video courtesy EWNC)
But videos of the arrest show that these allegations are false and in fact violence was used against two activists as they were attempting to circumvent a police blockade which prevented the peaceful environmental demonstration from passing.
After spending Sunday night in jail, Gazaryan and Shevchenko were released. The court will hear the case against them on December 20.
Environmental Watch on North Caucasus said in a statement that the group intends to "sue the police for moral damages."
The Russian government in September established the Utrish Nature Reserve on the Black Sea coast in the Krasnodar Territory. But some Russian environmentalists object that the Utrish Nature Reserve will not really protect this natural area.
They point to the government's stated plans for the Utrish Nature Reserve that would strip the most valuable coastal old-growth forested areas of their previous status as a regional nature reserve to allow for construction of an elite sports and recreational complex with a network of roads necessary for such construction, dooming the unique natural landscapes.
Save Utrish Movement; Greenpeace Russia; Ecological Watch on North Caucasus; and Social and Ecological Union, among others, say that despite the assurances of ecological modernization made by Russia's high authorities, the officials of all ranks "persist in their intent to destroy valuable parts of Russia's wildlife."
Greenpeace Russia says the area around Zmeinoye Lake is the most seriously treatened. The company JSC Druzhba leased 13 hectares (32 acres) of land for its recreation resort. Greenpeace says the administration of the Krasnoyarsk Krai owns a "considerable amount of Druzhba's stock, and it actively supports the project."
The construction has already begun. Most of the leased old-growth forests are enclosed by an iron fence. On an adjacent Black Sea bay, dredging operations have started and the shores are covered with concrete. Communications infrastructure has been built in the leased area. Several large hotels, leisure centers, and many VIP cottages are to be constructed there soon.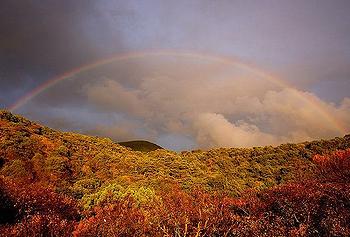 Old-growth juniper and pistachio forest on the Utrish Nature Reserve on the Black Sea coast (Photo by by Olga Perfileva)
Environmentalists are trying to protect an ancient juniper forest that occupies a small area of the leased territory. Greenpeace says, "Utrish already suffers great negative impacts," and the "maximum permissible recreational loads on the reserve have been many times exceeded."
The alternative "does not imply liquidation of its recreation facilities," says Greenpeace. "It's neither possible nor necessary to stop the development of Utrish as a recreational center. But its conservancy status must be strictly observed in order to prevent its nature from degradation, and funds from recreation activities should be used for conservation and restoration of unique nature complexes."
Many Russian cities have held actions to protect Utrish. Over 16,000 hard copy and electronic appeals made by citizens of Russia and other countries have been sent to Russian President Dimitry Medvedev.
The Russian government announced plans earlier this year to establish 10 new national parks and 11 new federal reserves by the year 2020, and to expand another 10 reserves and two national parks during the next decade.
Prime Minister Vladimir Putin announced the move in July as part of Russia's contribution to the United Nations' International Year of Biodiversity 2010 and to maintaining the balance of the global environment and climate.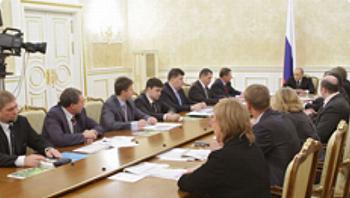 Russian Prime Minister Vladimir Putin chairs a meeting of officials to chart plans for protected areas. October 29, 2010 (Photo courtesy Office of the Prime Minister)
"Investment in environmental protection, that is, in the quality of life and prosperity of future generations is at the top of our list of priorities," Putin said. But first, Putin said, there are "a number of major systemic problems" to be overcome.
At the end of October, Putin convened a meeting of officials to begin resolving these issues, which include the development of ecotourism, which Putin said "plays an important role in educating the public."
"It also enables national parks to bring in money for development and improvement without causing harm to the natural environment," he said.
"We need to create a proper legal framework for the development of recreational and tourist activity in national parks and other protected areas to make it possible to rent property there and build hotels and services for tourists," Putin said, adding that, "Such economic activity in protected areas should certainly meet the highest environmental standards and be supervised thoroughly."
The Ministry of Natural Resources has drafted a comprehensive plan for the development of national parks and preserves in Russia, said Putin, but he emphasized the this development would proceed with full public involvement.
"Every project involving the development of nature reserves and national parks should be implemented in close contact with the public and with nongovernmental environmental organizations," said Putin at the close of the October meeting. "The positive impact of such cooperation is obvious."
The Krasnodar police, however, have not gotten the message.
Copyright Environment News Service (ENS) 2010. All rights reserved.