Cancun Climate Deal Puts UN Process Back on Track
CANCUN, Mexico, December 11, 2010 (ENS) – The United Nations climate change conference in Cancun wrapped up two weeks of negotiations at dawn this morning with agreement on a package of decisions that UN officials are hailing as a victory.
The outcome is an "important success for a world much in need of it," Secretary-General Ban Ki-moon said today. "Governments came together in common cause, for the common good, and agreed on a way forward to meet the defining challenge of our time."
Christiana Figueres, the UN's top climate official, said, "Cancun has done its job. The beacon of hope has been reignited and faith in the multilateral climate change process to deliver results has been restored."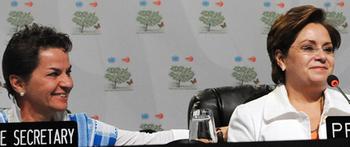 UNFCCC Executive Secretary Christiana Figueres and Conference President Patricia Espinosa as delegates agree on a deal in Cancun (Photo courtesy Earth Negotiations Bulletin)
"Governments have given a clear signal that they are headed towards a low-emissions future together," said Figueres. "They have agreed to be accountable to each other for the actions they take to get there, and they have set it out in a way which encourages countries to be more ambitious over time."
The Cancun Agreements recognize the goal of reducing greenhouse gas emissions from rich countries by 25 to 40 percent from 1990 levels within the next 10 years. Current pledges amount to about 16 percent; the United States has pledged a 17 percent reduction by 2020.
Delegates from 194 countries agreed to seek "deep cuts" in greenhouse gas emissions, but they put off the essential question of how much all nations will cut emissions to next year's talks in Durban, South Africa.
They agreed that there should be no gap between the first and second commitment periods of the Kyoto Protocol, an addition to the UN Framework Convention on Climate Change UNFCCC, that contains legally binding measures to reduce greenhouse gas emissions for 37 developed countries. The protocol's first commitment period will expire at the end of 2012.
Bolivian delegates Pablo Solon, left, and Rene Gonzalo Orellana Halkyer (Photo courtesy ENB)
Japan and Russia, now bound by the protocol, announced in Cancun that they would not enter a second commitment period.
Delegates agreed that carbon dioxide capture and storage in geological formations will be included as an eligible project activity under the Kyoto Protocol's Clean Development Mechanism. This flexible mechanism allows the 37 countries to fulfill their greenhouse gas emission obligations by investing in projects that reduce emissions in developing countries.
Delegates also agreed to establish a Green Climate Fund of US$30 billion of new contributions for the period 2010-?2012 to help the most vulnerable developing countries adapt to the unavoidable impacts of climate change and reduce their carbon footprints.
In the longer term, developed countries committed to a goal of mobilizing jointly US$100 billion per year by 2020 to address the needs of poorer countries. A "significant share" of new multilateral funding for adaptation should flow through the Green Climate Fund, which will be managed by the World Bank for the first three years, delegates agreed.
The Cancun Agreements include action to protect the world's forests, important because deforestation accounts for nearly one-fifth of all global carbon dioxide emissions.
Delegates decided to establish a three-phase process for tropical countries to reduce deforestation and receive compensation from developed countries in an agreement that includes protections for forest peoples and biodiversity.
They also created a mechanism to share clean technologies to help developing countries move away from fossil fuels.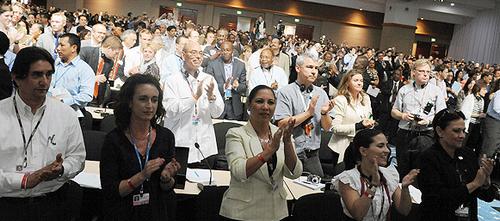 Delegates give Conference President Patricia Espinosa a standing ovation. (Photo courtesy ENB)
After last year's contentious negotiations in Copenhagen, delegates in Cancun showed a more cooperative spirit, greeting the outcome with a standing ovation for conference president Mexico's Foreign Minister Patricia Espinosa.
Espinosa brought delegates to agreement without the approval of Bolivia, which objected that the Cancun Agreements amount to a blank check for developed nations because the documents specifying their commitments have not yet been published.
"The texts on the table represent the work of many delegations that carry the hope of delivering what our societies expect. I take note of your opinion, but if there are no other objections, this text is approved," Espinosa told Bolivian delegate Pablo Solon.
"Consensus does not mean that one nation can choose to apply a veto on a process that other nations have been working on for years. I cannot ignore the opinion of another 193 states that are parties," Espinosa said.
Mexican President Felipe Calderon salutes delegates. (Photo courtesy ENB)
Mexico's President Felipe Calderon praised the delegates for reaching agreement to fight global warming.
"In doing so we are thinking of our brothers in the most vulnerable states," Calderon said. "But no one has renounced the goal of binding treaties."
"Cancun has been a success for all because it has taken a big step in convincing the international community of the value of multilateralism," Calderon said. "This has been a success for humanity and reason."
Today, President Barack Obama telephoned President Calderon to congratulate him on the conference's outcome.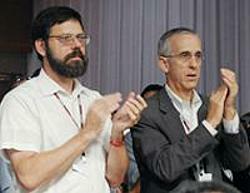 U.S. negotiators Jonathan Pershing, left, and Todd Stern applaud the outcome in Cancun. (Photo courtesy ENB)
"Obama congratulated President Calderon for his leadership and Mexico's excellent work chairing the Cancun conference to a successful conclusion that … advances the effort to address the challenge of climate change," the White House said in a statement.
Most observers called the Cancun Agreements a modest achievement that puts climate negotiations back on track after the disappointing talks in Copenhagen.
"We have moved away from the post-Copenhagen paralysis," said Claire Parker, senior climate change policy advisor with the International Union for the Conservation of Nature. "Developing countries can now see new money on the table which they can draw on to adapt to the impacts they're already facing and reduce emissions."
"The real bright spot was moving forward with REDD+, the program to eliminate tropical deforestation," said Doug Boucher, director of climate research and analysis with the Union of Concerned Scientists, based in Washington, DC. "Historic changes are happening in conference halls and in the Amazon that can end thousands of years of deforestation in our lifetime."
But others blamed the balance of power in the U.S. Congress for hampering the world's ability to deal with damaging climate change.
Joe Mendelson, global warming policy director with the National Wildlife Federation, said today, "Progress was made on a number of important issues, but it's clear the Senate's failure to pass clean energy legislation tied the hands of negotiators to come to a full global deal. Formally recognizing the Copenhagen reduction targets, including the U.S. 17 percent reductions by 2020, still leaves the world woefully short of what needs to be done to tackle the climate crisis."
Copyright Environment News Service (ENS) 2010. All rights reserved.
Environment News Service (ENS) © 2010 – 2012 All Rights Reserved.