Peruvian NGO Buys Private Lands for National Conservation
IQUITOS, Peru, December 10, 2010 (ENS) – In a first for Peru, conservationists have purchased privately owned lands within a national protected area and donated them to the Peruvian government.
The Peruvian conservation organization ProNaturaleza bought 29 properties from willing landowners within the Allpahuayo Mishana National Reserve near the city of Iquitos in northern Peru.
The donated lands, totaling 1,196 acres, are inhabited by the Iquitos gnatcatcher, Polioptila clementsi, a Critically Endangered bird first described in 2005 that is estimated to number fewer than 50 pairs.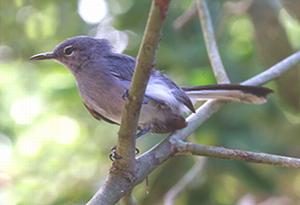 Iquitos gnatcatcher (Photo by Jose Alvarez Alonso courtesy ProNaturaleza)
Martin Alcalde, executive director of ProNaturaleza, said, "This experience is a clear example of joint work between public and private institutions benefiting the management of the Allpahuayo Mishana National Reserve, the pride of Iquitos."
The privately owned properties were donated on December 1 to El Servicio Nacional de Areas Naturales Protegidas por el Estado, or SERNANP, the government agency that administers national protected areas.
"We hope to build on this success to purchase more in-holdings to later donate to SERNANP if additional funds become available," Alcalde said.
"The donation of this land to SERNANP allows us to better manage it for conservation," said Carlos Rivera Gonzales, head of Allpahuayo Mishana National Reserve.
The 143,500-acre Allpahuayo Mishana National Reserve, located 15 miles from the city of Iquitos, protects rare white-sand forests that shelter unique plants and animals.
"This reserve is one of the most important places for birds in Peru and is the only home for the Critically Endangered Iquitos gnatcatcher," said Dr. Daniel Lebbin, conservation biologist with American Bird Conservancy, the U.S. bird conservation organization which helped to fund the acquisition.
Visitors explore the Allpahuayo Mishana National Reserve (Photo courtesy Dawn on the Amazon)
Additional funds were provided by ConocoPhillips, the National Fish and Wildlife Foundation, and the Robert W. Wilson Charitable Trust.
The Iquitos gnatcatcher is classed as Critically Endangered by the authoritative IUCN Red List of Threatened Species due to its restricted range, amounting to less than eight square miles or roughly 4,950 acres and the threat of deforestation to its white-sand forest habitat.
The protected area was first declared as a Reserve Zone in 1999, and elevated to a National Reserve in 2004.
When the Allpahuayo Mishana National Reserve was created, much of the land remained under private ownership. Continued timber extraction, charcoal production, and land clearance for agriculture on these private lands continue to damage the reserve's forests and reduce habitat for its threatened wildlife, says Lebbin.
To purchase the land and donate it to the country, ProNaturaleza worked with a coalition that includes SERNANP and other environmental groups, such as CANATURA, an environmental education organization, and Friends of Allpahuayo Mishana, or ACAAM.
ACAAM also purchased private property along the reserve's border to help protect additional forests.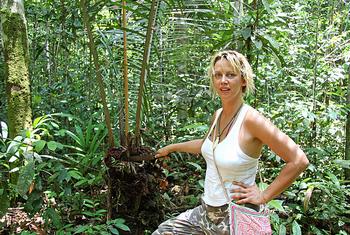 Visitor in the white-sand forest of the Allpahuayo Mishana National Reserve (Photo courtesy Dawn on the Amazon)
In addition to the Iquitos gnatcatcher, the Allpahuayo Mishana National Reserve is filled with native species found nowhere else on Earth.
The reserve has more species of butterflies than any other place in the world, and nearly 100 plant species which exist nowhere else, according to Dawn on the Amazon, a tour guiding company based in Iquitos that escorts visitors into the reserve.
In the reserve, 500 varieties of trees are found per hectare (2.5 acres), more than any site on Earth. Many of these tree species are white-sand specialists and are very rare, due to the scarcity of white-sand forests.
Of the 475 species of birds that have been documented in reserve, 21 species are associated only with the white-sand forest habitat, Dawn on the Amazon guides tell their visitors.
The Allpahuayo Mishana National Reserve is recognized by the Alliance for Zero Extinction as one of 587 sites worldwide where conservation is essential to prevent species extinctions.
The 68 biodiversity conservation organizations in 18 countries who make up the alliance aim to prevent extinctions by identifying and safeguarding key sites where species are in danger of disappearing.
Due to the large number of unique species native to Peru, the country has 36 Alliance for Zero Extinction sites, the third greatest number in the world after Mexico, with 68 sites and Colombia with 46.
ProNaturaleza said a statement announcing the donation that it hopes to promote a culture of conservation by promoting birdwatching and appropriate use of natural resources within the reserve.
Copyright Environment News Service (ENS) 2010. All rights reserved.
© 2010 – 2012, Jim Crabtree. All rights reserved.