Court Allows EPA's Regulation of Greenhouse Gases to Proceed
WASHINGTON, DC, December 10, 2010 (ENS) – A federal appeals court today rejected a motion by several industry groups and states opposed to climate regulation for a partial stay of the U.S. Environmental Protection Agency's planned regulation of greenhouse gas emissions under the Clean Air Act.
A three-judge panel of the U.S. Court of Appeals for the District of Columbia Circuit denied all the pending motions to stay EPA's regulations of greenhouse gases, some of which are scheduled to take effect on January 2, 2011.
The order by Judges Douglas Ginsburg, David Tatel and Janice Rogers Brown declared that the petitioners "have not shown that the harms they allege are 'certain,' rather than speculative, or that the 'alleged harm[s] will directly result from the action[s] which the movant[s] seeks to enjoin.'"
The case, Coalition for Responsible Regulation Inc., et al., v. EPA, pits the U.S. EPA, 16 states and environmental groups against industries, global warming skeptics and 14 other states.
Bill Becker, executive director of the National Association of Clean Air Agencies, was pleased with the court's decision, saying, "NACAA applauds the decision by the U.S. Court of Appeals denying the stay of EPA's greenhouse gas rules. The doors of state and local permitting agencies will be open for business come January 2, 2011."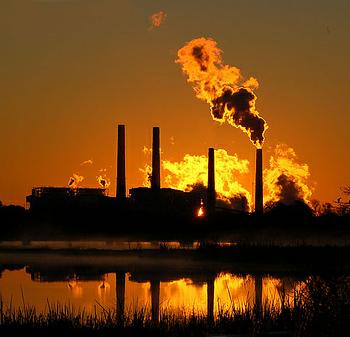 Sunrise illuminates greenhouse gases emitted by NRG's W.A. Parish power plant at Thompsons, Texas, the 59th largest power plant in the world with four gas and four coal-fired units. (Photo by Joe A.)
This decision is by no means the end of the legal action. The court also said that, as the petitioners had requested, they would hear oral arguments in the case.
The National Association of Manufacturers, one of the petitioning groups, was "disappointed" in the ruling.
NAM Vice President of Litigation and Deputy General Counsel Quentin Riegel said, "Manufacturers are disappointed in the court's decision today to deny our motion of stay against EPA."
"We continue to believe that our arguments presented a compelling case for an issuance of stay. he EPA's agenda places unnecessary burdens on manufacturers, drives up energy costs and imposes even more uncertainty on the nation's job creators," Riegel said.
"We will continue our efforts to stop the EPA from pursuing its job-destroying agenda. We are confident that the merits of the litigation are strong and we will move forward aggressively," he said.
But environmental groups were hopeful that the court's ruling is the start of reduction in climate-warming greenhouse gases.
Sierra Club Executive Director Michael Brune said, "Today's ruling is a victory for both the American people and the American economy. EPA's rules protect the public and the economy by requiring careful measures to control climate-disruption pollution from the biggest smokestack industries and by working with automakers to increase fuel efficiency and to cut vehicle emissions."
"Doing nothing to confront the climate crisis is not an option. According to a large consensus of scientists, our planet is heating up to increasingly dangerous levels. Doing nothing threatens our air, our water, our food, and our health. EPA's action to regulate and limit this pollution is an important step toward protecting people," Brune said.
"Although litigation will continue," he said, "today's victory is an important rebuke to big polluters who want to avoid complying with standards put in place to protect people and the American economy."
Copyright Environment News Service (ENS) 2010. All rights reserved.
Environment News Service (ENS) © 2010 – 2012 All Rights Reserved.