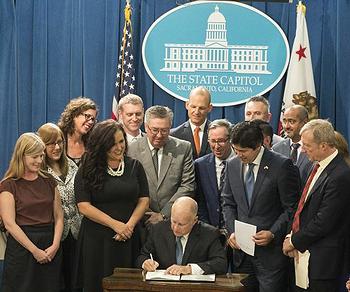 SACRAMENTO, California, September 10, 2018 (ENS) – Putting his stamp of approval on California's global climate leadership, Governor Jerry Brown today signed Senate Bill 100, which sets a 100 percent clean electricity goal for the state. The governor also issued an executive order establishing a new target to achieve carbon neutrality – both by 2045.
"This bill and the executive order put California on a path to meet the goals of Paris and beyond," said Governor Brown. "It will not be easy. It will not be immediate. But it must be done."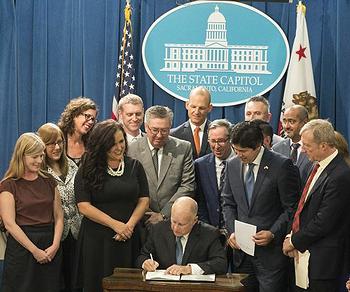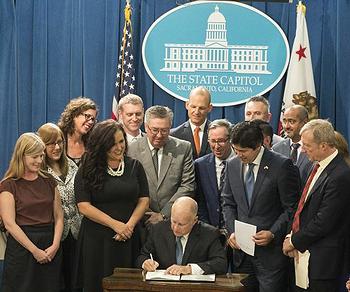 With Governor Brown's executive order, California establishes the most ambitious carbon neutrality commitment of the more than 20 countries and at least 40 cities, states and provinces planning to go carbon neutral by mid-century or sooner.
SB 100 advances the state's existing Renewables Portfolio Standard, which establishes how much of the electricity system should be powered from renewable energy resources, to 50 percent by 2025 and 60 percent by 2030. It puts California on the path to implement a zero-carbon electricity grid by 2045.
"In California, Democrats and Republicans know climate change is real, it's affecting our lives right now, and unless we take action immediately – it may become irreversible," said Senate President pro Tempore Emeritus Kevin de León, who authored the bill.
"Today, with Governor Brown's support, California sent a message to the rest of the world that we are taking the future into our own hands; refusing to be the victims of its uncertainty," said de León.
"Transitioning to an entirely carbon-free energy grid will create good-paying jobs, ensure our children breathe cleaner air and mitigate the devastating impacts of climate change on our communities and economy," he said.
SB 100 advances the state's existing Renewables Portfolio Standard, which establishes how much of the electricity system should be powered from renewable energy resources, to 50 percent by 2025 and 60 percent by 2030.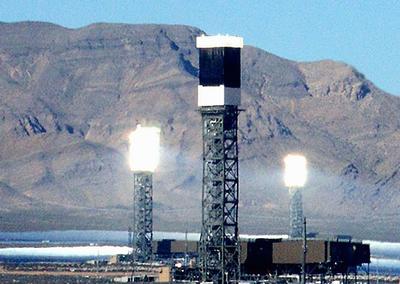 It also puts California on the bold path to implement a zero-carbon electricity grid by 2045.
"California is committed to doing whatever is necessary to meet the existential threat of climate change," said Governor Brown in his SB 100 signing message. "This bill, and others I will sign this week, help us go in that direction. But have no illusions, California and the rest of the world have miles to go before we achieve zero-carbon emissions."
To ensure California is combating global warming beyond the electric sector, which represents 16 percent of the state's greenhouse gas emissions, the governor's executive order directs the state to achieve carbon neutrality by 2045 and net negative greenhouse gas emissions after that.
This will ensure California removes as much carbon dioxide from the atmosphere as it emits – the first step to reversing the potentially disastrous impacts of climate change.
The state will reach its goals with continued reductions of carbon pollution and increased carbon sequestration in forests, soils and other natural landscapes and programs focused on improving air quality and public health, especially in California's most impacted communities.
These actions come days before grassroots activists, mayors, governors, heads of industry and international leaders convene in San Francisco to mobilize climate action at the Global Climate Action Summit.
In response, May Boeve, executive director of the nonprofit climate watchdog 350.org, said, "This is a massive victory for Californians who've been demanding a swift transition to clean energy in the state. With wildfires intensifying and temperatures skyrocketing, the impacts of climate change across the Golden State are impossible to ignore. Just this week, the state's own climate assessment revealed that climate change will be deadlier, more destructive, and costlier than previously thought. SB 100 is a critical first step toward addressing the worsening climate crisis, but to truly change course, we must end fossil fuel extraction."
"Next week," said Boeve, "thousands of people will flood the streets of San Francisco and cities around the world to demand bold leadership ahead of the Global Climate Action Summit."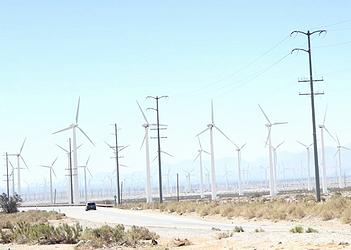 These actions are the latest in a long series of actions by California to deal with the warming climate. Late last week, Governor Brown also signed legislation to block new federal offshore oil drilling along California's coast and announced the state's opposition to the federal government's plan to expand oil drilling on public lands in California. The entirety of the state's coast has been off-limits to new oil and gas leases for more than 30 years, and the state has not issued a lease for offshore oil or gas production since 1968.
California continues to lead the world in adopting innovative policies to fight climate change. Last week, the Governor issued an executive order to safeguard California's unique plants, animals and ecosystems that are threatened by climate change.
Last month, the state issued its Fourth Climate Change Assessment, which details new science on the devastating impacts of irreversible climate change in California and provides planning tools to support the state's response.
Earlier this year, Governor Brown issued executive orders to improve the health of the state's forests and help mitigate the threat and impacts of deadly and destructive wildfires, and get five million zero-emission vehicles onto California's roads by 2030.
Last year, the governor signed landmark legislation to extend and strengthen the state's cap-and-trade program and create a program to measure and combat air pollution at the neighborhood level.
Under Governor Brown, California has established the most ambitious greenhouse gas emission reduction targets in North America; set the nation's toughest restrictions on destructive super pollutants; and will reduce fossil fuel consumption up to 50 percent and double the rate of energy efficiency savings in buildings by 2030.
The state has met its 2020 target four years early, reducing emissions 13 percent while growing the economy 26 percent.
From 2015 to 2016, emissions reductions were roughly equal to taking 2.4 million cars off the road, saving 1.5 billion gallons of gasoline and diesel fuel.
In addition, Governor Brown has helped establish and expand coalitions of partners across the nation and globe committed to curbing carbon pollution.
The Under2 Coalition, which originated from a partnership between California and the German state of Baden-Württemberg, now includes 206 jurisdictions on six continents that collectively represent 1.3 billion people and $30 trillion in GDP – equivalent to 17 percent of the global population and 40 percent of the global economy.
Members of the Under2 Coalition have made a number of key commitments, including reducing greenhouse gas emissions equivalent to 80 to 95 percent below 1990 levels or to less than two annual metric tons for each person in California by 2050.
Last year, California joined Washington and New York to form the U.S. Climate Alliance, which now includes 17 U.S. states – led by both Democrats and Republicans representing 40 percent of the U.S. population – committed to achieving the goals of the Paris Agreement and meeting or exceeding the targets of the federal Clean Power Plan.
Governor Brown also partnered with former New York City Mayor Michael Bloomberg to launch America's Pledge on climate change, an initiative to compile and quantify the actions of U.S. states, cities and businesses to drive down their greenhouse gas emissions consistent with the goals of the Paris Agreement.
Earlier this year, California and 17 other states collectively representing more than 40 percent of the U.S. car market sued the U.S. Environmental Protection Agency to preserve the nation's uniform vehicle emission standards that save drivers money at the pump, cut oil consumption, reduce air pollution and limit greenhouse gases.
Copyright Environment News Service (ENS) 2018. All rights reserved.
© 2018, News Editor. All rights reserved.