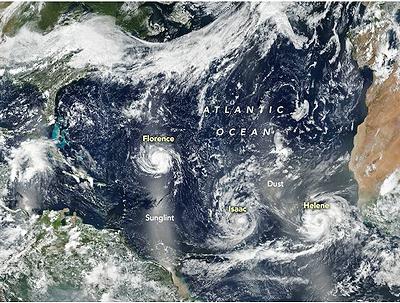 MIAMI, Florida, September 10, 2018 (ENS) – September has brought a surge in storm activity to the previously quiet Atlantic Basin. Currently, three hurricanes – Florence, Isaac, and Helene  – are swirling between the west coast of Africa and the east coast of the United States.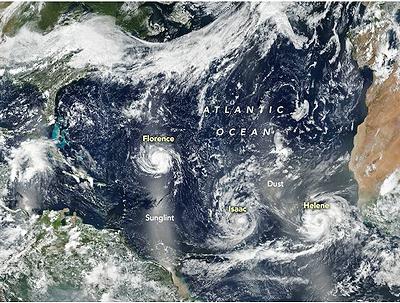 Today, Hurricane Florence is rapidly strengthening and has become a major Category 4 hurricane. Data from a NOAA Hurricane Hunter aircraft indicate that maximum sustained winds have increased to near 140 miles per hour with higher gusts.
Florence is a Category 4 hurricane on the Saffir-Simpson Hurricane Wind Scale. Further strengthening is anticipated, and Florence is expected to be an extremely dangerous major hurricane through Thursday. At 5 pm EDT it was located 525 miles south-southeast of Bermuda.
Of the three Atlantic hurricanes now active, Hurricane Florence is the most ominous for people in the United States.
Forecasters at the National Hurricane Center in Miami expect the slow-moving storm to reach the coast of the Carolinas on September 12 or 13, bringing a life-threatening storm surge 13 to 18 feet above normal, exceptionally heavy inland rains, and damaging winds.
A this time, there are no coastal watches or warnings in effect, but later this week the hurricane is expected to affect the southeastern states from Florida to Virginia.
NOAA's National Hurricane Center, NHC, warned today, "Interests in the southeastern and mid-Atlantic states should monitor the progress of Florence. Storm Surge and Hurricane watches could be issued for portions of these areas by Tuesday morning."
The NHC said, a turn toward the northwest is forecast to occur late Wednesday night. On the forecast track, the center of Florence will move over the southwestern Atlantic Ocean between Bermuda and the Bahamas Tuesday and Wednesday, and approach the coast of South Carolina or North Carolina on Thursday.
The hurricane is expected to stall over land, promoting a potentially catastrophic inland flooding scenario with several days of heavy rain forecast across portions of the Atlantic Coastal Plain.
Ocean swells generated by Florence already are affecting Bermuda and portions of the U.S. East Coast. These swells are likely to cause life-threatening surf and rip current conditions.
The National Hurricane Center predicts that Florence's winds will decrease slightly to 125 knots (144 mph) as the hurricane threatens the southeastern United States on Thursday, September 13.
Residents of Wilmington and Southeastern North Carolina today beseiged grocery stores and home improvement stores to buy necessary items: ice, water, food, propane, plywood to board up windows, and pulled into service stations for gasoline. Some North Carolina gas stations are already out of unleaded gas.
Based on National Weather Service forecasts indicating that Hurricane Florence has the potential to directly affect the University of North Carolina Wilmington area later this week, the university has canceled classes and issued a voluntary evacuation warning for students, starting at noon today.
"Hurricane Florence poses a number of significant threats in the East," says Steve Silver, senior meteorologist at the data collection and analysis company Radiant Solutions. "The storm will bring major wind and surge impacts with the potential for widespread power outages, significant property damage, and loss of life. That said, given the anomalous pattern that looks to keep Florence stalled overhead, its inland flooding impact may ultimately be what this storm is remembered for."
For the best emergency preparedness information, visit: https://www.ready.gov/hurricanes
Though weakening, Category 1 Hurricane Isaac is on a path to cross the Lesser Antilles islands and could move into the eastern Caribbean Sea on Thursday, September 13.
Category 2 Hurricane Helene is strengthening, but is expected to veer northward into the open ocean.
Copyright Environment News Service (ENS) 2018. All rights reserved.
Environment News Service (ENS) © 2018 All Rights Reserved.