California, Nevada Governors Agree to Restore Lake Tahoe Clarity
LAKE TAHOE, California, August 16, 2011 (ENS) – Today, for the first time since 1997, the governors of both California and Nevada attended the annual Lake Tahoe Summit, and they pledged their cooperation in returning clarity to the clouded waters of the famous lake.
By personally attending the summit and bringing top officials from both states to the same table, the two governors are making Lake Tahoe a top priority and seeking greater cooperation on issues affecting the lake shared by their two states.
At California's Homewood Mountain Resort, California Governor Jerry Brown, a Democrat, and Nevada Governor Brian Sandoval, a Republican, signed an agreement to return clarity to the lake to a depth of 100 feet within 65 years.
The water clarity of Lake Tahoe declined from a visibility level of 105 feet in 1967 to an all time low of 64 feet in 1997. Ten years of scientific study has determined that fine particulate matter is the prime reason for the impaired clarity of the lake.
The Clean Water Act allows states and U.S. EPA to develop a Total Maximum Daily Load, TMDL, that sets a maximum pollution level for impaired waters to help them recover. The two governors signed the Lake Tahoe TMDL today.
"I am pleased that California and Nevada have demonstrated unprecedented levels of collaboration in crafting this agreement," said Governor Sandoval. "Years of hard work and scientific study have paid off, paving the way for much-needed future success at Lake Tahoe."
"Lake Tahoe provides enormous environmental and economic value to California and the nation," said Governor Brown. "These benefits are directly related to the quality and clarity of the lake. It is incumbent upon all of us to protect and enhance Lake Tahoe's clarity. This historic agreement will ensure that future generations can continue to enjoy Lake Tahoe's beauty and clarity."
The two governors also renewed their commitment to updating the Regional Plan for Lake Tahoe and cooperating with the Tahoe Regional Planning Agency, which covers the entire Lake Tahoe watershed across state and local political boundaries. The 20-year Regional Plan has not been updated since 1987 and is now four years overdue.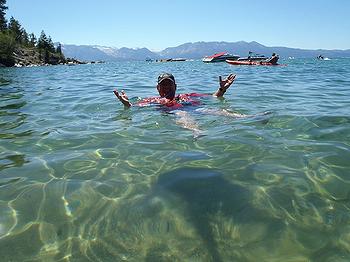 The clear waters of Lake Tahoe attract visitors from across the country. (Photo by J.W. Najarian)
"Lake Tahoe is a world treasure, and it is our duty to ensure that its natural splendor is protected for future generations of Californians and Nevadans," said Governor Brown. "The best way to do that is by working cooperatively with the State of Nevada to promote policies that ensure both the environment and the economy of Lake Tahoe are protected in perpetuity."
The Lake Tahoe TMDL is the result of a decade of work by federal, state and local agencies and public stakeholders to understand what pollutants affect the lake's clarity and to develop a cost-effective, workable solution.
"The Total Maximum Daily Load offers a roadmap to improve Lake Tahoe's clarity so future generations can enjoy this majestic lake," said U.S. Senator Dianne Feinstein of California, who hosted the summit. "More than a decade of research went into this plan and I commend California, Nevada and the Environmental Protection Agency for coming together to implement it."
Research shows that restoring lake clarity is possible if pollutant loads can be reduced for the four primary sources: urban stormwater runoff, forest runoff, stream channel erosion and deposits of pollutants from the air.
The TMDL outlines measures to reduce each of these sources, with a focus on the urban stormwater runoff source, as it is both the greatest source and the best opportunity to control the pollutants.
"Common sense regulations regarding water clarity at Lake Tahoe are critical to the health, preservation and restoration of this national treasure," said U.S. Senator Harry Reid of Nevada, a Democrat who serves as Senate majority leader. "They will also ensure that Lake Tahoe remains a valuable economic resource that is helping put Nevadans back to work."
"I commend Nevada Division of Environmental Protection and the Lahontan Water Quality Control Board for developing a scientific plan to restore the clarity of Lake Tahoe. The years of hard work and collaboration have paid off," said U.S. Senator Dean Heller of Nevada, a Republican.
"Lake Tahoe is one of the largest, deepest, and clearest lakes in the world. Its shimmering blue waters, biologically diverse alpine setting, and remarkable water clarity are legendary," said Jared Blumenfeld, U.S. EPA's Regional Administrator for the Pacific Southwest, who also signed the TMDL. "By establishing rigorous benchmarks and accountability, this plan ensures that Lake Tahoe's environment and economy will thrive long into the future."
Achieving the load reductions outlined in the TMDL will be challenging. California's Lahontan Regional Water Quality Control Board and the Nevada Division of Environmental Protection are working with local jurisdictions: the counties, departments of transportation, the City of South Lake Tahoe, and private stakeholders.
Lewis Feldman, a local land-use attorney for Lake Tahoe Basin businesses, said, "The Basin's private stakeholders welcome the opportunity to help implement science-based strategies to protect and restore Lake Tahoe's famed water clarity."
"Since much of the pollutants of concern are the result of a 50 to 60-year-old built environment, one opportunity for meaningful load reduction is to rebuild many of these older structures incorporating state-of-the art green technologies," said Feldman.
The federal government will provide $43 million for a variety of conservation and recreation improvement projects throughout Nevada and Lake Tahoe, Secretary of the Interior Ken Salazar said today.
The total includes more than $34 million for Lake Tahoe restoration projects.
The funding is a result of the Southern Nevada Public Land Management Act, which uses proceeds from sales of federal land in Clark County, Nevada, to fund environmental restoration, conservation and public recreational projects throughout the state.
Salazar said, "Nevada's natural beauty and unique landscapes are economic engines for the state, and these funds will not only help restore and enhance these special areas for future generations, but the projects will create jobs and provide vital resources to hard hit communities for the benefit of all who live in and visit the state."
Copyright Environment News Service (ENS) 2011. All rights reserved.
Environment News Service (ENS) © 2011 – 2012 All Rights Reserved.