Conservation Groups Thrown Out, Readmitted, to Ivory Trade Meeting
GENEVA, Switzerland, August 17, 2011 (ENS) – To their shock and without warning, many of the world's largest wildlife conservation organizations were this morning expelled from an international meeting on wildlife conservation in Geneva. But a second vote at the start of the afternoon session reversed the decision and the NGOs are back in the room.
The groups were excluded from the Standing Committee meeting of the Convention on International Trade in Endangered Species, CITES.
Although they had been invited to participate in the meeting, representatives of numerous NGOs including, the Worldwide Fund for Nature, International Fund for Animal Welfare, Humane Society International, Environmental Investigation Agency, Born Free Foundation and the Species Survival Network, an international coalition of over 80 NGOs, were asked to leave the room.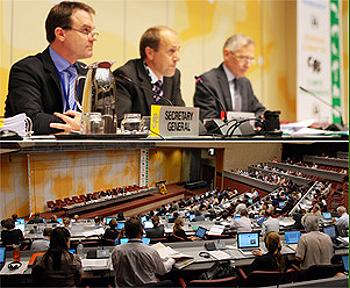 Top: From left: John Scanlon, CITES Secretary-General; Oystein Storkersen, CITES Standing Committee Chair; Jonathan Barzdo, CITES Secretariat. Bottom: Standing Committee plenary session (Photos courtesy CITES)
The delegates were discussing elephant conservation, the international trade in ivory, and China's increasing involvement in the illegal ivory trade, when the government of Kuwait, on behalf of the Asian region, moved to exclude the conservation groups.
The vote on whether the NGOs should be forced to leave was seven in favor and six against with three abstentions.
The exclusion was supported by Botswana, Colombia, Costa Rica, Dominica, Iran, Kuwait, and Norway. It was opposed by the Australia, Bulgaria, Democratic Republic of Congo, Kenya, Ukraine, the United Kingdom, and the United States.
The details of how the second vote came about are unclear, but the result is that the conservation groups are now back at the table.
"Common sense has prevailed!" said Will Travers, president of the Species Survival Network and and CEO of Born Free USA and the Born Free Foundation. "The previous expulsion of NGOs – the representatives of civil society and tens of millions of members of the public – was a major error of judgement. It cast a shadow over the work of the convention and, had it persisted, would have diminished its ability to bring real conservation benefits to a range of threatened species."
Cooling their heels in the lobby this morning, representatives of the excluded groups expressed fear that the decision could set a precedent and that such methods may be used to exclude NGOs and civil society from participating in debates on other issues such as rhino and tiger trade.
Conservation organizations have played an active role in helping CITES achieve meaningful and positive results for species that are threatened by international trade. In addition, due to the generosity of the general public, the groups contribute tens of millions of dollars each year to conservation efforts in some of the world's most vulnerable places.
"NGOs work on the ground wherever elephants are found to try and save them from poaching and habitat loss," said Peter Pueschel, program director for the International Fund for Animal Welfare, who was among those asked to leave the meeting.
"We know the threats they face, we work with range states to end those threats, but I cannot think of a bigger threat right now than a secret, closed-door meeting between countries where demand for ivory is the driver," said Pueschel.
The stated reason for a closed-door discussion is that documents of a sensitive nature would be discussed. However, all discussion documents had been previously posted to the CITES website, including a report by the Elephant Trade Information System, which showed that seizures of illegal ivory soared in 2009 and 2010 after a legal sale of ivory to China and Japan in 2008.
Rhino conservation awareness poster from the Afrika Expeditionary Force, a conservation group (Photo by AfrikaForce)
"Any discussion of an ivory decision-making mechanism is a distraction from the real debate on how to save elephants," Pueschel said. "We've seen an undisputable link between one-off ivory sales and illegal ivory – the experiment was tried and it failed. What we need now is a discussion on how we strengthen and support an international ban on ivory."
The groups suspect that other issues on the agenda could also be derailed from a transparent process, especially rhinos and tigers, where Asian markets are also implicated as the cause of escalating poaching.
Dr. Joseph Okori, WWF's African Rhino coordinator, said, "Given that the major consumer markets for illegal ivory, rhino horn and tiger products are located in Asia, particularly in China, Vietnam and Thailand, one can only assume that this motion was an attempt to evade proper accountability. If it becomes common practice for non-compliant countries to evade public scrutiny, CITES will cease to be relevant."
WWF has field programs in 22 countries working on elephant conservation, as well as broader initiatives to address the global illegal ivory trade. WWF also contributes financially to the Elephant Trade Information System, which is mandated by CITES to monitor trends in illegal trade.
The CITES Standing Committee is made up of 19 countries, selected to represent their geographic regions. It oversees the business of the Convention between meetings of the Conference of the 175 CITES member governments that occur every three years.
The top issues on the agenda for this week's meeting include new financial mechanisms, elephant conservation, measures to reduce current levels of rhino poaching, tigers and other big cats, mahogany and other timber species, sturgeon and caviar trade, and the sourcing of reptile skins used in the leather industry.
Copyright Environment News Service (ENS) 2011. All rights reserved.
Environment News Service (ENS) © 2011 – 2012 All Rights Reserved.