Obama Invests $510 Million in Advanced Aviation, Marine Biofuels
PEOSTA, Iowa, August 16, 2011 (ENS) – The U.S. Departments of Agriculture, Energy and Navy will invest up to $510 million during the next three years, in partnership with the private sector, to produce advanced drop-in aviation and marine biofuels for military and commercial transportation, President Barack Obama announced today.
Opening the White House Rural Economic Forum at Northeast Iowa Community College in Peosta as part of a three-day rural bus tour, the President said, "Biofuels are an important part of reducing America's dependence on foreign oil and creating jobs here at home. But supporting biofuels cannot be the role of government alone. That's why we're partnering with the private sector to speed development of next-generation biofuels that will help us continue to take steps towards energy independence and strengthen communities across our country."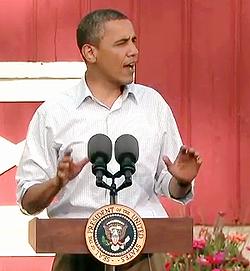 President Barack Obama at a Town Hall meeting in Decorah, Iowa, August 15, 2011 (Image from video courtesy The White House)
The joint plan calls for the three departments to invest a total of up to $510 million, with a cost share from private industry of at least a one-to-one match for a total of more than $1 billion of investment.
The United States spends more than $300 billion on imported crude oil per year. Producing a domestic source of energy provides a more secure alternative to imported oil and improves our energy and national security.
Increased use of advanced biofuels is a key component of the administration's energy security agenda, as spelled out in a March 2011 directive President Obama issued as part of his Blueprint for a Secure Energy Future, but there is a lack of manufacturing capability for advanced biofuels in the United States.
To accelerate the production of bio-based jet and diesel fuel, Secretary of the Navy Ray Mabus, Agriculture Secretary Tom Vilsack and Energy Secretary Steven Chu have developed a plan to jointly construct or retrofit several drop-in biofuel plants and refineries.
"America's long-term national security depends upon a commercially viable domestic biofuels market that will benefit taxpayers while simultaneously giving Sailors and Marines tactical and strategic advantages," said Secretary Mabus. "Today's announcement not only leverages our home grown fuel sources to support our national security, but it also helps advance the biofuels market, which ultimately brings down the cost of biofuels for everyone."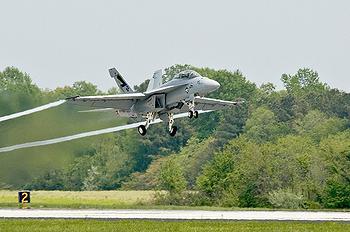 The Navy celebrates Earth Day 2010 by showcasing a supersonic flight test of the "Green Hornet," an F/A-18 Super Hornet strike fighter jet powered by a 50/50 biofuel blend. (Photo by Kelly Schindler courtesy U.S. Navy)
"By building a national biofuels industry, we are creating construction jobs, refinery jobs and economic opportunity in rural communities throughout the country," said Secretary Vilsack. "As importantly, every gallon of biofuel consumed near where it is produced cuts transportation costs and, for the military, improves energy security."
"These pioneer plants will demonstrate advanced technologies to produce infrastructure-compatible, drop-in renewable fuels from America's abundant biomass resources," said Secretary Chu. "It will support development of a new, rural-focused industry that will replace imported crude oil with secure, renewable fuels made here in the United States."
U.S. biodiesel production reached a new monthly high of 81 million gallons in June, according to the latest statistics from the U.S. Environmental Protection Agency, marking a third consecutive month of record volumes and continuing a remarkable turnaround in which biodiesel production in the first half of 2011 has already eclipsed production for all of 2010.
Despite the weak economy, the biodiesel industry is on track to produce at least 800 million gallons this year, more than double biodiesel production of 315 million gallons last year, when Congress allowed the biodiesel tax incentive to lapse.
The National Biodiesel Board, the industry trade association, says this year's rejuvenated production will support more than 31,000 U.S. jobs and generate income of nearly $1.7 billion to be circulated throughout the economy.
The biodiesel industry is expected to generate an estimated $345 million in federal tax revenue and $283 million in state and local tax revenues this year.
National Biodiesel Board CEO Joe Jobe said today, "Policy makers should take a look at our experience over the last couple of years. It's a textbook case in how sound energy policy equates to sound economic policy. Congress should not allow the biodiesel tax incentive to expire again at the end of this year. In this kind of economy, we need every tool we have."
"We've dramatically increased production and doubled our number of employees at a time when many industries are shrinking or treading water," said Ben Wootton, owner of Keystone Biofuels in Camp Hill, Pennsylvania. "It's like night and day from 2010. I think that's a testament to biodiesel's staying power as an advanced biofuel and also to strong federal policy. We're a young industry, and we wouldn't be where we are today without the tax incentive – and a lot more people would be standing in the unemployment line."
In addition to tax incentives, the biofuels industry is on the receiving end of scientific advances.
A team of researchers at the Department of Energy's BioEnergy Science Center have pinpointed the exact, single gene that controls ethanol production capacity in the microorganism Clostridium thermocellum.
Scientists can now experiment with genetically altering biomass plants to produce higher concentrations of ethanol at lower costs, said Secretary Chu, announcing the discovery on Thursday.
"America has both the resources and the know-how to break our addiction to foreign oil," said Brooke Coleman, executive director of the Advanced Ethanol Council. "What is lacking is the political will to stand up to oil special interests and level the playing field for all biofuels, including next generation ethanol, to compete."
"Scores of promising technologies are ready for commercial deployment, but are being held up by an unstable and unpredictable policy climate. In order to deploy these technologies to harness the potential of America's vast biomass resources, and to compete in the global race to produce next generation fuels, consistent and stable policy relating to biofuels is essential," Coleman said. "That means continuing investment in new technologies, expanding refueling opportunities for domestically produced, non-petroleum fuels like ethanol, and protecting the integrity and the intent of the Renewable Fuel Standard."
The Obama administration's biofuels initiative is being steered by the White House Biofuels Interagency Work Group and Rural Council, both of which are enabling greater cross-agency collaboration to strengthen rural America.
Copyright Environment News Service (ENS) 2011. All rights reserved.
Environment News Service (ENS) © 2011 – 2012 All Rights Reserved.