Whistler Enjoys Record Snowfall for Olympics, Lower Slopes Not So Much
VANCOUVER, British Columbia, Canada, February 9, 2010 (ENS) – With the 2010 Winter Olympic Games opening on Friday in Vancouver, the warmer than usual weather of an El Nino winter is causing headaches for Olympic organizers.
While the slopes at Whistler Mountain, where the Alpine and Nordic events will be held, are covered with deep snow, the lower elevation Cypress Mountain venues are not.
Snow is being trucked in and flown in to Cypress Mountain in West Vancouver to get the Olympic venue ready for the first event – the women's moguls. Qualifying races are scheduled for Saturday morning, with the finals set for later in the day.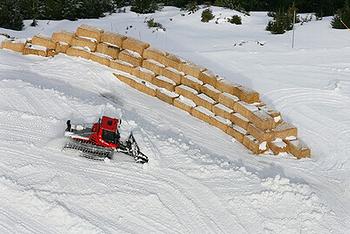 Snow is piled on straw bales to make the most of scant snow on Cypress Mountain. (Photo courtesy VANOC)
Snow-making operations are running around the clock due to the unusually warm weather. Workers have been trucking down snow from higher elevations and are using straw bales as foundational elements for the ski cross and snowboard cross events. Snow will be piled on to cover up the straw.
"That saves us an enormous amount of snow," said Tim Gayda, vice president of sport for the Vancouver Organizing Committee, VANOC, told reporters last week.
Organizers at Cypress have stockpiled chemicals that reduce moisture and harden the ice that they say will be used if need be.
Ski federation race director Marcel Looze said in a statement that he "is confident that with the current amount of snow on the mountain, and the snow saving measures that have been taken, VANOC will be able to create a world-class venue for our snowboard events."
In Vancouver, flowering plum and cherry trees are beginning to blossom about two weeks earlier than ususual, but snow abounds up on Whistler Mountain, 76 miles to the north and nearly a mile higher in elevation.
Up at Whistler an unprecedented 9.88 metres (32.4 feet) of snow is on the ground, to the delight of Olympics organizers. The first alpine athletes started their training on designated training runs on February 5 and are scheduled to ski on the Olympic courses Wednesday.
The first alpine competition is the Men's Downhill on Saturday February 13, the first day of Games competition.
"International Olympic Committee delegates recently skied the course and were very pleased with the results," says Gayda.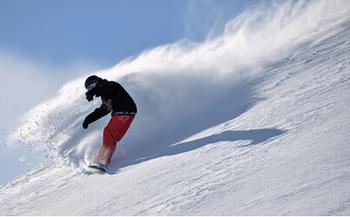 Snowboarder Heath Dixon at Whistler enjoying the deep snow (Photo by Patrick Hui)
"From the beginning of the season, VANOC and Whistler Blackcomb crews have worked hard together to prepare the courses to create a very dense base of snow that involved a massive snowmaking effort. Add to that the incredible amount of natural snow that has fallen in Whistler this season, and we're now ready to deliver an Olympic-class alpine skiing venue that will live up to the reputation that the renowned Dave Murray Downhill course holds the world over," he said.
"We look forward to debuting the spectacular new woman's course on Franz's Run," Gayda said. "VANOC has now taken over the Men's and Women's courses entirely from Whistler Blackcomb ski operations and we're in to the home stretch on our final preparations."
Deep snow at Whistler Blackcomb is not unusual, but reaching the average annual snowfall of 10.13 metres (33 feet) this early in the year is unique. Since snow reporting began in the 1979/80 season, this is the first time that Whistler Blackcomb has received this much snow by the end of January.
"There is a huge sense of anticipation and excitement throughout the resort right now as we prepare with VANOC to open our doors to the world," says Dave Brownlie, president and chief operating officer of Whistler Blackcomb.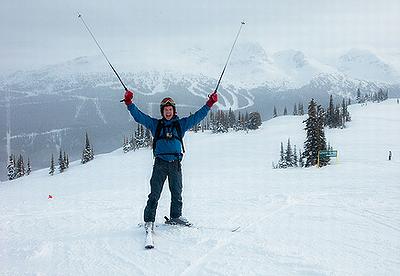 Skier at Whistler Blackcomb, February 6, 2010 (Photo by Kris Krug)
"Whistler Blackcomb is looking its best and the snow conditions on the mountains are outstanding," he said. "The FIS course inspectors provided great feedback last week, and the men's and women's courses, primed to host Olympic champions, are now fully in the hands of VANOC."
Organizers and sponsors alike have taken many green initiatives in the creation of the Vancouver Winter Olympic Games.
The Games are endeavoring to be carbon neutral. Last March VANOC announced a target to neutralize up to 300,000 metric tonnes of carbon dioxide emissions from the Games. To meet this target, VANOC has created a carbon offset portfolio to invest in green technology projects that improve energy efficiency or produce renewable energy such as wind, solar or geothermal.
The portfolio also includes projects that capture and store carbon from the atmosphere such as forestry and land use projects. Priority is given to BC-based projects that enable and enhance local community sustainability plans. All offset projects in the 2010 portfolio will be high quality offsets consistent with standards applied by the new BC-based Pacific Carbon Trust.
"Together with our partners, we take responsibility for our carbon footprint and are working hard to make the 2010 Winter Games as green as possible. Since we won the bid for the Games in 2003, we have focused on understanding our total carbon emissions and finding ways to reduce them at source," said VANOC CEO John Furlong.
"We've made good progress, and have been particularly sensitive to environmental sustainability in the construction of our venues, however its simply not possible to totally eliminate carbon emissions from the 2010 Winter Games," Furlong said.
"VANOC's carbon offset strategy will allow the Games to obtain emission offsets while supporting green projects in British Columbia," said Premier Gordon Campbell. "VANOC's actions continue to demonstrate what one organization can do to help reach BC's target of a 33 percent reduction in greenhouse gas emissions by 2020 and they are standing firm in their commitment to making the 2010 Olympic and Paralympic Winter Games sustainable."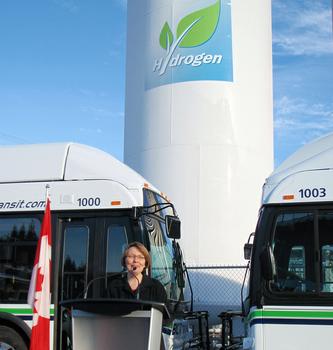 Transportation and Infrastructure Minister Shirley Bond opens the new Whistler Transit Centre with its 20 fuel cell buses. January 22, 2010.
The world's largest fleet of hydrogen fuel cell buses will provide transportation in and around Whistler. The 20 new emission free buses do not burn fossil fuels and do not emit exhaust.
By combining hydrogen from cylinders aboard the buses and oxygen from the air, the fuel cell motor converts chemical energy directly into electricity to power the bus. The only byproducts of the reaction are heat and water. The cell itself requires no recharging as long as hydrogen and oxygen are present.
The BC Ministry of Transport says the buses have a range of 310 miles, a top speed of 56 mph, and an estimated life of 20 years. They will also make less noise than traditional buses.
The Province of British Columbia invested in the world's first hydrogen bus fleet and fueling stations for use in Whistler and Victoria. The new Whistler Transit Centre includes the world's largest transportation hydrogen fueling station.
"Public transit demonstrates value to our community's sustainability goals. These new buses will not only reduce maintenance costs, but provide a reliable and fully accessible service to our residents and visitors," said Whistler Mayor Ken Melamed.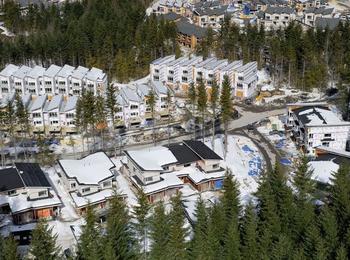 Vancouver Olympic Games athletes village at Whistler. Another athlete village was built in Vancouver. (Photo courtesy VANOC)
The Olympic and Paralympic Village at Whistler was built to green building standards, using smart growth principles and with the goal of meeting Gold Level certification under the U.S. Green Building Council's Leadership in Energy and Environmental Design for Neighbourhood Development standard, the first international standard for neighborhood design.
The site was once a municipal landfill but has been transformed into a green Olympic Village. The community's heat will be generated by effluent from the wastewater treatment plant located nearby. Heat exchangers transfer energy to a fluid, which will be pumped around the development through pipes. Individual homes will use heat pumps to produce space heating and hot water. Up to 90 percent of the village's heating load will be provided from the system, which gives off no greenhouse gas emissions.
"This is an innovative alternative energy system that effectively leverages all of the showers, toilets and hot water going into the sewers in Whistler," said Whistler Centre for Sustainability's Energy and Emissions Manager Ted Battiston.
The village manages its stormwater to maintain predevelopment flows and preserve or enhance existing wetlands in the area. Rain gardens reduce sediment and contaminant levels in the stormwater, and direct water flows away from the landfill to reduce leachate.
Homes were built to an EnerGuide rating of 85 and will include low flow dual-flush toilets, low flow faucets, energy efficient fixtures, and dual pane windows. The floors are made from recycled bamboo and long-lasting materials were used for the exteriors.
On Friday, the Olympic focus will be on BC Place, the stadium in downtown Vancouver where the Opening Ceremony for the 2010 Olympic Games will take place.
Before the ceremony a protest march is planned through the streets of Vancouver from the Vancouver Art Gallery to BC Place.
One of the organizers, Robert Ages of the Council of Canadians, says the event will be "nonviolent – a big fun festival, with games, music, and speakers."
Ages says environmental damage has taken place in BC in the run-up to the Olympic Games, particularly when the province dynamited sensitive wetlands at Eagle Ridge Bluffs in West Vancouver to build the Sea-to-Sky Highway from West Vancouver to Whistler.
The road is an upgrade to the narrow two-lane coastal road that was used to reach Whistler in the past, featuring 80 kilometres of new passing lanes between Horseshoe Bay and Whistler.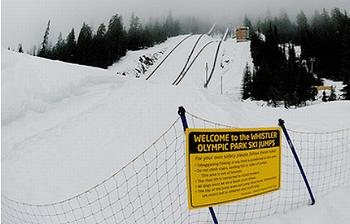 2010 Winter Olympics ski jump course in the Callaghan Valley, January 8, 2010 (Photo by D.B. Steers)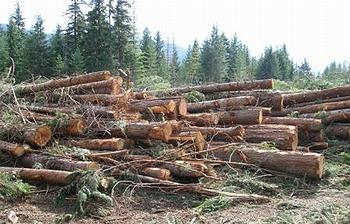 Logs cut from the Callaghan Valley to make way for the Vancouver 2010 Winter Olympic Games (Photo by Whistler Watch)
Ages also decries the environmental damage to Callaghan Valley, the site of the cross-country, biathlon, Nordic combined and ski jumping events for the Vancouver 2010 Olympic and Paralympic Winter Games.
"Again," says the watchdog group Whistler Watch, "thousands of trees lost, lots of sensitive ecosystems compromised. Now that the area has been set aside for development, the pressures on the site will continue to mount. Post 2010 games, there will be added pressure on the development group to ensure the economic viability of operating the venues. An application by local First Nations for another golf course in the Callaghan is just one example of upcoming ecosystem threats."
Ages says the protest march on Friday is also being held to call attention to the Cdn$6 billion cost of the Olympic Games not covered by sponsorships. And he also criticizes sponsors, explaining that the protest intends to "counter the branding of corporations" that are "using the Olympics to greenwash their image."
VANOC celebrates sustainability through the Vancouver 2010 Sustainability Star program, established to recognize initiatives by Games partners, sponsors and VANOC that demonstrate positive and measurable social, economic and environmental benefits.
The first nine stars, chosen by a 10-person jury, are: the Olympic and Paralympic Village Whistler; the BC Hydrogen Highway; the RONA Vancouver 2010 Fabrication Shop; the Richmond Olympic Oval; BC Hydro's Green Energy Innovations; Live Smart BC, a program operated by the province of British Columbia; Teck Cominco Ltd.'s Going for Gold employee engagement strategy; Nortel and /EDU's LearniT, and Coca-Cola's carbon footprint and offset program.
Coca-Cola, which prides itself on being the world's longest continuous corporate partner of the Olympic Games, created its program in consultation with WWF-Canada and the David Suzuki Foundation.
But Coca-Cola's commitments reach beyond carbon offsets. The company announced today that its new PlantBottle will debut at the Games, where most Coca-Cola beverages sold will be in this completely recyclable package made from up to 30 percent plant-based material. Also, through the use of sustainable packaging and ensuring 100 percent collection of all PET containers used throughout the Olympic Winter Games venues, a minimum of 95 percent of all waste will be diverted from landfills.
The company will collect beverage containers in more than 800 recycling barrels, each made from reused Coca-Cola concentrate barrels. All Coca-Cola associates supporting the Olympic Winter Games will wear uniforms made of recycled plastic bottles.
Copyright Environment News Service (ENS) 2010. All rights reserved.