Beijing Waives License Plate Lottery for Electric Vehicles
BEIJING, China, October 26, 2011 (ENS) – To promote the use of electric cars in Beijing, EV buyers will not have to go through the license plate lottery that applies to everyone else.
Beijing is allowing unlimited purchase of battery-electric vehicles, city officials announced last week.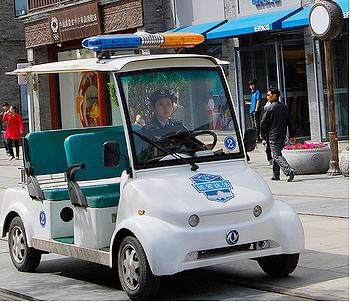 Electric Police car on Qianmen St., Beijing, April 26, 2011 (Photo by 82gab)
In 2010, some 700,000 new cars were sold in Beijing, bringing the capital city's total number of cars to more than 4.7 million, according to statistics from the Beijing Municipal Commission of Transport.
To control the number of cars in the crowded city, as of January 1, 2011, Beijing car buyers must obtain license plates by drawing lots before they can buy a car to drive.
In March, 397,543 qualified candidates took part in the city's third license-plate lottery, competing for the right to obtain one of the 17,600 license plates Beijing issues each month.
Although 35,200 people won the right to buy a car in the first two monthly drawings, only a small number of them have actually purchased one.
There are other incentives for EV enthusiasts. In addition to the waiver of license plate limits, buyers of battery-electric vehicles will each enjoy a subsidy of up to 120,000 yuan (US$18,800).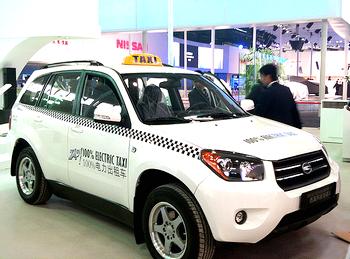 The ZAP electric taxi at the Beijing Motor Show, April 2010 (Photo by ZapGlobal)
A battery-electric car costs 150,000 (US$23,500) to 200,000 yuan more than petrol-powered cars due to the limited scale of BEV production. Components are considered rare and so are expensive.
Last November, city officials said Beijing will promote the use of 30,000 electric and hybrid cars, build 100 recharging stations and provide 36,000 rechargers by the end of 2012.
A pilot subsidy plan for individuals' purchases of advanced clean energy vehicles prepared by the Beijing Municipal Science and Technology Commission and Finance Bureau of Beijing was approved by an expert panel last November.
The plan established a target of 23,000 electric vehicles and 7,000 hybrid vehicles in Beijing by the end of 2012. The plan set the government subsidy level, based on the cost of providing power to charge the batteries.
Beijing will build a transformer substation and a transport management digital system for new electric vehicles, city officials said.
In addition, Beijing will increase government procurement of clean energy vehicles, encourage the use of electric vehicles by institutions and enterprises, and encourage financial institutions to provide loans, warrants and other support to promote the purchase of electric vehicles.
Copyright Environment News Service (ENS) 2011. All rights reserved.