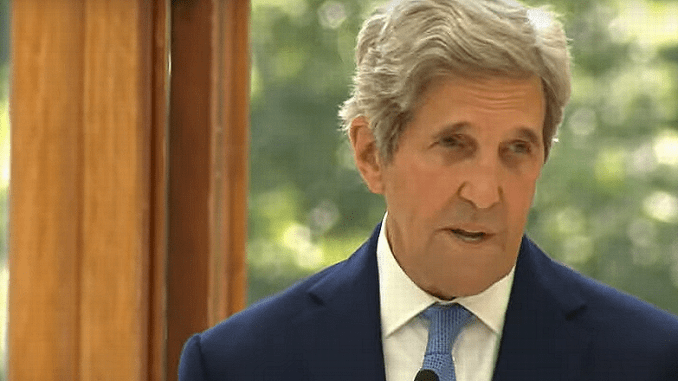 WASHINGTON, DC, October 21, 2021 (ENS) – John Kerry, the U.S. Special Presidential Envoy for Climate, is on his way to Riyadh, Saudi Arabia on October 24-25, just a few days before the UN Climate Conference COP26 opens in Glasgow, to engage with government counterparts and private sector leaders on efforts to address the climate crisis.
Kerry's work is part of the United States' bilateral and multilateral climate diplomacy effort ahead of the COP26 – the 26th Conference of the Parties to the UN Framework Convention on Climate Change, UNFCCC, which will be held October 31 to November 12 in Glasgow.
A former U.S. Secretary of State, Kerry will participate in the inaugural Middle East Green Initiative Summit while in Riyadh. This gathering of more than 20 heads of state from across the region is expected to endorse targets for shared climate commitments.
The Summit is part of a three-day line-up of events held by the oil-producing nation of Saudi Arabia to tackle climate change and encourage international collaboration on sustainable solutions to climate challenges such as the increase in temperatures and dust waves to low levels of rain and desertification.
On October 23, the Saudi Green Initiative Forum rallies the climate action community to achieve ambitious national targets. The Forum will unveil the Saudi Green Initiative roadmap to showcase the Kingdom's green efforts.
Through a growing portfolio of renewable energy projects, carbon capture initiatives, and a massive energy efficiency push for buildings, industry, and transport, Saudi Arabia is scaling up and uniting efforts to reduce carbon emissions under the Saudi Green Initiative.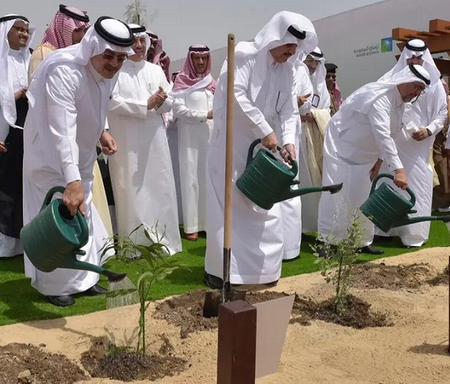 On October 24, Saudi Arabia will host the Youth Green Summit, an event to provide young climate advocates "a platform for environmental literacy, advocacy and policy making," according to a government announcement.
On October 25, the Middle East Green Initiative will have its official launch. Spearheaded by Saudi Arabia to scale up climate commitments, this meeting will bring together international and regional leaders to motivate consensus.
As part of the Middle East Green Initiative, Saudi Arabia is developing the largest reforestation program in the region with plans to plant 50 billion trees across the Middle East.
Once planted, the trees would help restore an area equivalent to 200 million hectares of degraded land, reducing carbon emissions from hydrocarbon production in the region by more than 60 percent, Crown Prince Mohammed Bin Salman said, announcing the project in March.
Talking Climate in Mexico City, Quito, Bogota, London and Rome
This past weekend, Special Envoy Kerry, a former U.S. Secretary of State, traveled far and wide as the Biden Administration's key climate diplomat. To strengthen efforts to address the climate crisis, Kerry held talks in Mexico City and Palenque, Mexico on October 18, and in London, UK on October 19.
The present Secretary of State Antony Blinken traveled to Ecuador and Colombia last weekend to discuss climate ambition, clean energy and shared sustainability goals, among other matters, in Quito on October 19, with Ecuador's President Guillermo Lasso and Foreign Minister Mauricio Montalvo.
After today's high-level talks in Bogota, Colombia, Blinken announced a new regional partnership to address deforestation in the Amazon rainforest. Rainforests help stabilize the world's climate by absorbing carbon dioxide from the atmosphere.
"We'll give much-needed financial assistance to help manage protected areas and Indigenous territories, and we'll help scale up low-carbon agricultural practices to farmers throughout the Amazon," Blinken said after touring the city's botanical gardens.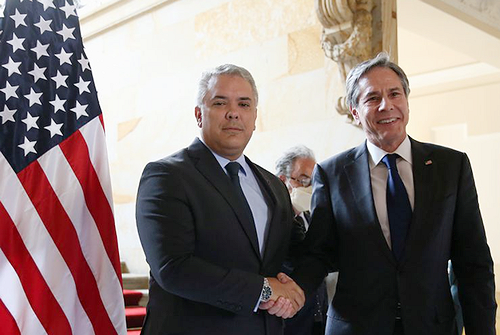 "This new regional partnership will help prevent up to 19 million metric tons of carbon dioxide from entering the atmosphere while capturing another 52,000 metric tons of carbon, and we estimate it will save – save – more than 45,000 hectares (173 square miles) of forest," Blinken said.
Colombia's President Ivan Duque has ambitious climate goals, including zero deforestation by 2030. Blinken recognized the Colombian President for his conservation award this year from the International Conservation Caucus Foundation.
Climate change was central to Blinken's discussions with Colombian Vice President and Foreign Minister Marta Lucía Ramírez, who led the Colombian delegation.
Secretary Blinken and Vice President Ramírez committed to work with civil society and other stakeholders "to advance racial and ethnic equity and equality in both countries, and to deepen cooperation on combatting environmental crimes, rural and digital development, and strengthening climate change action," according to State Department spokesman Ned Price.
President Biden to Attend COP26
President Biden, a Catholic, will visit the Vatican on October 29 where he will meet with Pope Francis, followed by a two day official visit to Rome for the G20 leader's summit that will focus on the struggle to control climate change.
In addition to chairing the G20 this year, Italy will be the United Kingdom's Partner Nation in the organization of COP26, the United Nations Climate Change Conference.
Finally, President Biden and First Lady Dr. Jill Biden will attend COP26 in Glasgow for the the first two full days of the conference, November 1 and 2.
In all these meetings, President Biden will be advocating for immediate effective action to limit climate change.
At a CNN Town Hall event in Baltimore, Maryland this evening, the president announced what he will formally tell the world at COP26 in Glasgow.
"I'm presenting a commitment to the world that we will, in fact, get to net-zero emissions on electric power by 2035 and net-zero emissions across the board by 2050 or before," Biden said.
More of a convinced advocate for climate stability than any U.S. president in recent memory, President Biden told the Town Hall, "The existential threat to humanity is climate change."
The G20 Ministers in charge of Energy and Climate met in Naples on July 23rd, 2021, and adopted – for the first time – a joint final communiqué, which gives momentum to the common mission of the G20 countries to preserve the global climate and ensure a clean and inclusive energy transition.
But none of the G20 countries has a climate plan that meets their obligations under the Paris Agreement, according to an analysis published Sunday, despite scientists' warning that deep cuts to greenhouse gas emissions are needed now.
"The 2021 Production Gap Report," authored by research institutes and the UN Environment Programme, UNEP, finds that despite increased climate ambitions and net-zero commitments, governments still plan to produce more than double the amount of fossil fuels in 2030 than what would be consistent with limiting global warming to 1.5°C.
"The devastating impacts of climate change are here for all to see. There is still time to limit long-term warming to 1.5°C, but this window of opportunity is rapidly closing," says Inger Andersen, executive director of UNEP. "At COP26 and beyond, the world's governments must step up, taking rapid and immediate steps to close the fossil fuel production gap and ensure a just and equitable transition. This is what climate ambition looks like."
Featured image: Ahead of the G20 Environment, Climate and Energy Ministerial Meeting, John Kerry, US Special Presidential Envoy for Climate, delivers a major policy speech on the urgency of climate action for an event at the Royal Botanic Gardens in Kew, London. July 2021 (Photo courtesy U.S. Department of State)


IMAGE
December 09, 2019