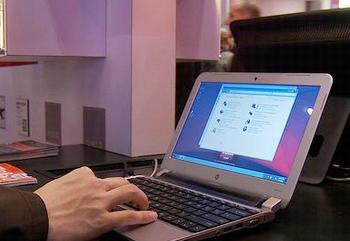 LONDON, UK, June 27, 2012 (ENS) – Automotive and technology brands dominate the 2012 Best Global Green Brands report issued annually by the UK consultancy Interbrand. This year's Best Global Green Brands report shows that industries around the world are taking what the report's authors call "actionable and quantifiable measures" to improve both their sustainability performance and their degree of external reporting.
Overall, the automotive brands' investment in developing and marketing fuel-efficient and alternative fuel vehicles is paying off, say the report's authors, in terms of both performance and perception. Interbrand's report examines the gap that exists between corporate environmental practices and consumer perception of those practices.
"Sustainability has proven to be a strategic and profitable aspect of business and a brand strengthening asset," said Jez Frampton, Interbrand's global chief executive.
"It is crucial that consumers' impressions of a brand are in close alignment with that brand's actual environmental performance," explained Frampton. "Otherwise, a brand's efforts in this area could serve as an under-utilized asset, or, conversely, suffer due to accusations of greenwashing."
In this year's report, published Tuesday, Toyota maintains the number one spot by continuing to make environmental sustainability a core management priority.
The original Prius model – the primary launch pad for Toyota's green image – has been expanded to encompass a family of sustainable automobiles, including the company's first plug-in model.
This year, Toyota achieved near zero-landfill status at all of its North American manufacturing plants, and continues its commitment to build environmentally responsible LEED certified buildings and dealerships.
Toyota (#1), health care products company Johnson & Johnson (#2), and Honda (#3) top the 2012 Best Global Green Brands ranking, with French healthy foods company Danone (#9), Ford (#15), coffee company Starbucks (#36) and delivery service UPS (#43) representing this year's top risers.
Technology brands are making successful efforts to reduce their environmental impact, the report shows.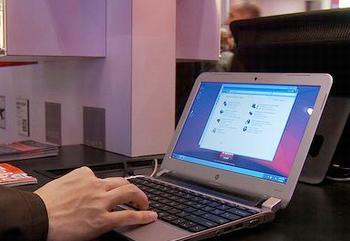 Visitor to the Consumer Electronics Show tries out an HP computer. (Photo by HP)
By the end of 2011, California-based Hewlett-Packard (#5), the world's largest information technology company, reduced the energy consumption of its products by 50 percent compared with 2005 levels. The company is developing a net-zero energy data center – an industry first.
"HP's commitment to environmental sustainability helps guide the direction of our company, positions us as a leader in our industry, and drives the innovation of new products and solutions that make a positive impact in the world," says Gabi Zedlmayer, HP's vice president, sustainability and social innovation.
HP Labs also is developing a Central Nervous System for the Earth – a planetwide sensing network using billions of tiny, cheap, tough, sensitive detectors.
"With a trillion sensors embedded in the environment – all connected by computing systems, software and services – it will be possible to hear the heartbeat of the Earth, impacting human interaction with the globe as profoundly as the Internet has revolutionized communication," said Peter Hartwell, senior researcher, HP Labs.
Panasonic jumped four spots to #6 in the ranking this year. To showcase its leadership and comprehensive green technologies, from consumer electronics to energy management systems, the company has announced the conversion of a former factory site in Fujisawa near Tokyo into a "Sustainable Smart Town," scheduled to be operating by 2014.
Panasonic also has received recognition from recognized indexes for corporate sustainability, including that from Sustainable Asset Management, an international investment company with a specific focus on sustainability investments, and Japan's Ministry of Economy, Trade and Industry.
The United States, Germany and Japan lead in terms of manufacturing and managing green brands with 22 of the top 50 green brands manufactured and managed in the United States.
Due to their technology and automotive brand dominance, Japan and Germany each produced seven of this year's top 50 green brands.
Eight automotive brands appear in this year's ranking: Toyota, Honda (#3), Volkswagen (#4), BMW (#10), Ford (#15), Mercedes-Benz (#16), Hyundai (#17), and Nissan (#21).
With long term goals around fuel efficiency, superior energy use, and the reduction of toxic emissions, the industry as a whole has launched a competitive range of high-profile alternative fuel vehicles – from electric vehicles to hybrids – some with highly efficent internal combustible engines.
To develop the 2012 rankings, Interbrand used its 2011 Best Global Brands report, extensive consumer research, and performance data based on publicly available information provided by Deloitte Touche Tohmatsu Ltd.
David Pearson, global sustainability leader, Deloitte Touche Tohmatsu Limited, said, "It is becoming increasingly clear that sustainability is a 'must have' rather than a 'nice to have' for a lot of companies. It matters from a growth perspective; it matters from a cost and margin perspective; it matters from a brand value perspective."
"Closing the gap between sustainability performance and market perception is an incredibly important part of taking and continuing the sustainability journey," Pearson said.
Brands are measured against two sets of criteria, performance and perception.
To achieve a high performance score, organizations must demonstrate that they source, produce, and distribute products and services in an environmentally responsible manner.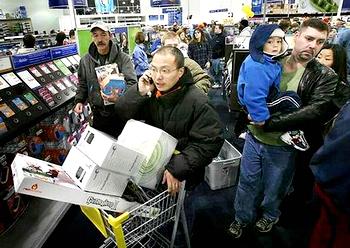 Shoppers in Maryland (Photo by Kristy)
To achieve a high perception score, organizations must work to build value amongst key audiences by credibly conveying the benefits of their environmental practices.
Interbrand then assesses "the gap" between a brand's performance and perception scores. A positive gap indicates sustainability performance is actually higher than consumers perceive it to be, while a negative gap indicates consumers perceive a brand to be more of a sustainable leader than it is.
For the annual Best Global Green Brands report, Deloitte developed a corporate environmental performance methodology based on publicly available data drawn from corporate social responsibility and sustainability reports, Carbon Disclosure Project responses, annual reports, 10-K filings, company websites, and the ASSET4 Database from Thomson Reuters.
A brand's Green Performance Score is composed of 82 metrics on which each brand is ranked. The metrics evaluate companies' disclosure and environmental performance across six factors: governance, operations, transportation and logistics, stakeholder engagement, and supply chain.
Interbrand examines how a brand's sustainability efforts are perceived by consumers. Each brand's perception score is determined through a consumer study covering 10,000 respondents – 1,000 in each of the 10 largest economies, including: the United States, Japan, China, Germany, France, UK, Italy, Brazil, India, and Canada.
Each brand is assessed by 1,250 consumers using Interbrand's six external brand strength pillars: authenticity, relevance, differentiation, consistency, presence, and understanding.
The Best Global Green Brand report's overall scores are calculated by combining the standardized performance and perception scores.
As sustainability initiatives continue to gain relevance among corporations and with consumers, said Interbrand, "companies in all sectors are striving to strike a winning balance between building a green business and effectively communicating sustainable practices in the global marketplace."
Copyright Environment News Service (ENS) 2012. All rights reserved.