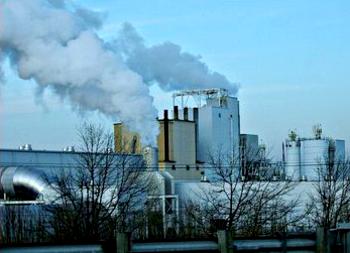 Court Upholds U.S. EPA's Right to Limit Greenhouse Gases
WASHINGTON, DC, June 26, 2012 (ENS) – The legal authority of the U.S. Environmental Protection Agency to regulate greenhouse gases under the Clean Air Act was today unanimously upheld by the U.S. Court of Appeals for the District of Columbia Circuit.
The court rejected a challenge to the EPA's finding that greenhouse gases endanger human health and welfare by 15 states led by Virginia Attorney General Ken Cuccinelli, who said late today that Virginia will appeal the ruling to the U.S. Supreme Court.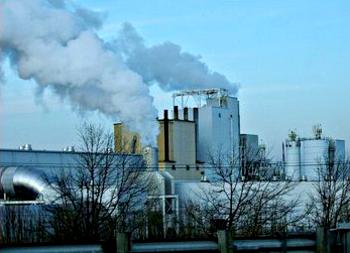 A factory in Norfolk, Virginia is a source of greenhouse gases. (Photo by Justin Brown)
The EPA's August 2009 endangerment finding is the foundation of the agency's recent regulatory actions to curb greenhouse gas emissions. In the same ruling, the court also upheld EPA's clean car standards and its permitting requirements for industrial facilities that emit heat-trapping greenhouse gases.
In February 2010, Cuccinelli petitioned the EPA to convene a new proceeding to reconsider its endangerment finding. He argued that the EPA violated the law by relying almost exclusively on data from the United Nations Intergovernmental Panel on Climate Change, rather than doing its own research or at least testing the external IPCC data according to federal standards.
In addition, contended Cuccinelli, "Information contained in the Climategate emails released in December 2009 and in news reports since also indicated that the IPCC data may have been manipulated to arrive at predetermined conclusions."
The University of East Anglia scientists who wrote the emails at issue have since been cleared by several official government and university investigations. But at the time of his petition, the Virginia attorney general argued that this was new and relevant information and therefore, the Clean Air Act required that the EPA reopen its proceedings.
Fourteen states joined Virginia in appealing the EPA's endangerment finding. They were Alabama Florida, Hawaii, Indiana, Kentucky, Louisiana, Mississippi, Nebraska, North Dakota, Oklahoma, South Carolina, South Dakota, Texas and Utah.
Late today, Virginia Attorney General Cuccinelli said his office will ask the U.S. Supreme Court to review the case.
Following the 2007 decision of the U.S. Supreme Court in Massachusetts v. EPA, which clarified that greenhouse gases are an "air pollutant" subject to regulation under the Clean Air Act, the EPA issued a series of greenhouse gas-related rules.
First, the agency issued an endangerment finding, in which it determined that greenhouse gases may "reasonably be anticipated to endanger public health or welfare."
Next, it issued the Tailpipe Rule, which set emission standards for cars and light trucks.
Finally, EPA determined that the Clean Air Act requires major stationary sources of greenhouse gases to obtain construction and operating permits. But because immediate regulation of all these sources would result in overwhelming burdens on permitting authorities and on sources, EPA issued the Timing and Tailoring Rules, in which it determined that only the largest stationary sources would initially be subject to permitting requirements.
Various states and industry groups challenged all these rules, arguing that they are based on improper constructions of the Clean Air Act and are otherwise arbitrary and capricious.
But the appeals court ruled that the Endangerment Finding and Tailpipe Rule are "neither arbitrary nor capricious;" that EPA's interpretation of the governing Clean Air Act provisions is "unambiguously correct;" and that no petitioner has standing to challenge the Timing and Tailoring Rules.
"Today's decision is a critical victory in addressing the real and present danger posed by climate change, and stemming its harmful effects," said New York Attorney General Eric Schneiderman, who led a coalition of 12 states supporting EPA's Tailoring Rule.
"The court clearly rebuffed the obstructionist tactics of some of the nation's largest polluters to impede action on climate change and paralyze our states in red tape," Schneiderman said. "This decision will go a long way to ensuring essential reductions in climate change pollution and, thereby, vital protections for the health and welfare of New Yorkers."
But Virginia Attorney General Cuccinelli pointed out that the appeals court said it would allow the EPA to move forward "even if the degree of regulation triggered might at a later stage be characterized as 'absurd.'"
"In doing so," said Cuccinelli, "the court evidently believed it was compelled to arrive at that decision because of the 2007 U.S. Supreme Court ruling in Massachusetts v. EPA. I do not believe the Supreme Court intended to compel such a destructive interpretation of the Clean Air Act. And because only the Supreme Court can clarify its prior ruling, Virginia intends to petition the Supreme Court to review the case."
Cuccinelli also intends to appeal the part of the appeals court's ruling that upholds EPA's reliance on climate data generated by the UN's Intergovernmental Panel on Climate Change, which was the basis of Virginia's original case.
The reaction to the ruling from Democrats and environmental groups was swift and positive.
"The Appeals Court's decision to unambiguously affirm EPA's clean air efforts to reduce dangerous carbon pollution is a big victory for the health of the American people," said U.S. Senator Barbara Boxer a California Democrat who chairs the Senate Environment and Public Works Committee.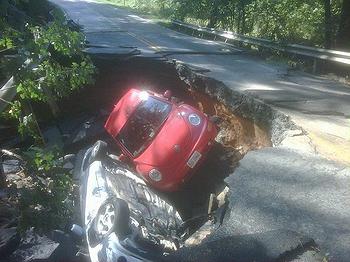 Due to flooding, two cars fell into a sinkhole on Lorton Road, Fairfax County, Virginia, September 2011. (Photo by Fairfax County)
"This decision means Virginians can move past the ginned-up 'Climategate' controversy and refocus on how to solve the serious harms that are already underway from rising sea levels and other impacts of climate change," said Morgan Butler, the Southern Environmental Law Center attorney who defended the EPA's endangerment finding before the appeals court on behalf of Norfolk, Virginia-based Wetlands Watch.
Skip Stiles, executive director with Wetlands Watch, hailed the court's decision. "We can't afford to debate this any longer. The tidewater area has to deal with the damaging effect of climate change every day, as floodwaters are backing up higher in neighborhoods, and storm surges are causing more damage every year. We hope today's decision will put a rest to Mr. Cuccinelli's attempts to undercut the efforts of many communities in his own state to address this growing challenge."
The decision upholding EPA's "endangerment finding" comes two days after the U.S. Geological Survey released a report finding that higher global temperatures are making the U.S. east coast a hotspot for sea level rise. The report says sea level is rising faster in Norfolk, Virginia than any other city on the Atlantic coast.
"The court's decision should put an end, once and for all, to any questions about the EPA's legal authority to protect us from dangerous industrial carbon pollution through the Clean Air Act, including vehicle emissions," said Carol Browner, a former EPA Administrator in the Clinton Administration who is now a Distinguished Senior Fellow at the Center for American Progress.
"This decision is a devastating blow to those who challenge the overwhelming scientific evidence of climate change and deny its impact on public health and welfare," said Browner.
"Coming on the heels of last week's Senate defeat of a measure to block life-saving mercury air pollution protections, this historic decision is a win for every American and a win for clean air," Browner said. "Hopefully we can move forward in a bipartisan way to push for more solutions that protect public health and spur innovation and job creation."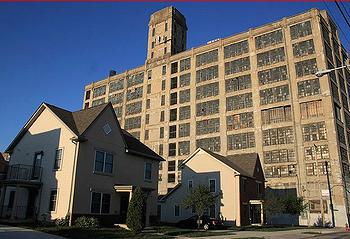 Abandoned factory in Philadelphia, Pennsylvania (Photo by Steve Ives)
But National Association of Manufacturers President and CEO Jay Timmons, speaking on behalf of the industry coalition that petitioned against the regulations, called today's ruling "a setback for businesses facing damaging regulations from the EPA" that adds to the "mounting uncertainty facing manufacturers of all sizes."
"The Clean Air Act was not designed to regulate greenhouse gases," Timmons said. "The EPA's decision to move forward with these regulations is one of the most costly, complex and burdensome regulations facing manufacturers. These regulations will harm their ability to hire, invest and grow."
"The debate to address climate change should take place in the U.S. Congress and should foster economic growth and job creation, not impose additional burdens on businesses," Timmons said.
The National Association of Manufacturers is reviewing the court's decision and will consider further legal options on appeal.
Timmons warned that the EPA's greenhouse gas regulations "will eventually require new burdensome permitting requirements for more than six million stationary sources, including 200,000 manufacturing facilities, 37,000 farms and millions of other sources such as universities, schools, hospitals and even American homes – impacting every aspect of our economy."
Copyright Environment News Service (ENS) 2012. All rights reserved.