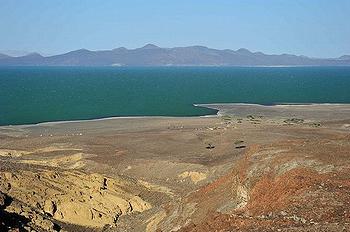 Danger Listing Denied Four Natural World Heritage Sites
ST. PETERSBURG, Russia, June 30, 2012 (ENS) – None of the four natural World Heritage sites recommended for inclusion on the World Heritage Danger List by the official advisory body on nature have been added by the World Heritage Committee.
As the committee's advisory body, the International Union for the Conservation of Nature, IUCN, had recommended that Lake Turkana National Parks in Kenya, the Dja Faunal Reserve in Cameroon, the Virgin Komi Forests in Russia, and the Pitons Management Area in the Caribbean island nation of Saint Lucia be added to the List of World Heritage in Danger.
The committee, meeting in St. Petersburg until July 6, has rejected all four recommendations.
A UNESCO agency, the World Heritage Committee identifies cultural and natural properties of Outstanding Universal Value that are to be protected under the treaty protecting World Cultural and Natural Heritage and inscribes those properties on the World Heritage List and the List of World Heritage in Danger.
"We are disappointed that the committee has not inscribed any of these threatened sites on the List of World Heritage in Danger this year," said Tim Badman, director of IUCN's World Heritage Programme.
"These four sites face significant threats to their values, from threats including major infrastructure projects, the extractive industry and property speculation," said Badman.
The proposal to include Kenya's Lake Turkana on the Danger List was made due to construction of Gibe III dam in Ethiopia, a transboundary issue between Kenya and Ethiopia.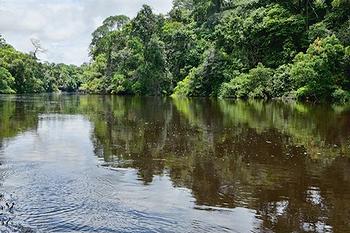 The Dja River in the Cameroon's Dja Faunal Reserve (Photo by Cameroon Travel)
An IUCN assessment shows that dam construction will result in a steep reduction in the water level of the world's largest desert lake, increased salinity and a decline in fish stocks and wildlife. It will also affect local communities who depend on the lake for their livelihoods. Local communities have been demonstrating against the dam for years.
Oil exploration and poaching pose additional threats to the area. Flagship species such as the reticulated giraffe and Grevy's zebra seem to have disappeared.
Cameroon's Dja Faunal Reserve is one of the largest and best preserved rainforests in Africa, surrounded by the Dja River and inhabited by a wide variety of primates, including the Critically Endangered western lowland gorilla and the Endangered chimpanzee.
Mining activities in the vicinity of the reserve as well as wildlife poaching and ongoing dam construction on the river Dja were the main reasons for the site's danger listing proposal, the IUCN said.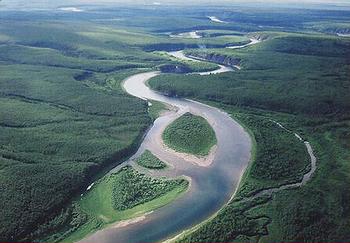 Russia's Virgin Komi Forests (Photo by MerJade)
For the second year in a row, IUCN's recommendation to include Russia's Virgin Komi Forests on the Danger List has not been followed. Preparation works for a gold mine inside the site and national level boundary changes, which led to the loss of legal protection for parts of the site, are both clear criteria for a site to be declared in danger, warned the IUCN.
In the Northern Ural mountains of Russia's Komi Republic, the Virgin Komi Forests cover 3.28 million hectares of tundra and mountain tundra, as well as one of the most extensive areas of virgin boreal forest remaining in Europe. Both European and Asiatic species inhabit the site with some 43 mammal, 204 bird and 16 fish species recorded. Threatened mammal species include wolf, otter, beaver, sable, wolverine and lynx.
The Pitons Management Area in Saint Lucia has been subjected to significant development since its inscription on the World Heritage List in 2004, and development threats risk irreversible loss of its outstanding universal value.
Recognizable for its two eroded remnants of lava domes rising from the sea to heights greater than 700 meters, Pitons Management Area includes a geothermal field with sulphurous fumeroles and hot springs. The forested spires contain eight rare tree species. The larger one is inhabited by some 27 bird species, five of them found nowhere else on Earth.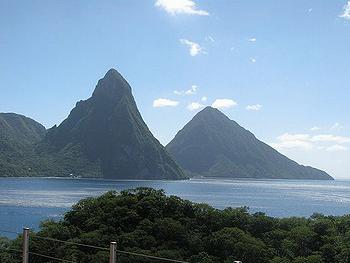 Pitons Management Area in the Caribbean island nation of Saint Lucia (Photo by Michael Blanding)
Coral reefs cover almost 60 percent of the site's marine area, which is inhabited by 168 species of finfish.
Badman said, "Inscription on the Danger List is not a black mark for countries, but a way of drawing attention and providing support to the sites that need it the most."
The World Heritage Fund provides about US$4 million annually to support activities requested by governments in need of international assistance. The World Heritage Committee allocates funds according to the urgency of requests, priority being given to the most threatened sites.
The committee is composed of representatives from 21 governments that are Parties to the Convention Concerning the Protection of the World Cultural and Natural Heritage, adopted by UNESCO in 1972.
At the 2012 meeting they are: Algeria, Cambodia, Colombia, Estonia, Ethiopia, France, Germany, India, Iraq, Japan, Malaysia, Mali, Mexico, Qatar, Russia, Senegal, Serbia, South Africa, Switzerland, Thailand and United Arab Emirates.
On Tuesday, the IUCN released a new independent review of World Heritage and extractive industries, published in response to growing concerns over the rapidly increasing number of World Heritage Sites threatened by planned mining or oil and gas projects.
Threats to natural World Heritage sites from mining activities are growing, especially in Africa, where one out of four iconic natural areas is negatively affected.
The outcome of a joint project by IUCN, the International Council on Mining and Metals, JP Morgan Bank, Shell International and UNESCO, the report proposes practical ways of strengthening the role of the World Heritage Convention in safeguarding these areas of outstanding value.
"These exceptional places, which cover less than one percent of the Earth's surface, have been included on the World Heritage List because they are of outstanding value to all of humanity. It's the duty of every one of us to cooperate in their protection and conservation," said Badman.
Companies such as Shell and the financial services firm JP Morgan, as well as ICMM, which brings together many of the world's major mining companies, have recognized the importance of conserving World Heritage Sites and have committed not to undertake activities that would damage them.
Yet other companies and some countries still profit from resource exploration in these sensitive areas.
"It is clear that the desired conservation outcomes will not be achieved through individual corporate commitments alone," Badman said. The task of ensuring World Heritage Sites are not impacted by extractive industries cannot be effective if it is a commitment of only a few responsible companies."
"Mining and energy companies' ability to fund substantial environmental programmes in the vicinity of their operations should not be viewed as adequate recompense for negative impacts on natural World Heritage properties. Nor are offsets an admissible strategy to compensate for such impacts," the report states.
"Nevertheless, the extractive industries should not automatically be seen as a threat to these properties. Instead, there may be opportunities, within broader planning and management frameworks, to identify mutually beneficial strategies for company support to environmental initiatives and capacity development that directly or indirectly benefit them," according to the report, which points out, "In the 21st century, a positive environmental profile is an increasingly valuable asset for the private sector."
After more than 10 years of dicussion on this issue, the World Heritage Committee has decided to develop formal policy guidelines governing extractive industries affecting natural World Heritage sites.
The joint industry-UNESCO-IUCN review proposes wording for the policy guidelines that would prohibit extractive industry operations in natural World Heritage sites. The proposed wording would provide for the committee to encourage and assist governments in ending any existing concessions or operations. And it proposes that governments take legislative and planning measures to prevent negative impacts on natural World Heritage sites by extractive industry operations beyond their boundaries.
The World Heritage List includes 951 properties forming part of the cultural and natural heritage which the World Heritage Committee considers to have outstanding universal value.
These include 739 cultural sites, 183 natural sites and 29 mixed cultural-natural properties in 155 countries. As of March 2012, 189 of the world's 193 governments had ratified the World Heritage Convention.
Copyright Environment News Service (ENS) 2012. All rights reserved.