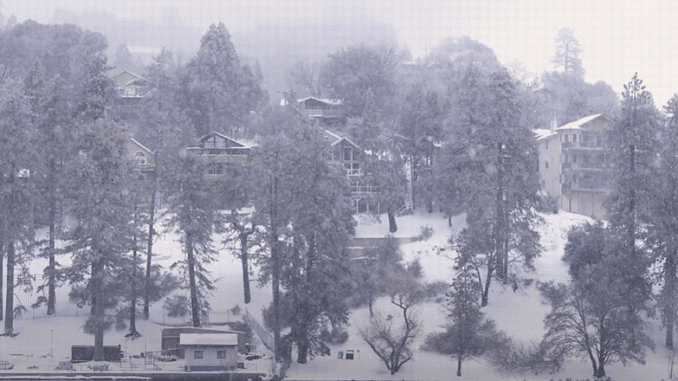 SACRAMENTO, California, March 9, 2023 (ENS) – Knowing that a series of storms are forecast to continue blowing across California through mid-March, and an atmospheric river event is predicted for later this week, Governor Gavin Newsom Wednesday proclaimed a state of emergency to support storm response and relief efforts in 21 additional counties including San Francisco and other cities in the Bay Area and along the coast: Butte, El Dorado, Fresno, Humboldt, Imperial, Inyo, Lake, Mendocino, Merced, Monterey, Napa, Placer, Plumas, Sacramento, San Francisco, San Mateo, Santa Clara, Santa Cruz, Stanislaus, Tuolumne and Yuba counties.
The governor last week proclaimed a state of emergency in 13 counties due to storms, and activated the California Guard and State Operations Center to bring state support to county-led emergency response efforts and coordinate mutual aid from neighboring jurisdictions.
"The state is working around the clock with local partners to deploy life-saving equipment and first responders to communities across California," said Governor Newsom. "With more dangerous storms on the horizon, we'll continue to mobilize every available resource to protect Californians."
AccuWeather senior meteorologist Alex Sosnowski predicted today that, "A high-impact storm packed with moisture will drag warmer air behind it as it slams California late this week, and AccuWeather meteorologists warn that damaging and life-threatening flooding and mudslides could occur in the Golden State."
"The heavy rain will threaten to wash away the snowpack on intermediate slopes rapidly and spread more snow over the highest elevations, in addition to helping wipe away persistent drought conditions," Sosnowski said.
"As the storm rolls in from the Pacific and moves inland, it will tap into much warmer air from the south and pull a plume of tropical moisture across a large part of California. This plume of moisture is called an atmospheric river and will likely lead to torrential rainfall in some areas and very heavy snow over the highest elevations of the Sierra Nevada and Siskyous," Sosnowski explained.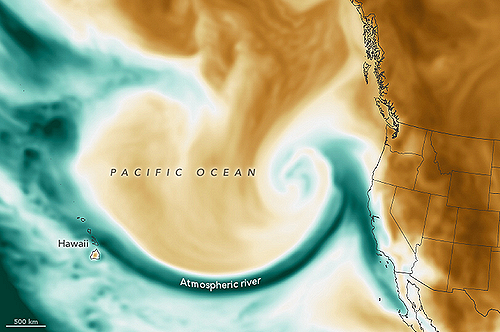 On Friday, the atmospheric river will extend for more than 2,400 miles from California to the southwest of the Hawaiian islands in a type of potent storm called Pineapple Express by meteorologists.
This storm system follows recent colder storms that dumped more feet of snow over the Sierra Nevada from last Saturday through early Wednesday. Heavy rain with flooding, significant snow and strong winds will impact the west through Friday as another powerful storm moves ashore, warns the National Weather Service.
In his proclamation, Governor Newsom described the situation in his state, saying, "…heavy rain, snow, and gusty winds caused by these storms continue throughout the State, especially in the mountains and foothill regions, resulting in significant travel impacts and residents being snowed in or stranded."
"These storms continue to bring significant precipitation, avalanche and flood concerns, and triggered evacuation warnings," he said, explaining that the storms "continue to damage and force the closure of federal and state highways and roads, and have also damaged and continue to threaten critical infrastructure, homes, and buildings…"
"These storms, including the forecasted atmospheric river system, will compound the complexities of recovery in the affected counties that are still responding and continue to respond to impacts of these storms," the governor said.
The state has staffing and equipment resources from the Governor's Office of Emergency Services (Cal OES), Caltrans, the California Highway Patrol, CAL FIRE and the California National Guard on the ground in impacted areas.
CAL FIRE and partner agencies have 43 crews active statewide, 12 of which are committed to the San Bernardino storm incident, as well as two helicopters, two dozers and an Incident Management Team, among other resources. The California Guard is pre-positioning High Water Vehicles in preparation for flood response operations.
Caltrans has mobilized more than 4,000 crew members to hundreds of incidents statewide, working 24/7 in shifts. In San Bernardino County, more than 57 Caltrans employees operating 40 high-powered pieces of equipment, including snowplows, graders, loaders and dump trucks, have removed more than 12.6 million cubic yards of snow off state highways as of March 8, which equates to more than 3,800 Olympic-size swimming pools.
The California Highway Patrol is increasing resources in targeted areas to help address storm-related needs, including ensuring full staffing for air operation missions, ready to deploy as needed.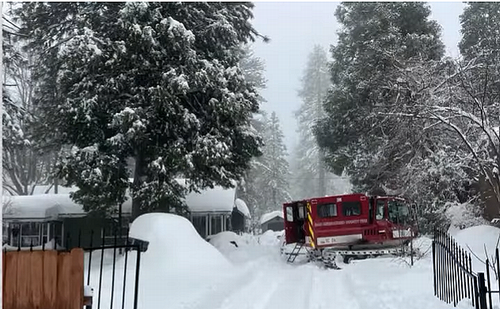 Cal OES has coordinated with the Department of Developmental Services to open six shelters in the counties of San Bernardino, Stanislaus, Madera, Butte and Nevada, and has facilitated food donations through the California Grocers Association to provide meal kits in San Bernardino County.
Governor Newsom has also directed that all fairgrounds in the counties he identified as experiencing a state of emergency be opened to shelter evacuees if the Office of Emergency Services determines they are suitable to help the people impacted by these storms.
In the next few days, up to four inches of rain are forecast to cause incidents of urban flooding in areas from Santa Barbara to Redding. Road hazards are expected to include high water, falling rocks and mudslides. Stretches of roads could be washed away.
"The torrential rain and piles of snow laying at the edges of area streets and rural roads is likely to lead to flooding," AccuWeather Senior Meteorologist Brett Anderson said. "Where possible, road crews and property owners may want to open up the storm drains to minimize the flooding risk."
Enough rain and melting snow will occur from the storm to cause major rivers, including the Sacramento and the San Joaquin, to rise.
Snow is expected to pile up over the high country, Accuweather warns. Starting at elevations near 7,500 feet and above, the potential exists for two to four feet to fall on top of a snowpack that is over 100 inches in some places.
Periods of heavy rainfall caused by multiple atmospheric rivers in California between December 31, 2022 and January 25, 2023 resulted in floods that affected parts of Southern California, the California Central Coast, Northern California and Nevada. The flooding resulted in property damage and at least 22 fatalities, making it the deadliest U.S. meteorological event of 2023 to date.
Featured image: Snowfall accumulates in the mountainous County of San Bernadino, California. March 7, 2023. (Screengrab from video courtesy County of San Bernadino)