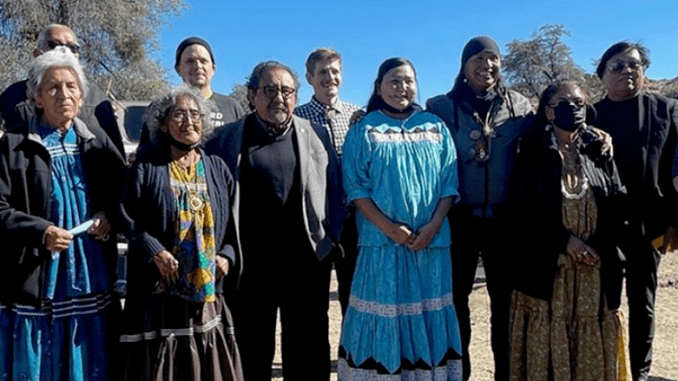 PHOENIX, Arizona, February 11, 2022 (ENS) – The world's two largest mining companies are pressing their proposal to mine for copper beneath a site most sacred to the San Carlos Apache Tribe.
House Natural Resources Committee Chair Raul Grijalva, an Arizona Democrat, today accompanied the U.S. Forest Service and San Carlos Apache tribal leaders on a visit to the Oak Flat site within Tonto National Forest. Beneath Oak Flat lies one of the largest untapped copper deposits in the world, estimated at more than $1 billion.
From the crest of the Mogollon Rim stretching 90 miles south, the Tonto National Forest spreads over 2.9 million acres of pine and cactus country northwest of Phoenix.
The Forest Service conducted the site visit in tandem with a formal tribal consultation session with the San Carlos Apache Tribe about proposed copper mining operations that would irreparably damage the sacred Oak Flat site.
The Forest Service is in the process of completing another environmental impact statement, EIS, for Resolution Copper's proposed copper mine near the Oak Flat site.
Although Oak Flat is listed on the National Register of Historic Places as a Traditional Cultural Property, a copper-molybdenum mine is proposed by Resolution Copper, a joint venture owned by the world's two largest mining companies – Rio Tinto and BHP – with operations based in Australia and Britain.
San Carlos Apache tribal leaders warn that these companies have a record of destroying sacred indigenous sites around the world.
They point to the time in May 2020 when Rio Tinto blew up the 46,000-year-old sacred Aboriginal Juukan Gorge caves in Pilbara, Western Australia as part of an iron ore exploration project.
The Australian Parliament has ordered Rio Tinto to rebuild ancient Aboriginal cave system. But how can anyone reconstruct the evidence of continuous human habitation since the last Ice Age that had been contained in the caves?
In Arizona, the Resolution Copper proposal is for underground mining of a copper-molybdenum deposit located 5,000 to 7,000 feet (1,500 to 2,100 meters) below the surface.
The company estimates that the mine would take 10 years to construct and would have an operational life of 40 years, which would be followed by another five to 10 years of reclamation activities.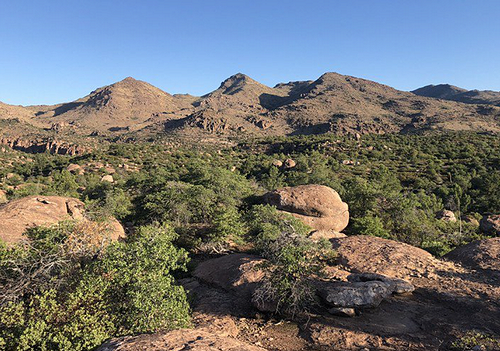 If approved, a final EIS would greenlight a land transfer between Tonto National Forest and Resolution Copper, allowing the company's mining plans to move forward despite strong public opposition, including that of over 40 tribal governments and 150 national and regional organizations, Congressman Grijalva said.
The Resolution Copper Mine could not be built without the transfer of Oak Flat from public ownership, where federal laws would prohibit its destruction, into private ownership where these laws would not apply.
The current EIS process began after the Biden administration withdrew a "final EIS" published in the last days of the Trump administration due to what Grijalva says were "inadequate environmental analyses and lack of good faith tribal consultation."
Tribal Chairman Terry Rambler said at the time, "The Trump administration rushed to publish a seriously-flawed FEIS just five days before President Trump leaves office. This callous, immoral and illegal action is being done to enrich wealthy foreign mining interests while knowing that mining will destroy Oak Flat that for many generations has been the heart of Apache religious and cultural practices."
The San Carlos Apache Tribe filed a lawsuit to stop the land transfer January 15, 2021, just five days before President Trump left office. President Joe Biden put the brakes on the land transfer in March 2021.
In addition to the sacred nature of the site, environmentalists say the proposed mine would require the withdrawal of substantial groundwater in the already drought-stricken state of Arizona.
Congressman Grijalva sides with the tribe. He introduced the Save Oak Flat Act on March 15, 2021, to permanently protect the Oak Flat area from mining operations. The bill passed out of Committee on April 28, 2021.
"Our fight to stop this backroom land grab isn't over," Grijalva said on his visit to Oak Flat. "We're going to stand up for Indigenous communities and protect sacred sites against corporate greed."
Congressman Grijalva sent a letter on February 8 to the Biden administration urging adoption of the White House's agency guidance for using Indigenous Traditional Ecological Knowledge in the tribal consultation process for Oak Flat.
Advocates attending the site visit explained the traditional and religious significance of Oak Flat, or Chi'chil Bildagoteel, emphasizing the national importance of protecting the holy site.
Tribal Chairman Rambler said, "The United States must not provide rubber-stamp approvals for these companies to destroy sacred sites on our homeland in Arizona."
Featured image: Congressman Raul Grijalva, center front row, meets with San Carlos Apache tribal leaders to visit the Oak Flat site within Tonto National Forest, February 11, 2022 (Photo courtesy Office of Congressman Grijalva)
Environment News Service (ENS) © 2022 All Rights Reserved.