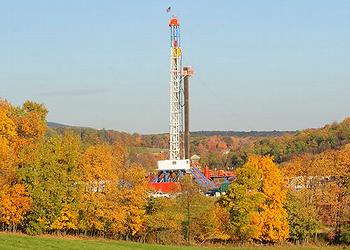 XTO Energy Must Restore Areas Damaged by Fracking … Savannah River Site Nuclear Waste Tanks to Be Closed … Kentucky Approves Big Solar Project … Protections Reinstated for Western Great Lakes Gray Wolves … Wind Farms Utility Sentenced for Golden Eagle Deaths … Corals Show Link Between Pacific Winds, Global Climate
XTO Energy Must Restore Areas Damaged by Fracking
WASHINGTON, DC, December 22, 2014 (ENS) – XTO Energy, Inc., a subsidiary of ExxonMobil and the nation's largest holder of natural gas reserves, will spend an estimated $3 million to restore eight West Virginia sites damaged by unauthorized discharges of fill material into streams and wetlands in connection with hydraulic fracturing operations, federal officials announced today.
XTO will also implement a comprehensive plan to comply with federal and state water protection laws at the company's West Virginia oil and gas extraction facilities that use horizontal drilling methods, known as fracking.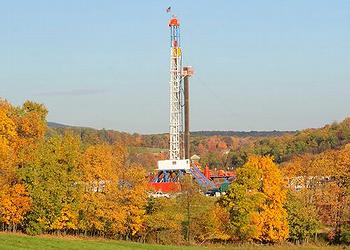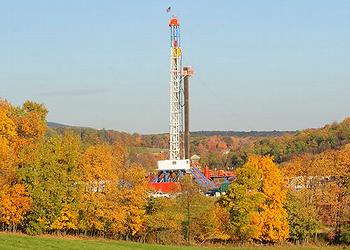 The company will also pay a civil penalty of $2.3 million for violations of Section 404 of the Clean Water Act, which prohibits the filling or damming of wetlands, rivers, streams, and other waters of the United States without a permit from the U.S. Army Corps of Engineers.
The settlement resolves alleged violations of state law asserted by the West Virginia Department of Environmental Protection. The state of West Virginia is a co-plaintiff in the settlement and will receive half of the $2.3 million civil penalty.
"American communities expect EPA and our state partners to make sure energy development is done responsibly," said Cynthia Giles, assistant administrator of the U.S. Environmental Protection Agency's Office of Enforcement and Compliance Assurance. "This case will help to protect clean water in West Virginia, and support a level playing field for energy developers that play by the rules."
"The extraction of domestic energy resources is vitally important, and so it is equally important that companies ensure that all activities are done in accordance with the nation's environmental laws," said Sam Hirsch, the acting assistant attorney general for the U.S. justice Department's Environment and Natural Resources Division. "This settlement will resolve allegations that XTO damaged wetlands and streams by illegally discharging dredge and fill materials into streams, and restore wherever possible these damaged natural resources."
The federal government and the state of West Virginia allege that the company impacted streams and discharged sand, dirt, rocks and other fill material into streams and wetlands without a federal permit in order to construct well pads, road crossings, freshwater pits, and other facilities related to natural gas extraction.
Today's settlement resolves the alleged violations that occurred at sites located in the West Virginia counties of Harrison, Marion and Upshur. The federal government and WVDEP allege that the violations impacted more than 5,300 linear feet of stream, and 3.38 acres of wetlands.
In July 2013, the United States concluded a settlement with XTO to resolve an alleged violation of the Clean Water Act related to the discharge of wastewater from XTO's Penn Township facility in Lycoming County, Pennsylvania, used for the storage of wastewater generated by fracking operations.
XTO Energy Inc. was founded in 1986 in Fort Worth, Texas. XTO Energy Inc. and Exxon Mobil Corporation merged in 2010.
Copyright Environment News Service (ENS) 2014. All rights reserved.
Savannah River Site Nuclear Waste Tanks to Be Closed
WASHINGTON, DC, December 22, 2014 (ENS) – The Department of Energy has announced completion of a milestone in the cleanup of the Cold War radioactive waste legacy at the Savannah River Site in South Carolina, and took a step toward closing more radioactive tanks at the site.
Energy Secretary Ernest Moniz signed a determination Friday that allows Savannah River Site to complete cleanup and closure of the underground liquid waste tanks in the H Tank Farm as they are emptied and cleaned.
In all, there are 45 tanks at the Savannah River Site containing about 37 million gallons of highly radioactive waste. Last year, workers closed two of the tanks ahead of schedule.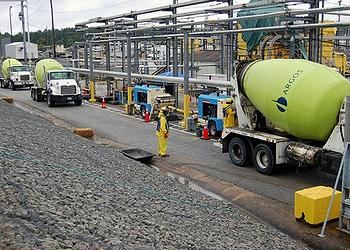 Before Friday's determination, the Energy Department and the Savannah River Site conducted technical environmental analysis, public review and comment, and consultation with the Nuclear Regulatory Commission. The State of South Carolina and the U.S. Environmental Protection Agency provided input as part of the review process.
"Today's announcement is an important step in the effort to close tanks at the Savannah River Site, and is a result of hard work and sustained collaboration between partners at the local, state, and federal level," said Moniz.
"We are now able to move forward to safely, effectively and efficiently clean up and close these tanks in the H Tank Farm, as we work to achieve the key mission of cleaning up the environmental legacy of the Cold War," Moniz said.
Moniz determined that stabilized residuals, tanks and ancillary structures at closure in the H-tank Farm will "not require permanent isolation in a deep geologic repository for spent fuel or high-level radioactive waste."
The "highly radioactive radionuclides" have been removed "to the maximum extent practical," Moniz determined.
The first tank closed in the H Tank Farm will be Tank 16, the only one at Savannah River that historically leaked to the environment. This will be followed by the closure of Tank 12.
The determination allows for the closure of 27 additional tanks after cleaning, following public review and state approval.
Workers have removed more than 99 percent of the waste in Tanks 12 and 16. Next steps include grouting the interiors with a cement-like material to stabilize the tanks and immobilize the residual waste, to minimize future risk and protect human health, safety and the environment.
The Savannah River Site was constructed in the early 1950s to produce basic materials for fabricating nuclear weapons in support of U.S. defense programs. Tanks 12 and 16, two of the many nuclear facilities constructed at the site to support the U.S. Cold War effort, were built in the 1950s to store radioactive liquid waste generated through the site's nuclear weapons material processing.
Section 3116 of the National Defense Authorization Act for Fiscal Year 2005 establishes the criteria and the process, including consultation with NRC, for making the determination signed by Secretary Moniz.
The Secretary's Section 3116 Determination for Closure of H-Tank Farm at the Savannah River Site, the Basis for Section 3116 Determination for Closure of H-Tank Farm at the Savannah River Site, and the High-Level Waste Tank Closure Final Environmental Impact Statement for the Savannah River Site, Supplement Analysis are online at: http://sro.srs.gov/fhtankfarm.html
Copyright Environment News Service (ENS) 2014. All rights reserved.
Kentucky Approves Big Solar Project
FRANKFORT, Kentucky, December 22, 2014 (ENS) – Late Friday afternoon, the Kentucky Public Service Commission approved a 10-megawatt solar project proposed by Louisville Gas and Electric and Kentucky Utilities that will be located at the E.W. Brown Generating Station in Mercer County.
Expected to go on line in mid-2016, the project will become Kentucky's largest solar facility and appears to be the first utility-scale renewable energy project in the state.
The applicants say that the proposed generation facilities are needed due to the retirements of coal units at the Green River, Tyrone, and Cane Run generating stations and the forecasted demand for power.
The total installed cost of the Brown Solar Facility is estimated to be $36 million,which is typical of the cost of solar facilities of similar size installed recently, said the Kentucky Public Service Commission.
In the order approving the project, the Kentucky PSC said, "…it is appropriate for Joint Applicants (LG&E and KU) to diversify their generation portfolio in light of a likely future carbon-constrained world."
Earthjustice represented Sierra Club in the proceeding before the Public Service Commission to support the project.
Earthjustice's lead counsel Matt Gerhart said, "The approval of this solar project is a significant step in showing that the Commonwealth's ongoing prosperity can be linked to clean, renewable energy. The Commission's decision acknowledges the benefit of offering a diversity of energy choices and using renewable energy to reduce the financial risk to ratepayers and their hard-earned money."
Over the span of just one year the price of solar panels declined by almost 50 percent which led the utilities to take a second look at solar and propose this project, Gerhart explained.
Copyright Environment News Service (ENS) 2014. All rights reserved.
Protections Reinstated for Western Great Lakes Gray Wolves
WASHINGTON, DC, December 22, 2014 (ENS) – A federal judge has overturned the U.S. Fish and Wildlife Service decision that in 2012 removed Endangered Species Act protections for gray wolves living in the western Great Lakes region, including Michigan, Minnesota and Wisconsin, and turned wolf management in this region over to the states.
U.S. District Judge Beryl Howell with the Federal District Court for the District of Columbia ruled that the removal of Endangered Species Act protections for gray wolves was "arbitrary and capricious" and violated the Act .
Not only did the court find the Service's decision flawed, but further criticized the agency for not explaining why it did not pursue the potential for wolves to recover further, in areas of its historic range.
This ruling means that the hunting and trapping of wolves in Michigan, Minnesota and Wisconsin is now illegal and must stop immediately.
A coalition of wildlife protection groups filed suit against the Service's decision that prematurely removed federal protections for gray wolves in the western Great Lakes region in 2012.
The suit argued that the decision to delist threatened their survival by confining gray wolves to a small area where they were then persecuted.
Wolves in this region faced recreational hunting, trapping, and an unsympathetic state management program that sought to reduce their population in the same manner that almost led to their eradication in the first place.
Hunters and trappers have killed more than 1,500 gray wolves in the Great Lakes region since federal protections were removed. States in this region legalized some of the more barbaric practices to hunt wolves, including baiting, electronic calls, the use of leg hold traps, snares, and the use of dogs.
The court ruling follows a ruling in September that restored federal protections for wolves in the state of Wyoming.
Jim Dutcher and Jamie Dutcher, founders of the nonprofit Living with Wolves in Sun Valley, Idaho, said they hope "these landmark decisions are the beginning of a new wave of protections or sustainable and responsible management for wolves in the United States, not just a hiccup in unsustainable wolf management practices."
Copyright Environment News Service (ENS) 2014. All rights reserved.
Wind Farm Utility Sentenced for Golden Eagle Deaths
CHEYENNE, Wyoming, December 22, 2014 (ENS) – PacifiCorp Energy, a subsidiary of PacifiCorp, based in Portland, Oregon, pleaded guilty in U.S. District Court in Wyoming Friday to violating the federal Migratory Bird Treaty Act by allowing the deaths of protected birds, including golden eagles, at two of the company's wind projects in Wyoming.
Under a plea agreement with the government, the company was sentenced to pay fines, restitution and community service totaling $2.5 million and was placed on probation for five years, during which it must implement an environmental compliance plan aimed at preventing bird deaths at the company's four commercial wind projects in the state.
The company is also required to apply for Eagle Take Permits which, if granted, will provide a framework for minimizing and mitigating the deaths of golden eagles at the wind projects.
The charges stem from the discovery of the carcasses of 38 golden eagles and 336 other protected birds, including hawks, blackbirds, larks, wrens and sparrows by the company at its "Seven Mile Hill" and "Glenrock/Rolling Hills" wind projects in Carbon and Converse Counties between 2009 and the present.
The two wind projects are comprised of 237 large wind turbines sited on private and company-owned land.
"PacifiCorp Energy built two of its Wyoming wind projects in a manner it knew would likely result in the deaths of eagles and other protected birds," said Sam Hirsch, acting assistant attorney general for the Justice Department's Environment and Natural Resources Division.
"PacifiCorp has taken steps to minimize the hazard, and with this plea agreement has committed to a comprehensive plan to continue such efforts in partnership with the U.S. Fish and Wildlife Service, to seek eagle take permits for each project, and to work to prevent future eagle deaths," said Hirsch.
The government alleged that PacifiCorp Energy failed to make all reasonable efforts to build the projects in a way that would avoid the risk of avian deaths by collision with turbine blades, despite prior guidance from the U.S. Fish and Wildlife Service.
"Improperly sited and operated wind energy facilities can kill significant numbers of federally protected birds and other species," said Service Director Dan Ashe, urging developers to follow the Service's Land-based Wind Energy Guidelines. "That's why it's imperative that wind energy developers work with the Fish and Wildlife Service to minimize these impacts at every stage in the process."
The company cooperated with the Service's investigation and has implemented measures aimed at minimizing avian deaths at the sites.
Commercial wind power projects can cause the deaths of federally protected birds in four primary ways: collision with wind turbines, collision with associated meteorological towers, collision with, or electrocution by, associated electrical power facilities, and nest abandonment or behavior avoidance from habitat modification.
According to papers filed with the court, PacifiCorp will spend $600,000 per year implementing the compliance plan. The company must also apply to the U.S. Fish and Wildlife Service for a Programmatic Eagle Take Permit at each of the four wind projects cited in the case.
The $400,000 fine imposed in the case will be directed to the federally-administered North American Wetlands Conservation Fund. The company will also pay $200,000 in restitution to the State of Wyoming, and perform community service by making a $1.9 million payment to the congressionally-chartered National Fish and Wildlife Foundation, designated for projects aimed at preserving golden eagles and increasing the understanding of ways to minimize and monitor interactions between eagles and commercial wind power facilities, as well as enhance eagle rehabilitation and conservation efforts in Wyoming.
Copyright Environment News Service (ENS) 2014. All rights reserved.
Corals Show Link Between Pacific Winds, Global Climate
BOULDER, Colorado, December 22, 2014 (ENS) – Shifts in Pacific trade winds played a key role in 20th century climate variation, a sign that they may again be influencing global temperatures, new research indicates.
The study, led by scientists at the National Center for Atmospheric Research and the University of Arizona, uses a novel method of analyzing chemical changes in coral to show that weak tropical Pacific trade winds coincided with globally warming temperatures early in the 20th century.
When the natural pattern shifted and winds began to strengthen after 1940, the warming slowed.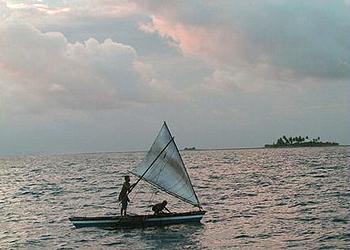 The finding gives support to the theory that strong Pacific trade winds are currently helping to prevent global temperatures from climbing, even as society continues to emit carbon dioxide and other greenhouse gases.
When the winds weaken as part of a natural cycle, warming will likely resume once again, the authors say.
"Strong winds in the tropical Pacific are playing a role in the slowdown of warming over the past 15 years," said lead author Diane Thompson, a postdoctoral scientist at NCAR. "When the winds inevitably change to a weaker state, warming will start to accelerate again."
"Mother Nature is always going to inject little ups and downs along our path to a warmer world," said University of Arizona professor Julia Cole, a co-author. "We're trying to understand how those natural variations work so that scientists can do a better job of predicting the actual course of climate change into the future."
The study is being published this week in the journal "Nature Geoscience." It was funded by the National Science Foundation, NCAR's sponsor, as well as by the National Oceanic and Atmospheric Administration, University of Arizona, Philanthropic Education Organization, U.K. Natural Environment Research Council, and the U.S. Department of Energy.
Despite increases in greenhouse gases, global surface temperatures have not risen significantly since 2001. This pause in global warming, often called the hiatus, has become the focus of research by climate scientists who are trying to track the missing heat.
By using climate models and observations, scientists are finding evidence that the heat is going into the subsurface ocean, perhaps as a result of changes in atmospheric circulation.
A study earlier this year in the journal "Nature Climate Change" by an international team of climate scientists, pointed to unusually strong trade winds along the equator in the Pacific Ocean that are driving heat into the ocean while bringing cooler water to the surface.
This is leaving less heat in the air, temporarily offsetting warming from increasing greenhouse gases.
The study by Thompson and her colleagues indicates that this process has happened before, and in the opposite direction – weaker winds allowed warming to accelerate.
Winds are just one contributor to changes in global climate. Another reason that temperatures leveled off in mid-century likely has to do with increased industrialization and emissions of particles that block sunlight and exert a cooling influence. Later in the century, increased emissions of greenhouse gases played a dominant role.
"This research shows that the influence of winds on climate is not anything new. These mechanisms have been at work earlier," Thompson said. "We believe this is a significant contribution to understanding the role of natural processes in modulating global temperature change."
Copyright Environment News Service (ENS) 2014. All rights reserved.
Environment News Service (ENS) © 2014 – 2015 All Rights Reserved.