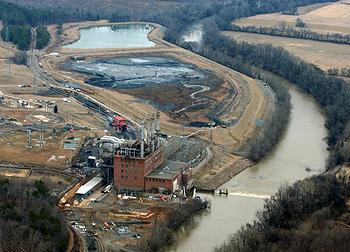 WASHINGTON, DC, December 20, 2104 (ENS) – The first national regulations to provide for the safe disposal of the ash left after burning coal to produce electricity were announced Friday by the U.S. Environmental Protection Agency.
After years of delaying action on issuing a coal ash rule, the EPA was under a court order to issue new safeguards by December 19.  On that date, the final rule for coal combustion waste was issued under the Resource Conservation and Recovery Act.
The National Resources Defense Council, NRDC, and other environmental groups had urged the agency to classify coal ash as a hazardous waste, which would have required stronger oversight, safer disposal methods and phase-out of the coal ash ponds.
Instead, the agency classified coal ash as non-hazardous, requiring fewer safeguards and protections.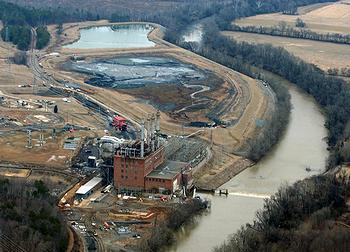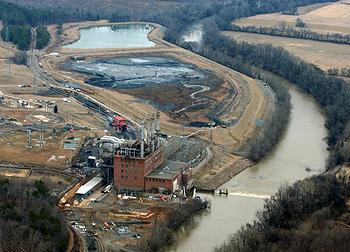 Scott Slesinger, NRDC's legislative director, said, "The EPA is bowing to coal-fired utilities' interests and putting the public at great risk by treating toxic coal ash as simple garbage instead of the hazardous waste that it is. Too much of the agency's new rule is left to the discretion of states, which all too often have favored powerful utility companies instead of the public."
Environmental groups warned that every year utilities produce more than 100 million tons of coal ash laced with arsenic, lead, and other pollutants. Some 40 percent of it is safely recycled into concrete and wallboard, but every year millions of tons are dumped into poorly regulated ponds, landfills and abandoned mines.
Without proper safeguards, these storage facilities can leak toxic pollutants into drinking water supplies. Slesinger points to an incident earlier this year that released 27 million gallons of polluted water from an unlined coal ash pond in North Carolina into the Dan River.
"Unlike the majority of environmental standards, which are backstopped by federal enforcement, this rule all but leaves people who live near coal ash dumps to fend for themselves," said Slesinger.
EPA Administrator Gina McCarthy says the final rule is strong enough to prevent groundwater contamination and air emissions from coal ash disposal.
"EPA is taking action to protect our communities from the risk of mismanaged coal ash disposal units, and putting in place safeguards to help prevent the next catastrophic coal ash impoundment failure, which can cost millions for local businesses, communities and states," she said.
"These strong safeguards will protect drinking water from contamination, air from coal ash dust, and our communities from structural failures, while providing facilities a practical approach for implementation," she said.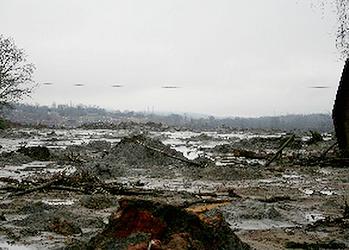 The final rule establishes safeguards to protect communities from coal ash impoundment failures, like the catastrophic spill in 2008 by the Tennessee Valley Authority, a federal agency, from a coal-fired power plant in Kingston, Tennessee.
After the failure of the TVA coal ash pond in Kingston, the EPA began assessing more than 500 facilities across the country.
The agency found that improperly constructed or managed coal ash disposal units have been linked to nearly 160 cases of harm to surface or ground water or to the air.
The EPA's rule to address these risks includes:
· The closure of surface impoundments and landfills that fail to meet engineering and structural standards and will no longer receive coal ash;
· Reducing the risk of catastrophic failure by requiring regular inspections of the structural safety of surface impoundments;
· Restrictions on the location of new surface impoundments and landfills so that they cannot be built in sensitive areas such as wetlands and earthquake zones;
· Protecting groundwater by requiring monitoring, immediate cleanup of contamination, and closure of unlined surface impoundments that are polluting groundwater;
· Protecting communities using fugitive dust controls to reduce windblown coal ash dust;
· Requiring liner barriers for new units and proper closure of surface impoundments and landfills that will no longer receive coal ash
Before issuing the final rule, the EPA evaluated more than 450,000 comments on the proposed rule, took testimony from eight public hearings, and gathered information from three notices soliciting comment on new data and analyses.
Senator Barbara Boxer, a California Democrat and the outgoing chairman of the Environment and Public Works Committee, said the EPA missed an opportunity to fully protect the public and the environment.
"Coal ash is so dangerous because it contains many toxins like mercury, arsenic, and lead.  It should have been classified as hazardous waste, and then there would have been assurances to people living near those sites that they would be monitored and kept safe," said Senator Boxer. " Now EPA has kept the burden on the states and the citizen activists who will go to court if something goes wrong, but EPA has missed a critical opportunity to do the right thing here.  Once again we are reminded of the high cost of coal, and that is another reason why we should be moving away from dirty energy."
Environmental groups, too, warn that the rule is not strong enough because it doesn't classify coal ash as hazardous waste.
"When you consider Arrowhead landfill in Uniontown, Alabama, it is clear that Alabama has not taken the problem of coal ash seriously," said Mitch Reid, program director of the Alabama Rivers Alliance. "We need clear guidance and strong enforcement to ensure the protection of public health and the waters of the state."
There are nine coal-burning power plants in Alabama that generate 3.2 million tons of coal ash waste a year. This waste contains high levels of toxic chemicals such as mercury, arsenic, selenium, lead and other heavy metals and is typically dumped into giant sludge lagoons for disposal.
Few, if any, of these waste dumps have protective liners that would keep contamination from seeping into surrounding groundwater and nearby streams and rivers.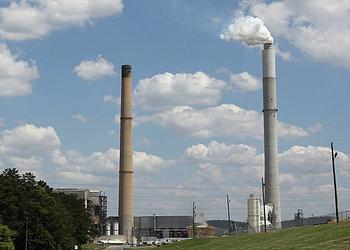 For instance, the Gadsden Steam Plant's coal ash pond discharges waste water less than a mile upstream of the Gadsden Water Works drinking water intake for the Greater Gadsden area.
Similarly, the Gaston Steam Plant in Wilsonville, Alabama discharges waste water from its coal ash pond about five miles upstream of a major drinking water intake for Shelby County Water Services. The Gaston Steam Plant is the second largest producer of mercury emissions in the United States.
Frank Chitwood, the Coosa Riverkeeper, said, "Having such a toxic waste source so close to surface waters truly is a threat to safe public drinking water supplies."
The rule requires that power plant owners and operators provide detailed information to citizens and states to fully understand how their communities may be impacted.
The rule sets out new transparency requirements, including recordkeeping and reporting requirements, as well as the requirement for each facility to post specific information to a publicly-accessible website.
This will provide the public with information such as annual groundwater monitoring results, and corrective action reports, coal ash fugitive dust control plans, and closure completion notifications.
This final rule also supports the responsible recycling of coal ash by distinguishing safe, beneficial use from disposal.
Beneficial use of coal ash can produce positive environmental, economic and performance benefits such as reduced use of virgin resources, lower greenhouse gas emissions, reduced cost of coal ash disposal, and improved strength and durability of materials, the EPA says.
McCarthy says the EPA is committed to working closely with state partners on implementation of the rule. To ease implementation and harmonize the regulatory requirements for coal ash landfills and surface impoundments, EPA encourages states to adopt the federal minimum criteria, revise their Solid Waste Management Plans and submit these revisions to EPA for approval.
A revised and approved Solid Waste Management Plans will signal EPA's opinion that the state SWMP meets the federal criteria.
But the environmental community says this rule does not do enough to prevent future coal ash spills.
"EPA's approach effectively lets the utility industry police itself without federal or state oversight, "said Earthjustice attorney Lisa Evans.
"While EPA's coal ash rule takes some long overdue steps to establish minimum national groundwater monitoring and cleanup standards, it relies too heavily on the industry to police itself, " said Eric Schaeffer, executive director of the Environmental Integrity Project. "The devil is in the details, and we will review the regulation closely for loopholes."
Copyright Environment News Service (ENS) 2014. All rights reserved.
© 2014, News Editor. All rights reserved.