American Rivers At Greatest Risk in 2011
WASHINGTON, DC, May 17, 2011 (ENS) – The most endangered river in the United States is at risk from natural gas development and the hazards associated with hydraulic fracturing, or fracking, for the second year running, according the American Rivers annual list of the country's 10 most endangered rivers, released today.
The clean rivers advocacy group placed the Susquehanna River at the top of this year's list, citing the rush to develop natural gas reserves in the region without considering the risk to clean water and public health. Last year's most endangered river was the Upper Delaware, also threatened by natural gas extraction.
Andrew Fahlund, senior vice president of conservation at American Rivers, said, "This year's list of America's Most Endangered Rivers is a clear reminder that if we don't protect and restore our rivers, public safety, the economy, and the environment will suffer grave consequences."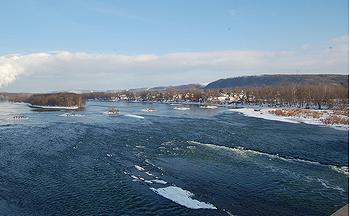 Susquehanna River at Berwick, Pennsylvania (Photo by Robin Bagot)
On the Susquehanna River, which runs through New York, Pennsylvania and Maryland,the fracking process requires taking large amounts of water from rivers and streams, which is then mixed with sand and toxic chemicals and pumped underground to extract the natural gas.
The Susquehanna provides drinking water for more than six million people. Current facilities cannot adequately treat the highly toxic wastewater that is generated, and there are insufficient government regulations to ensure the wastewater doesn't contaminate drinking water supplies.
"Fracking poses one of the greatest risks our nation's rivers have faced in decades," said Fahlund. "We are taking a major gamble on the clean drinking water for millions of Americans."
American Rivers today called on the Susquehanna River Basin Commission and the states of New York and Pennsylvania to issue a moratorium on natural gas drilling-related permits until companies can prove they can operate without damage to the river and clean water supplies.
American Rivers also called on Congress to remove the loopholes that have allowed the natural gas industry to avoid basic standards for public and environmental health.
This year American Rivers added a "special mention" on the 2011 list for the Mississippi River, given the current record flooding.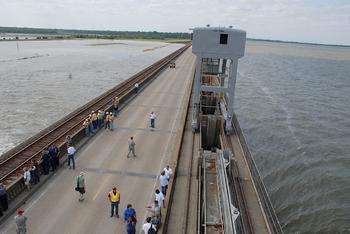 The Morganza Floodway is opened on the Mississippi River for the first time in 38 years, May 14, 2011. (Photo courtesy U.S. Army Corps of Engineers)
The group pointed to "outdated flood management strategies and over-reliance on levees that have contributed to the record flood damage."
"We need to give the river more room to move," said Fahlund. "Unless we restore our natural defenses, we will burden future generations with increasingly disastrous floods."
"While levees and floodwalls will continue to make sense in some heavily populated areas, their overuse actually causes flood levels to rise as the river channel is narrowed and water has nowhere to go but up – making flooding worse for communities downstream. Levees should be our last line of defense, not our only line of defense," he said.
American Rivers recommends instead a strategy that combines structural flood protection solutions like levees with "natural defenses" like healthy wetlands and floodplains that absorb floodwaters.
"Healthy rivers are great assets and give communities so many benefits, including clean water and natural flood protection," said Fahlund.
The daily discharge of 1.2 billion gallons of undisinfected sewage effluent into the Chicago River system threatens public health and has earned the river fourth place on the annual list of America's Most Endangered Rivers.
The sewage effluent, released by the Metropolitan Water Reclamation District, threatens public health and the city's environmental reputation. The effluent makes up 70 percent of the water in the Chicago River system.
Supporting over six million residents regionally, the Chicago River flows through the nation's third largest city. Tens of millions of dollars have been invested in river access and improvement including $100 million by Chicago and the Chicago Park District in the last 10 years.
American Rivers called on the Illinois Pollution Control Board to approve the proposed water quality standards for the Chicago River that have not been reviewed in more than two decades. These standards would require the MWRD to disinfect sewage effluent.
"It's unacceptable that the people of Chicago are being denied basic, modern disinfection techniques used by nearly every other city in the country," said Gary Belan of American Rivers. "This as an opportunity not only to protect public health, but to make a clean and healthy Chicago River the centerpiece of a revitalized waterfront and world-class city."
"Frankly, there isn't really a choice," said Ann Alexander, senior attorney with the Natural Resources Defense Council. "A century ago it might have been OK to dump in the Chicago River, but the Clean Water Act simply doesn't allow the waterway to be used as a sewer or toilet. It's time for the regulators tasked with keeping the river clean to live up to the task."
America's Most Endangered Rivers 2011
SPECIAL MENTION: Mississippi River Threat: Outdated flood management
Susquehanna River (NY, PA, MD) Threat: Natural gas extraction
Bristol Bay (AK) Threat: Massive copper and gold mine
Roanoke River (VA, NC) Threat: Uranium mining
Chicago River (IL) Threat: Sewage pollution
Yuba River (CA) Threat: Hydropower dams
Green River (WA) Threat: Exploratory drilling and mine development
Hoback River (WY) Threat: Natural gas extraction
Black Warrior River (AL) Threat: Coal mining
St. Croix River (MN, WI) Threat: Rollback of longstanding protections
Ozark National Scenic Riverways (MO) Threat: Overuse and poor management
For 26 years, American Rivers has "sounded the alarm" on 360 rivers through our America's Most Endangered Rivers report. The report is not a list of the worst or most polluted rivers, but is a call to action for rivers at a crossroads.
American Rivers' staff and scientific advisors review nominations for a major decision that the public can help influence in the coming year, the significance of the river to people and wildlife, and the magnitude of the threat, especially in view of climate change.
American Rivers takes credit for successes such as the removal of outdated dams, the protection of rivers with Wild and Scenic designations, and the prevention of harmful development and pollution.
Copyright Environment News Service (ENS) 2011. All rights reserved.