1,800 EV Charging Stations Spring Up Across the USA
LOS ANGELES, California, May 17, 2011 (ENS) – The Obama administration is growing a nationwide network of electric vehicle charging stations fertilized with economic stimulus funds.
More than 1,800 electric vehicle chargers have been installed across the country to date under the Obama administration's economic stimulus law, the American Recovery and Reinvestment Act, Energy Secretary Steven Chu announced on Friday.
Secretary Chu made the announcement at an event in Exposition Park in Los Angeles, marking the installation of the 500th charger by Coulomb Technologies, which received a $15 million grant under the Recovery Act. Los Angeles Mayor Antonio Villaraigosa and Coulomb Technologies founder and Chief Technology Officer Richard Lowenthal attended the event.
Coulomb Technologies, ECOtality, General Electric and others have been installing the charging stations as part of the Obama administration's investments in U.S. electric vehicle manufacturing and alternative vehicle infrastructure.
"President Obama has set an ambitious goal of putting one million electric vehicles on the road by 2015," Secretary Chu reminded the audience.
"Building energy-saving electric cars and trucks, and the infrastructure to power them, will help Americans save money at the pump and improve the nation's energy security."
Since President Obama took office in January 2009, the Energy Department has invested more than $5 billion in grants and loans to spur the growth of America's electric vehicle and advanced battery manufacturing industry. These investments are supporting U.S. manufacturers and small businesses as they expand to better compete in this fast-growing global market.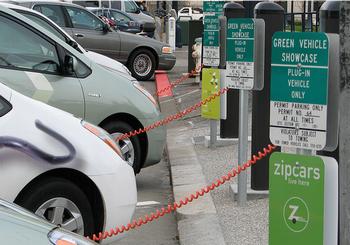 San Francisco Zipcars charging at Coulomb's Chargepoint stations (Photo by Felix Kramer)
Under the Transportation Electrification Initiative, which received $400 million under the Recovery Act, companies are developing, deploying and analyzing electric vehicles and EV infrastructure, and educating the public to help accelerate their market adoption.
Chu said the eight projects under the Transportation Electrification Initiative, including Coulomb's project, represent the world's largest electric vehicle demonstration project and will result in the deployment of over 13,000 grid-connected vehicles and over 22,000 charging points in residential, commercial, and public locations nationwide by December 2013.
Through these cost-shared projects, Chu said the Energy Department will collect information about how consumers use and charge electric vehicles, which he said "will be critical to informing the broader rollout of electric vehicles and chargers nationwide."
In addition to establishing 4,600 EV charging locations nationwide, Coulomb's project includes the deployment of electric vehicles, including 2,000 Chevy Volt, 200 Ford Transit Connect, 100 Ford Focus EV, and 100 Smart EV vehicles.
The vehicles and charging infrastructure will be deployed in residential, workplace, and public locations in Austin, Texas; New York City; Orlando, Florida; Redmond, Washington; southern Michigan; and Washington, DC as well as in Los Angeles, Sacramento and San Francisco, California.
Coulomb is providing $22.9 million in cost share for a total project value of $37.9 million. Coulomb is based in Campbell, California, and manufactures its charging equipment in nearby San Jose.
ECOtality has completed the installation of the first 1,000 Blink electric vehicle Level 2 residential charging stations for The EV Project, the company announced on Monday. The project is funded by the U.S. Department of Energy through a federal economic stimulus grant of $114.8 million, made possible by the Recovery Act. The grant is matched by private investment, bringing the total value of the project to about $230 million.
As project manager of The EV Project, ECOtality will oversee the installation of some 14,000 commercial and residential charging stations in 18 major cities and metropolitan areas in six states and the District of Columbia, supporting the deployment of 8,300 electric vehicles.
"ECOtality has worked closely with EV Project partners to ensure that we deliver charging stations to meet market demand for EVs well in advance of vehicle delivery," said Jonathan Read, chief executive of ECOtality. "We have focused initially on residential installations to ensure first adopters have the best possible user experience as the majority of charging most likely will take place at home during off peak hours.
"Now that electric vehicles have begun to make good penetration in the Project markets," said Read, "we have ramped up public and commercial installations to build out the Blink Network so EV users can extend range and have confidence that they will have a place to plug in."
A new Pike Pulse report published today by the market research and consulting firm Pike Research finds that Coulomb Technologies and ECOtality stand out above the crowd of charging station vendors in terms of their strategy and execution in the early days of this market.
"The electric vehicle charging equipment market is in its formative stages, and business models are still developing as vendors gain experience with charging station deployments," said senior analyst John Gartner.
Gartner said that Coulomb attained the highest overall score in the Pike Pulse report due to the company's successful technology partnerships, global sales network, and extensive product portfolio.
Copyright Environment News Service (ENS) 2011. All rights reserved.