Wikileaks Cables: 'Cold Peace' Among Resource-Hungry Arctic Nations
WASHINGTON, DC, May 18, 2011 (ENS) – As the Arctic warms, the rush to claim natural resources in the region is fueling military tension among Arctic nations, according to previously unpublished U.S. embassy cables just revealed by Wikileaks on its website.
Among the nations vying for claim to the Arctic's rich petroleum, mineral and fisheries resources are Canada, Denmark and Greenland, Norway and Russia as well as the United States.
At the Arctic Council ministerial meeting last week in Greenland, these and three other Arctic nations – Iceland, Finland and Sweden – signed agreements to cooperate on search and rescue and oil spill cleanup in the region, but the cables posted by Wikileaks show a darker side to their relations.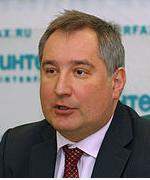 Dmitry Rogozin (Photo by A. Savin)
A 2010 cable (number 248929) quotes Russian Ambassador to NATO Dmitry Rogozin saying, "The twenty-first century will see a fight for resources, and Russia should not be defeated in this fight … NATO has sensed where the wind comes from. It comes from the North."
A 2009 cable (number 208631) states the U.S. belief that, "Behind Russia's policy are two potential benefits accruing from global warming: the prospect for an (even seasonally) ice-free shipping route from Europe to Asia, and the estimated oil and gas wealth hidden beneath the Arctic sea floor."
This cable continues, "Despite on-going efforts to renew U.S.-Russian relations, some Russian voices have called the situation in the Arctic a 'cold peace' vis-a-vis NATO and the U.S."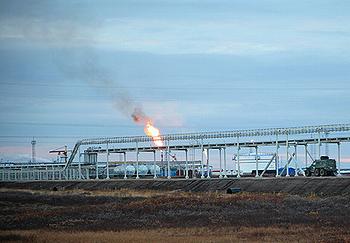 Oil development in Arctic Russia. The Yuzhnoe Hylchuju oil deposit, near the Barents Sea developed by Naryanmarneftegas, a LUKOIL daughter company (Photo by Dmitry Artyukhov)
In an April 2008 cable, Russian Navy head Admiral Vladimir Vysotsky is quoted as saying, "While in the Arctic there is peace and stability, however, one cannot exclude that in the future there will be a redistribution of power, up to armed intervention."
A 2009 cable (number 222559) quotes the famed Russian explorer Artur Nikolayevich Chilingarov, now a member of the Russian Duma, or Parliament, as calling for Russia to withdraw from a key convention "so that Russia could stake a greater claim to the region's sea bed."
During the 2007 Russian North Pole expedition, Chilingarov, accompanied by five other explorers from different countries, descended on two Mir submersibles to the seabed 13,980 feet below the North Pole to plant the Russian flag there and gather the specimens of the sea floor. At the time, Chilingarov was quoted in the media as saying, "The Arctic is Russian. We must prove the North Pole is an extension of the Russian landmass."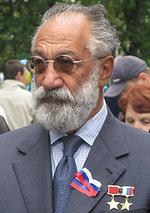 Artur Chilingarov (Photo courtesy Wikipedia Russia)
A senior Russian politician, named in cable 222559 with instructions to protect his identity, reveals to U.S. diplomats that Chilingarov was acting on the orders of Prime Minster Vladimir Putin's United Russia party.
The cable states, "Chilingarov called for Russia to withdraw from the 1982 UN Convention on the Law of the Sea (UNCLOS) so that Russia could stake a greater claim to the region's sea bed (a claim he tried to bolster when he planted a Russian flag below the North Pole in August 2007). (Name and position redacted) told us Chilingarov was following orders from the ruling United Russia party."
Russia is not alone in its eagerness to stake its claim to the Arctic. Norway is serious about its claims too.
In a December 2007 cable (number 134881) the military tensions between Norway and NATO on one hand, and Russia on the other, are clear. "Norway is undergoing a philosophical, bureaucratic and public debate on what its defense policy, obligations and needs will be for the next five to ten years," the cable states. "The outcome will have significant implications for Norway's ability to fulfill NATO obligations as well as its ability to cope with the potential of increased military threats in the Arctic."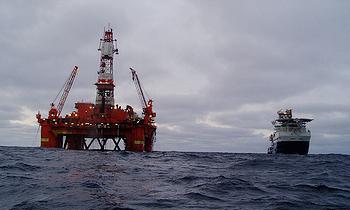 Norwegian oil rig and support ship in the North Sea, May 2011 (Photo by Kjetil Torgersen)
In a 2009 cable (number 222375) Norwegian Foreign Minister Jonas Gahr Stoere describes "how, during his March 2009 visit to Moscow, he thanked [Russian Foreign Minister Sergei] Lavrov for making it so much easier for him to justify the Joint Strike Fighter purchase to the Norwegian public, given Russia's regular military flights up and down Norway's coast."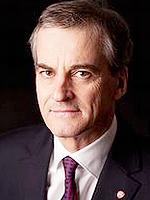 Jonas Gahr Stoere (Photo courtesy Government of Norway)
On his official website today, Stoere takes a tough but cooperative position, saying, "The High North will be Norway's most important strategic priority area in the years ahead. The Government will intensify efforts to exercise Norwegian sovereignty and ensure sustainable management of the rich fisheries and energy resources in the region. Norway's High North policy is intended to protect the environment, maintain settlement patterns and promote business development. The Government will further develop cooperation with Russia and our other partners in the north."
Last week, Secretary of State Hillary Clinton attended the Arctic Council meeting in Greenland, the first time that a U.S. Secretary of State has participated in an Arctic Council ministerial meeting. Her presence "emphasizes the importance the United States Government as a whole places on Arctic diplomacy," said Deputy Secretary of State James Steinberg, briefing reporters in advance of the meeting.
A 2007 cable (number 129049) details efforts by the United States to establish a strong position in Greenland, and the concerns Washington had over Chinese maneuvering on the autonomous island country within the Kingdom of Denmark.
"Our international visitor invitations, English teaching programs and joint scientific/environmental projects have reinforced Greenlandic desires for a closer relationship with the United States, just as Greenland assumes ever-greater charge of its international relations and edges closer to full independence," the cable states.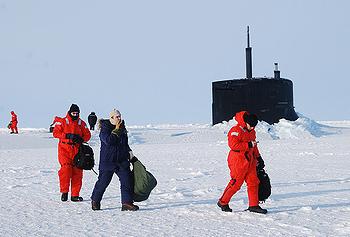 Ice Excercise (ICEX) 2011 permits the Submarine Force, U.S. Pacific Fleet, to test combat systems, sonar systems, communication and navigation systems under the Arctic pack ice. March 19, 2011 (Photo courtesy U.S. Navy)
"Our intensified outreach to the Greenlanders will encourage them to resist any false choice between the United States and Europe. It will also strengthen our relationship with Greenland vis-a-vis the Chinese, who have shown increasing interest in Greenland's natural resources."
The cable continues, "While Greenland has long been believed to possess significant hydrocarbon and mineral stocks, only in the last three to four years – with the rise in world oil prices – have international investors have begun to seriously explore Greenland's potential. An American Presence Post in Greenland would provide us with the needed diplomatic platform to seek out new opportunities and advance growing USG interests in Greenland."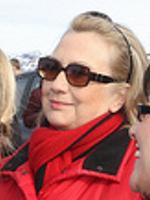 Hillary Clinton in Nuuk, Greenland, May 10, 2011 (Photo courtesy U.S. State Dept.)
Another 2007 cable (number 129049) shows how the U.S. is positioning itself to take advantage of any oil strike off Greenland.
"Greenland is on a clear track toward independence, which could come more quickly than most outside the Kingdom of Denmark realize … With Greenlandic independence glinting on the horizon, the U.S. has a unique opportunity to shape the circumstances in which an independent nation may emerge. We have real security and growing economic interests in Greenland, for which existing Joint and Permanent Committee mechanisms (described reftel A) may no longer be sufficient."
The cable continues, "American commercial investments, our continuing strategic military presence, and new high-level scientific and political interest in Greenland argue for establishing a small and seasonal American Presence Post in Greenland's capital as soon as practicable…"
The cable quotes a "senior Greenlandic official" as saying Greenland is "just one big oil strike away" from economic and political independence."
"Chevron and ExxonMobil are part of an international consortium exploring off Greenland's western coast, and the U.S. Geological Survey is completing an assessment of Greenland's potential oil and gas reserves," the cable continues. "Its initial findings suggest Greenland might have reserves to rival Alaska's North Slope."
Denmark is staking its own claim to the Arctic. A leaked draft of a Danish strategic plan for the Arctic cited today by the Danish daily newspaper "Information" says Denmark will make an official claim to the North Pole by 2014.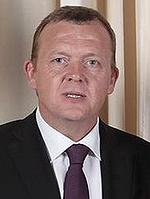 Lars Loekke Rasmussen (Photo courtesy Government of Denmark)
"The Kingdom [of Denmark] is expected to claim the continental shelf at five sites around the Faroe Islands and Greenland, including the North Pole," says a joint Danish, Greenlandic and Faroese strategy for the development of the Arctic region over the next 10 years.
Danish Prime Minister Lars Loekke Rasmussen neither confirmed nor denied the claim when asked to elaborate on it by journalists at his weekly press conference Tuesday, in Copenhagen.
"We have different claims in the Arctic area but we are working on that together with Greenland and the Faroes, and we will not disclose what those claims are at the present time," Rasmussen said.
One of the Wikileaks cables sheds light on Denmark's long-standing interest in the Arctic's natural resources that have been locked up by year-round ice but are now being released by climate change.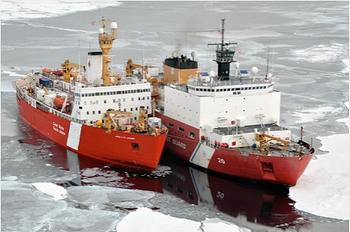 Canadian Coast Guard Ship Louis S. St-Laurent, left, and U.S. Coast Guard Cutter Healy are on a multi-year, multi-agency survey to define the Arctic continental shelf. September 5, 2009 (Photo courtesy U.S. Coast Guard)
A March 2009 cable (number 198148) quotes then Danish Foreign Minister Per Stig Moeller's opinion about the growing importance of the Arctic region. "The Secretary noted deep U.S. interest in the Arctic and our commitment to doing more in cooperation with Denmark and others. Moller (sic) mused that new shipping routes and natural resource discoveries would eventually place the region at the center of world politics."
A cable numbered 12958 details a conversation between U.S. diplomats and then Danish foreign minister Moeller, in which they discuss delays in U.S. ratification of the Law of the Sea Convention. "If you stay out," Moeller is quoted as telling the Americans, "then the rest of us will have more to carve up in the Arctic."
Briefing reporters in Washington on May 9, Deputy Secretary of State Steinberg gave the U.S. government's position on the Law of the Sea Convention. "I also want to emphasize on the Law of the Sea that we have not formally acceded to it. Still, the United States is a signatory, abides by and respects the provisions of that treaty,and we continue to believe it's an important instrument for our own national interest."
Reacting to the release of the new cables, Greenpeace oil campaigner Ben Ayliffe said, "These latest Wikileaks revelations expose something profoundly concerning. Instead of seeing the melting of the Arctic ice cap as a spur to action on climate change, the leaders of the Arctic nations are instead investing in military hardware to fight for the oil beneath it.
"They're preparing to fight to extract the very fossil fuels that caused the melting in the first place," said Ayliffe. "It's like pouring gasoline on a fire."
Copyright Environment News Service (ENS) 2011. All rights reserved.