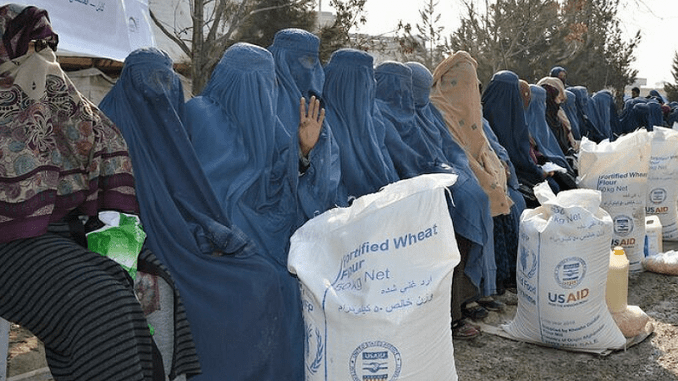 KABUL, Afghanistan, October 3, 2021 (ENS) – Some 18 million Afghans are in urgent need of humanitarian assistance, health services across the country are at risk of collapse and widespread hunger stalks the arid land, the International Federation of Red Cross and Red Crescent Societies, IFRC, is warning, pleading for aid and money to flow into the country right away.
The IFRC is urgently appealing to the international community for US$37.62 million to support the Afghan Red Crescent to deliver emergency relief and recovery assistance to 560,000 people in 16 provinces who are worst affected by severe drought and displacement.
Speaking from the Afghan capital Kabul, where he has been on a four-day official visit, IFRC Asia Pacific Director Alexander Matheou said, "After living through decades of fleeing and fighting, Afghans now face a severe drought which has devastated food production, leaving millions hungry and destitute."
"We are deeply concerned that Afghanistan faces imminent collapse of health services and worsening hunger if aid and money do not flow into the country within weeks. Health financing has been cut across the country placing ever more demand on Red Crescent teams."
"Urgent international action is needed to support millions of people with the necessities of life as Afghanistan's looming harsh winter threatens greater misery and hardships," Matheou said.
Afghan Red Crescent has been providing families who lost their livelihoods in the drought with cash grants to buy food, to plant drought-resistant crops and protect their livestock. Red Crescent health clinics, including mobile teams of doctors and nurses, are providing critical care across Afghanistan.
In Kabul Matheou said, "IFRC appeal funds will be used to help with sustainable water supplies, establishing more drought-resistant crops and revitalizing livestock, while supporting critical income generation for those most at risk of spiraling poverty, including women and the elderly."
Yet, one in every three people in Afghanistan are starving as crops have withered in the drought, lack of cash and internal displacement have caused hardship, and the COVID-19 pandemic and crippled health services destabilize the country taken August 15 by the Taliban.
Public Health in Danger
"Afghanistan's health system is on the brink of collapse," said World Health Organization top officials after a September 22 visit. "Unless urgent action is taken, the country faces an imminent humanitarian catastrophe. Our visit allowed us to witness the immediate needs of the Afghan people firsthand and meet with stakeholders to define ways to urgently scale up our health response."
Dr. Tedros Adhanom Ghebreyesus, director-general of the World Health Organization, and Dr. Ahmed Al-Mandhari, WHO regional director for the Eastern Mediterranean said cuts in donor support to the country's largest health project has left thousands of health facilities without funding for medical supplies or salaries for health staff.
"Many of these facilities have now reduced operations or shut down, forcing health providers to make hard decisions on who to save and who to let die," said the WHO officials.
This breakdown in health services is having a rippling effect on the availability of basic and essential health care, as well as on emergency response, polio eradication, and COVID-19 vaccination efforts.
Nine of 37 COVID-19 hospitals have already closed, and all aspects of the COVID-19 response have dropped, including surveillance, testing, and vaccination.
Prior to August this year, 2.2 million people had been vaccinated against COVID-19. But in recent weeks, vaccination rates have decreased rapidly while 1.8 million COVID-19 vaccine doses in country remain unused.
Swift action is needed to use these doses in the coming weeks and work towards reaching the goal of vaccinating at least 20 percent of the population by the end of the year based on national targets.
The UN's World Food Programme Delivers
Despite security and logistics challenges, the World Food Programme maintains access to most of the country including areas experiencing active fighting.
To continue operations and get assistance to people in desperate need, the World Food Programme requires US$200 million to get through to the end of the year.
In the first six months of 2021, the World Food Programme delivered food and nutrition assistance to 5.5 million people, including those newly displaced by fighting.
On August 15, as the Taliban took over Kabul, the World Food Programme started assistance to more than 1,000 families, that's about 7,000 people, displaced by conflict as its mobile teams registered more people in desperate need around the city.
"The World Food Programme has been in Afghanistan for more than 60 years. Our trucks continue to be on the road. Our teams are on the ground working with partners to get food to where it's needed. The Afghan people need our support now more than ever. The UN World Food Programme is committed to stay and deliver as long as conditions will allow," the organization says on its website.
Providing Hope, CARE Restarts Aid
In the past week, CARE has restarted its emergency humanitarian response in Afghanistan, providing a small number of vulnerable displaced families with financial assistance.
This includes food security and livelihood support to small-scale farmers in several provinces – fertilizer, tools, seeds and trainings as part of a program to encourage women to develop home gardens and household level livelihood options.
CARE estimates that around 14 million people are currently going hungry and these numbers are increasing, and these numbers are increasing, fueled by the recent instability, climate-related crises that have affected agricultural growing and harvest, and a still looming economic crisis.
CARE Afghanistan Country Director Victor Moses said, "Recent developments have only served to increase humanitarian needs. As winter and the lean season approach, access to enough and good quality food is becoming increasingly urgent. Millions of Afghans worry daily about how to feed their children or make a living and our CARE programs play a crucial role in meeting those huge needs."
"While our resumption of activities remains limited at the moment, it is a crucial step in continuing assistance to the people of Afghanistan and we are fully committed to increasing support in the coming weeks and months," Moses said.
Taliban Cracks Down on Journalists, Women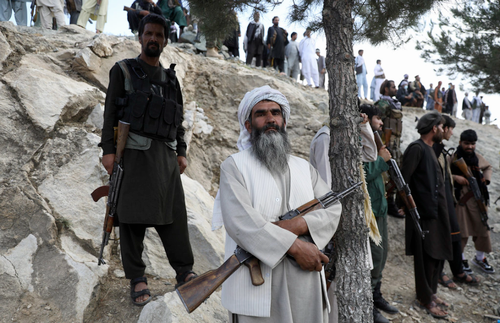 Taliban authorities in Afghanistan have imposed wide-ranging restrictions on media and free speech that are stifling criticism and dissent, the nonprofit Human Rights Watch said Friday from its headquarters in New York.
In a late September meeting with journalists in Kabul, the Taliban Ministry of Information and Culture handed out media regulations that effectively prohibit any critical reporting about the Taliban.
"Despite the Taliban's promises to allow media that 'respected Islamic values' to function, the new rules are suffocating media freedom in the country," said Patricia Gossman, associate Asia director at Human Rights Watch. "The Taliban regulations are so sweeping that journalists are self-censoring and fear ending up in prison."
A copy of the regulations seen by Human Rights Watch says that media are prohibited from printing or broadcasting reports that "are contrary to Islam," "insult national figures," or "distort news content."
Journalists are required to "ensure that their reporting is balanced" and not report on "matters that have not been confirmed by officials" or issues that "could have a negative impact on the public's attitude." Media outlets are required to "prepare detailed reports" with the new governmental regulatory body before publication.
The head of a journalists' advocacy group told Human Rights Watch that the Taliban have taken at least 32 journalists into custody since they took power in Kabul on August 15. Most were released after warnings about their reporting, but some were beaten. One who was badly beaten was released with the warning not to tell anyone what happened to him. As of October 1, at least one remained in custody without access to his family.
Taliban fighters used whips and sticks against a group of women protesting in Kabul on September 8 following the announcement of a hardline, male-only interim government.
Women can no longer attend Kabul University and have been sent home from many jobs including government jobs.
Taliban fighters are reportedly punishing Afghan civilians in the streets for wearing 'westernized' clothing such as jeans. Several young Afghans posted on social media that they had been beaten and whipped by Taliban members for wearing jeans after being accused of disrespecting Islam.
European Union Determined to Evacuate At-Risk Afghans
"Following the dramatic events in Afghanistan, the political and security situation remains highly volatile," the European Commission warns in a new "Report on Migration and Asylum." Some 635,000 Afghans have been internally displaced this year, while more than two million registered refugees are estimated to be hosted in the region, along with an estimated three million non-registered refugees.
Evacuations have included all EU local staff with dependents, as well as many people with close contacts in the EU or Member States.
The EU is proposing "further cooperation" to continue evacuations of those Afghans most in need of protection: Afghan human rights defenders, judges and professionals of the justice system, journalists, and civil society activists whose lives are at stake.
On October 7, an EU High-Level Forum focusing on providing protection to Afghans at risk will take place, bringing together Ministers of Foreign Affairs and Ministers of Interior to discuss comprehensive sustainable solutions for Afghans most in need of international protection.
These include future EU resettlement efforts as well as complementary legal pathways such as family reunification, community sponsorship or admission for studies or work, with additional EU financial support to match political commitments and integration efforts of the Member States.
On September 13 at the United Nations High-Level Ministerial Meeting on the Humanitarian Situation in Afghanistan, the European Union and its 27 Member States announced a total pledge of some €677 million (US$785.8 million). This includes EU humanitarian aid of over €200 (US$232 million) in 2021.
EU humanitarian partners remain operational on the ground, where the security situation allows. The assistance provided includes health services, food distribution, emergency water and sanitation activities, as well as rapid response for newly displaced people.
To ensure that the situation in Afghanistan does not lead to new security threats for EU citizens, a Counter-terrorism Action Plan on Afghanistan has been developed and presented to the EU Standing Committee on Internal Security, COSI.
In one of the recommended actions, COSI is asked to endorse a Protocol setting out a three-level procedure for enhanced security checks on all persons crossing the EU's external borders following developments in Afghanistan, designed to identify anyone who might pose a risk to EU internal security.
Over five million Afghans, about 15 percent of the population, are estimated to be displaced in Pakistan and Iran, including millions who are not registered. The EU's engagement on displacement within and out of Afghanistan includes acting as chair of the Core Group of the Solution Strategy for Afghan Refugees' support platform in 2021.
From this position the EU will seek to strengthen the international response to the Afghan refugee situation and to stimulate further political, financial and material commitments.
"The EU's focus in the coming months should include concrete proposals for addressing the challenges along the whole route," the European Commission says in its new report.
The European Asylum Support Office will explore possibilities for stepping up its external operations for asylum capacity building.
The EU will also work with countries of transit towards the EU, including the Western Balkans and Turkey, to strengthen their protection systems, reinforce border management capacity, and prevent migrant smuggling and irregular migration from the region through support from EU agencies.
And finally, the EU will initiate a regional political platform of cooperation with Afghanistan's direct neighbors to help prevent the negative spill-over effects of the distressed country into the region, and support the economic resilience and regional economic cooperation.
United States Continues Evacuations
On September 10, the United States government facilitated the additional departures of U.S. citizens and lawful permanent residents, LPRs, on a chartered Qatar Airways flight from Kabul and via overland passage to a neighboring country. The Qatar Airways flight held 19 U.S. citizens and the party traveling overland included two U.S. citizens and 11 lawful permanent residents.
The White House said in a statement, "We are continuing intensive work across the U.S. government to facilitate the safe transit of these individuals and other U.S. citizens, LPRs, and Afghans who have worked for us who wish to leave Afghanistan."
"Because there is an ongoing terrorist threat to operations of this nature," the white House said, "we will not be sharing details of these efforts before people are safely out of the country."
Featured image: Afghan women wait for humanitarian food aid. (Photo by Wahidullah Amani courtesy UN World Food Programme)