$44 Million Levied in San Francisco-Oakland Bay Bridge Ship Crash
SAN FRANCISCO, California, September 20, 2011 (ENS) – Nearly four years after the cargo ship M/V Cosco Busan struck the San Francisco-Oakland Bay Bridge and spilled oil into San Francisco Bay, government officials have fined the ship's owners and operators $44.4 million.
The event on November 7, 2007 spilled 53,000 gallons of oil, killing thousands of birds, impacting the bay's 2008 herring spawn, fouling more than 100 miles of shoreline and closing beaches to recreation and fishing.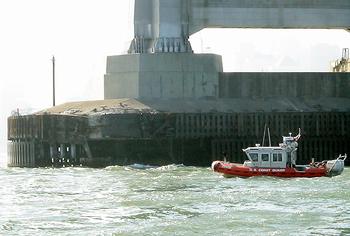 U.S. Coast Guard vessel approaches the damaged San Francisco-Oakland Bay Bridge, November 2007 (Photo courtesy CDFG)
Officials announced the agreement at a press conference Monday on Treasure Island in San Francisco Bay, overlooking the site of the crash.
The U.S. Justice Department, the state of California, the city and county of San Francisco and the city of Richmond signed and lodged a consent decree that requires Regal Stone Limited and Fleet Management Ltd., the owners and operators of the M/V Cosco Busan, to pay $44.4 million for natural resource damages and penalties and to reimburse the governmental entities for response costs.
The federal and state natural resource trustees estimate that the spill killed 6,849 birds, impacted 14 to 29 percent of the herring spawn that winter, oiled 3,367 acres of shoreline habitat and resulted in the loss of more than one million recreational user-days.
"This settlement is great news for the Bay Area and for all who enjoy these lands and waters rich in beauty, wildlife, and recreational opportunities," said Secretary of the Interior Ken Salazar. "With this settlement, we are seeing to it that those responsible for the spill are held accountable and that they pay their share for restoring and improving our precious natural resources and public lands."
Assistant Attorney General Ignacia Moreno said the settlement "achieves full compensation" and "forms the foundation for the complete restoration of precious lost natural resources."
The portion of the settlement for lost human uses of the shoreline and the bay, $18.8 million, constitutes one of the largest human use recoveries for any oil spill in the United States.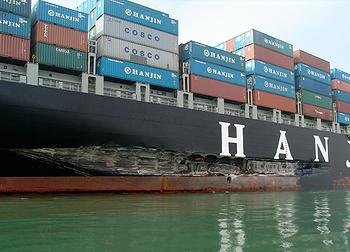 Gash in the hull of the M/V Cosco Busan, November 2007 (Photo courtesy USCG)
Of this, the National Park Service is receiving $9.75 million to improve coastal access and facilities in the bayside, coastal and estuarine areas of Golden Gate National Recreation Area, San Francisco Maritime National Historical Park and Point Reyes National Seashore.
The remaining $9 million will be disbursed either directly to local government as part of the consent decree or through a grant program to fund shoreline recreational projects throughout the impacted spill areas.
Of the total settlement, about $5 million will be used to fund bird restoration, $4 million for habitat restoration, $2.5 million for fish and eelgrass restoration. An additional $2 million will fund restoration planning, administration and oversight, with any unused funds to be spent toward more restoration.
A draft Damage Assessment and Restoration Plan will be available shortly for public comment. Two public meetings will be held to allow for a brief overview of the restoration plan and public comments. Click here to see the draft Damage Assessment and Restoration Plan, including injury assessment and restoration project details.
"The Cosco Busan oil spill polluted the bay, killed wildlife and cost Bay Area residents millions of dollars in economic opportunity," said California Attorney General Kamala Harris. "This settlement properly compensates the public affected by the oil spill and will fund the environmental restoration and recreational projects necessary to undo the damage done by the spill."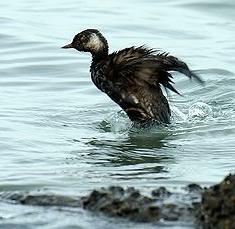 Oiled eared grebe in San Francisco Bay, November 2007 (Photo by Bob Dang courtesy CDFG)
"This settlement takes California a big step closer to healing the serious injuries the San Francisco Bay ecosystem suffered as a result of the spill," said California Natural Resources Secretary John Laird. "For years to come, the restoration projects funded through this settlement will help recover habitat for wildlife and improve opportunities for visitors to enjoy the natural beauty of the Bay Area."
"Numerous NOAA scientists and experts worked on this oil spill – playing a critical role before, during, after this incident. Thanks to the hard work we have all done as federal, state and local partners, today we stand together in declaring the importance of maintaining a safe and efficient marine transportation system both for protection of our oceans and the economy," said Margaret Spring, NOAA chief of staff.
"In tough economic times we must remember that 69 million jobs are associated with healthy oceans and coasts. This settlement today once again emphatically states the importance of these jobs," said Spring.
"This settlement marks an excellent collaboration of agencies at all levels to restore and preserve San Francisco Bay," said Bruce Wolfe, the executive officer of the San Francisco Regional Water Quality Control Board. "But it also reminds us that the amount of oil spilled in this incident is the equivalent of what automobile traffic deposits in the bay every year. All of us, as stewards of the Bay, must be diligent in doing all we can to protect it."
This settlement follows earlier criminal indictments brought by the U.S. Justice Department and the U.S. Attorney's Office for the Northern District of California.
John Cota, the pilot of the Cosco Busan, and Fleet Management were criminally prosecuted. Cota pleaded guilty in 2009 and was sentenced to 10 months in prison for negligently causing the discharge and killing migratory birds.
Fleet was sentenced in 2010 after pleading guilty in the criminal case to negligently causing the discharge and obstructing justice. Fleet was ordered to pay $10 million in criminal penalties, including $2 million for local environmental projects, for its role negligently causing the Cosco Busan oil discharge and obstruction of justice charges for a subsequent cover-up in which it falsified ship records after the crash.
"The Northern District of California contains some of the most picturesque waterways in the country. Ship owners and operators cannot be allowed to take them for granted," said U.S. Attorney Melinda Haag of the Northern District of California. "This settlement and the criminal cases we brought in 2008 against Fleet Management and Mr. Cota should send a strong message that the federal, state and local governments here will take action against anyone causing environmental harm to the San Francisco Bay."
Copyright Environment News Service (ENS) 2011. All rights reserved.
Environment News Service (ENS) © 2011 – 2012 All Rights Reserved.