Kansas Appeals Against EPA's New Cross-State Air Pollution Rule
TOPEKA, Kansas, September 20, 2011 (ENS) – Kansas Attorney General Derek Schmidt has asked a federal appeals court to block a new U.S. EPA regulation that requires power plants to reduce emissions that contribute to ozone and/or fine particle pollution in other states.
The EPA finalized the Cross-State Air Pollution Rule on July 6, 2011, saying it would protect the health of millions of Americans by helping 27 states reduce air pollution and attain clean air standards.
Arguing that the regulation is expected to increase the cost of electricity for Kansas consumers as soon as next year, Schmidt filed an appeal in the District of Columbia Circuit Court of Appeals on Monday.
The attorney general said compliance will require Kansas utilities to invest hundreds of millions of dollars in new emissions control equipment before January 1, 2012 – a timeline the state's utilities say is impossible to meet.
"The EPA gave Kansas only five months to make major changes to the way electricity is generated in our state," Schmidt said. "It will be physically impossible for all of our utilities to comply, which means that either Kansans will be paying higher rates to buy out-of-state electricity or there simply will not be enough electricity to meet Kansas demand after the first of the year. Neither of those is an acceptable option."
Schmidt said Kansas disputes the EPA's analysis of Kansas emissions levels, and contends that the federal agency is overestimating the state's contribution to downwind air quality.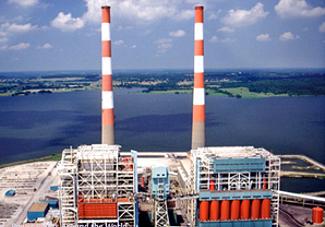 The La Cygne coal-fired power plant servicing Kansas City needs to install a baghouse, wet scrubber and selective catalytic reduction system to reduce emissions at a cost of $615 million. (Photo courtesy KCPL)
"The rushed implementation of the new rule will needlessly add millions of dollars of costs to Kansas utilities," objected Schmidt. "Those costs will be passed through to Kansas consumers in the form of higher electricity rates and also will divert resources from investments in the utilities' existing long-term pollution control plans."
"This is an example of the EPA imposing its will on the states rather than working cooperatively with Kansas toward the shared goal of cleaner air," Schmidt said.
"The major problem with that approach is that it's contrary to federal law. Congress anticipated that the Clean Air Act would be implemented cooperatively between the states and the federal government," the attorney general said. "This EPA attempt to short-circuit that proven cooperative approach is unwise and, in our view, unlawful."
But the EPA is under a court order to regulate pollution that travels across state borders.
The Cross-State Air Pollution Rule replaces EPA's 2005 Clean Air Interstate Rule, CAIR, written by the Bush administration EPA.
A December 2008 court decision kept the requirements of CAIR in place temporarily but directed the EPA to issue a new rule that would implement Clean Air Act requirements concerning the transport of air pollution across state boundaries.
The Cross-State Air Pollution Rule responds to the court's concerns.
In explaining the cost-benefits analysis behind the Cross-State Air Pollution Rule, the EPA says on its website that, "The rule will protect over 240 million Americans living in the eastern half of the country, resulting in up to $280 billion in annual benefits."
"The benefits far outweigh the $800 million projected to be spent annually on this rule in 2014 and the roughly $1.6 billion per year in capital investments already underway as a result of CAIR," the agency says.
EPA says it "expects pollution reductions to occur quickly without large expenditures by the power industry."
"Many power plants covered by the rule have already made substantial investments in clean air technologies to reduce SO2 and NOx emissions. The rule will level the playing field for power plants that are already controlling these emissions by requiring more facilities to do the same," the agency explains. "In the states where investments in control technology are required, health and environmental benefits will be substantial."
Environmentalists say the state should not be wasting time and resources to defend the poor management practices of Kansas utilities.
Stephanie Cole of the Kansas Sierra Club said, "Many utilities are on record as saying new EPA regulations, including the Cross-State Air Pollution Rule "CSAPR," will not pose a problem to their operations and that they are positioned to comply with new environmental rules."
"These utilities include, but are not limited to, Dynegy, NRG Energy, and Exelon," Cole said.
"Utilities have known for a long time that stronger air pollution regulations were nearing, and those utilities with forward-thinking business plans were prepared. These utilities installed pollution controls and increased reliance on cleaner energy technologies," said Cole. "Kansas energy providers, including Westar and BPU, could have done the same."
Carried long distances across the country by wind and weather, power plant emissions of sulfur dioxide and nitrogen oxide continually travel across state lines.
As the pollution is transported, it reacts in the atmosphere and contributes to harmful levels of smog, or ground-level ozone, and fine particles, which are scientifically linked to widespread illnesses and premature deaths and prevent many cities and communities from enjoying healthy air quality.
The EPA says the new rule will improve air quality by cutting sulfur dioxide and nitrogen oxide emissions that contribute to pollution problems in other states.
By 2014, this rule and other state and EPA actions will reduce sulfur dioxide emissions by 73 percent from 2005 levels, says the EPA, which adds that nitrogen oxide emissions will drop by 54 percent.
Copyright Environment News Service (ENS) 2011. All rights reserved.
Environment News Service (ENS) © 2011 – 2012 All Rights Reserved.