Clinton Opens Global Initiative With Climate Panel, Welcomes Obama
NEW YORK, New York, September 21, 2011 (ENS) – President Bill Clinton opened the 2011 Annual Meeting of the Clinton Global Initiative Tuesday with a session on climate change, convened by President Felipe Calderon of Mexico and President Jacob Zuma of South Africa.
President Calderon hosted last year's United Nations Climate Change Summit in Cancun, while President Zuma will host this year's summit in Durban in December.
President Zuma said on the floor of the UN General Assembly today, "The success of conference is highly dependent on the willingness of all Parties to reach an agreement. It does not depend on South Africa alone."
"As leaders we are accountable to the global citizenry, the ordinary people that suffer daily from the impacts of climate change," Zuma said. "They hold high expectations from their leaders to be responsible and to find effective solutions to the threat that climate change presents to their livelihood, quality of life, dignity, and in many cases, their very survival. We dare not fail them."

Heads of state discuss climate change at the Clinton Global Initiative (Photo courtesy Office of President Zuma)
Heads of state from Norway, Mali, Slovenia, Grenada, Bangladesh and the European Union joined the Mexican and South African leaders in discussing how climate change can help to create jobs, build new industries, and strengthen economic and ecological systems around the world, in both developed and developing nations.
"I am so grateful to President Calderon and President Zuma for engaging CGI members on the important issue of climate change by convening the Leaders Dialogue on Climate Change at our annual meeting," said Clinton.
President Clinton introduced fellow Democrat, President Barack Obama, who spoke regarding job creation in the United States, infrastructure construction, education support and climate change.
President Obama thanked CGI members for their commitments to address some of the world's greatest challenges.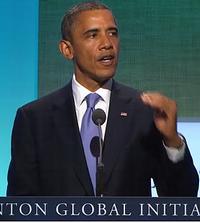 President Barack Obama addresses the Clinton Global Initiative, September 21, 2011 (Photo courtesy CGI)
"We talk about climate change – something that, obviously, people here are deeply concerned about," said Obama. "Talking to the CEO of Southwest Airlines, they estimate that if we put in the new generation of GPS air traffic control, we would save 15 percent in fuel costs … think about what that would do, not only to potentially lower the cost of a ticket … think what it would do in terms of taking those pollutants out of our air."
"Earlier this year, I announced a Better Buildings Initiative to rehire construction workers to make our buildings more energy-efficient," Obama told the crowd. "And I asked President Clinton and my Jobs Council to challenge private companies to join us. In June, at CGI America, we announced a commitment to upgrade 300 million square feet of space, from military housing to college campuses."
"Some of these projects are breaking ground this month, putting people to work right now," said Obama. "Later this year, we'll announce more commitments that will create jobs, while saving billions for businesses on energy bills and cutting down on our pollution."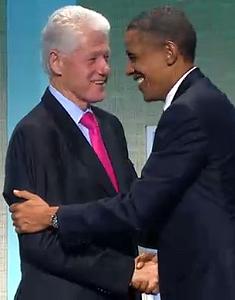 Former President Bill Clinton, left, thanks President Barack Obama for his speech at the Clinton Global Initiative, September 21, 2011. (Photo courtesy CGI)
"And it's a good example of what CGI is all about," Obama said. "Everybody working together – government, business, the not-for-profit sector – to create opportunities today, while ensuring those opportunities for the future. We just need that kind of cooperation in Washington."
"Now more than ever, it is essential that governments, businesses, civil society, and the media work together to take action to generate more sustainable and equitable growth while preserving our global sustainability," Clinton said.
"For seven years, CGI members have done just that," said Clinton. "Their work has improved the lives of more than 300 million people around the world in substantive, measurable ways, and has reversed the cycles of environmental degradation and economic downturn."
Clinton announced that this year CGI members have made 194 commitments, valued at $6.2 billion, which will impact more than 100 million people when they are fully funded.
Among the new commitments announced at the meeting were pledges by Deutsche Bank, New York City Energy Efficiency Corporation, Greenprint Foundation, Microsoft, the National Resources Defense Council, and Johnson Controls that will streamline retrofits of commercial spaces and improve the energy efficiency of New York City's built environment.
For instance, Deutsche Bank, Greenprint Foundation and their partners have made a commitment to help the New York City Energy Efficiency Corporation, NYCEEC, work with financial, foundation, and real estate communities to make the city agency self-sustaining. By providing information, marketing services, and financing tools to the real estate community, NYCEEC will increase New York's energy efficiency, spur construction job growth, and enable a pipeline of projects that can be developed in the next 12 to 18 months.
The Natural Resources Defense Council will bring together partners to design and implement energy-efficient retrofits in commercial tenant spaces. Johnson Controls will provide technical analysis to track performance and generate energy improvements. The project will begin with build-outs at a Jones Lang LaSalle space on Madison Avenue, the Bloomberg LP office space, and the Linked-In office in the Empire State Building.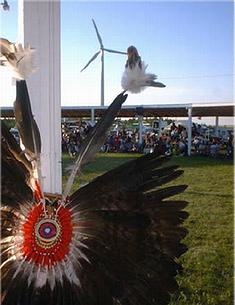 Rosebud Sioux Tribe wind power demonstration project created jobs. (Photo by Robert Gough © IntertribalCOUP.org
The Intertribal Council on Utility Policy commits to launch an extensive green jobs program, working with higher education institutions to develop training and employment opportunities for member tribes in three states. The five-year commitment will create at least 320 green jobs, ranging from administration to construction, for veterans, and unemployed or under-employed women and youth and will address the local need for affordable housing and clean energy through construction of energy efficient straw-bale housing and renewable energy installations.
Inerjys Ventures commits to invest $1 billion in renewable energy innovation over the next seven years to help portfolio companies successfully sell their innovations globally. This investment will target technologies with the potential to be game-changers in clean energy production and distribution. Inerjys will use its lab facility in Montreal as a business incubator, providing training, lab access, and office space to six new energy start-ups.
In 2007, Dundee Realty Corporation committed to invest $300 million in a combination of wind, solar, and hydropower projects to generate 150 megawatts of power for the Ontario grid and reduce the region's dependence on carbon fuels. Today, Dundee and Firelight are now doubling their commitment to $600 million; the goal is to have the full $600 million funded by 2016.
Business Creation Investments AG commits to distribute one million solar LED lamps in eight developing countries in five years. With more than 20 percent of the world's population not connected to the utility grid, the lamps will provide an affordable and safe alternative. The lamps, called WakaWakas, use new technology that provides more and longer light, as well as a faster charge, than any earlier solar lamp.
Click here for a complete list of all CGI commitments.
Today, via satellite, President Clinton welcomed Aung San Suu Kyi, Nobel Prize laureate, peacebuilder, and general secretary of the National League for Democracy from Burma and Archbishop Desmond Tutu of South Africa, chairman of the Elders, in a first-time conversation between the two visionary leaders.
Suu Kyi spoke about her own struggles for human rights, democratic governance, and ethic reconciliation, while Archbishop Tutu discussed his recent work to end child marriage. The two leaders expressed admiration for each other's efforts to promote world peace and democracy.
A panel on "Sustainable Consumption: Redefining Business As Usual" focused on the role of corporate responsibility in business and was hosted by Gro Harlem Brundtland, former prime minister of Norway. Panelists included heads of major corporations such as Barclays, PepsiCo and Unilever.
Panelists discussed how corporations create shared value by addressing critical issues such as food security and global health, which directly support their core business strategy.
General Wesley Clark announced new commitments by Applied Environmental Research Foundation, Amazon Watch, Basecamp Foundation, Rural Action, Darden Restaurants, Arison Investments, Wetlands International, Applied Materials, Standard Chartered Bank, and Harvard John F. Kennedy School of Government that will promote the prosperity and preserve the biodiversity of local landscapes and marshal the talents of the next generation of international leaders.
Copyright Environment News Service (ENS) 2011. All rights reserved.