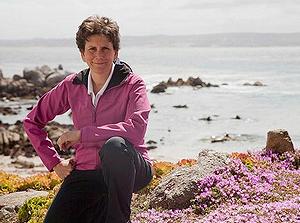 2012 Rolex Awards Honor Three Conservationists
GENEVA, Switzerland, June 27, 2012 (ENS) – A Russian ecologist protecting Siberian tigers, an American marine biologist, and a Bolivan conservationist of the Gran Chaco tropical dry forest, are among the five winners of the 2012 Rolex Awards for Enterprise. The biennial awards are so-named because they "foster a spirit of enterprise and advance human knowledge and well-being," the timepiece manufacturer says.
Winners are innovators who typically work outside the mainstream and often have limited access to traditional funding, says Rolex. Rather than reward past achievements, the Rolex Awards provide financial assistance and recognition to individuals embarking on new ventures or carrying out ongoing projects.
Each of the five winners will receive a grant of 100,000 Swiss francs (US$104,000) to advance their projects at a ceremony in New Delhi, India in November before an audience of 400 distinguished people from around the world. All winners also receive a Rolex chronometer.
Sergei Bereznuk works to preserve the last few hundred Siberian tigers and their habitat, the taiga forest of the Russian Far East, using technology and education targeted to young people.
The Russian Far East is inhabited by 95 percent of the largest tiger subspecies, the Amur or Siberian tiger, Panthera tigris altaica. Today, an estimated 350 to 500 of these top predators roam the frontier region bordering China and the Sea of Japan.
Bereznuk's experience since 1995 with a tiger anti-poaching brigade in the province of Primorsky Krai convinced him that saving the Amur tiger depends the efficiency of anti-poaching measures and also on the education of local people, two elements at the core of his Rolex Award-winning project.
As director of the Vladivostok-based Phoenix Fund, a small, environmental nonprofit organization he has headed for 12 years, Bereznuk and his six-person team attempt to preserve tigers in an area covering 64,092 square miles (166,000 km2). He has developed strong community ties, cultural sensitivity and an extended network of local field workers.
Poaching remains the principal threat to the tigers' survival. The animals are killed in retaliation for loss of cattle and wild prey, as hunting trophies, and for their skin, bones and body parts, used in Chinese traditional medicine. Despite international laws banning the sale of tiger parts there is a lucrative black market.
The Phoenix Fund supports anti-poaching units, raises awareness and resolves human-animal conflicts in local communities, provides compensation for damage, monitors invasive industrial projects and repairs habitat destroyed by fires and logging.
In their campaign to reduce the slaughter, the Phoenix Fund provides anti-poaching teams with delivers timely and relevant information using software developed for this purpose by the U.S.-based Wildlife Conservation Society.
Bereznuk has developed extensive educational and outreach activities to create tiger-friendly attitudes among young people. Phoenix Fund-supported educators create educational materials, films, competitions and eco-events, especially the annual Tiger Day Festivals in Vladivostok and other regional centers.
The Phoenix Fund is the only Russian organization conducting and supporting these cutting-edge anti-poaching methods and environmental awareness-raising activities in Russia's Far East.
Barbara Block, a professor in marine sciences at Stanford University's Hopkins Marine Station, earned her Rolex Award for spearheading efforts to preserve part of the Pacific Ocean by tracking marine predators off the North American coast with a series of underwater listening stations.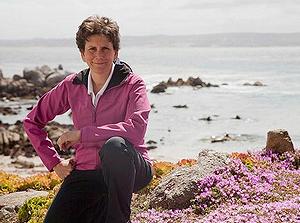 Barbara Block (Photo courtesy Rolex Awards)
Block pioneered the use of electronic tags, including implantable archival tags, which are surgically implanted in tunas, and pop-up satellite archival tags, which automatically detach from animals and transmit collected data via satellite.
Block launched the Tagging of Pacific Predators, TOPP, program 12 years ago. She has deployed more than 4,600 electronic tags and collected nearly 300,000 days of animal tracking data. The data reveal previously unknown marine hotspots, migratory highways and details of ocean physics.
One of TOPP's most remarkable findings was that large predators from areas as diverse as the waters off New Zealand, Indonesia and Alaska congregate in the California Current, which flows along North America's west coast from Canada to Baja. Although they may make journeys of thousands of miles into the Pacific basin, they return to the California Current year after year.
Block has labeled this pristine environment "a blue Serengeti."
"It's bursting with predators," she says, "and it's right in our own backyard."
Block considers public outreach a fundamental part of her work, and is committed to providing science-based advocacy for sustainable fisheries at national and international policy levels and in the media.
Block led the Tag A Giant Campaign an effort to place more than 1,000 electronic tags in giant Atlantic bluefin tuna so that the plight of this exploited fish could be recognized.
Her ultimate goal in the Pacific is the creation of a large, marine UNESCO World Heritage site off the California coast to protect the open ocean wilderness the TOPP research team has discovered.
With the Rolex Award, Block and the TOPP team intend to protect and monitor these areas by building acoustic observatories of predator hotspots that she calls "predator cafes."
Erika Cuellar is training indigenous people in Bolivia, Paraguay and Argentina to conserve the biodiversity of the Gran Chaco, a tropical dry forest with one of the most diverse ecosystems in South America.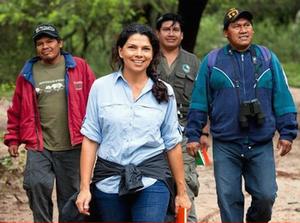 Erika Cuellar (Photo courtesy Rolex Awards)
Known for pioneering a participatory approach to conservation, Cuellar started a program in 2007 that provides indigenous peoples with the scientific knowledge and conservation training needed to preserve their rich and fragile ecosystem. She has been working to empower the indigenous Guarani people, who live on the boundaries of the largest of Bolivia's national parks, the Kaa-Iya del Gran Chaco.
With their help, Cuellar has helped restore the Gran Chaco's population of the guanaco, a rare camelid species brought back from the brink of extinction.
Known locally as "the biologist of the guanacos," Cuellar is one of Bolivia's recognized experts in wildlife conservation. Having completed two postgraduate degrees in the United Kingdom, at the Durrell Institute of Conservation and Ecology and Oxford University, she returned to Bolivia to ensure the sustainability of the natural legacy of her Guarani forebears.
The Kaa-Iya del Gran Chaco, the largest protected tropical dry forest in the world, has South America's hottest, driest weather. The park contains 70 species of large mammals, including jaguars, pumas and giant armadillos.
The Gran Chaco is inhabited by indigenous tribes, nomadic hunters, gatherers, fishing communities, farmers and cattle ranchers. The forests and scrublands are populated by 3,400 plant species, 500 bird and 150 mammal species, many unique to the region.
But for more than a century, the Gran Chaco's natural wealth has been eroded. Habitats have been disrupted by a military zone resulting from a longstanding boundary dispute between Bolivia and Paraguay. Construction of a gas pipeline from Bolivia to Brazil, extensive cattle ranching and agricultural encroachment, as well as exploitation of groundwater for irrigation have taken a toll on the Gran Chaco's wildlife.
The guanaco, the wild ancestor of domesticated llamas, has been a casualty of these human activities. An estimated 500,000 of these cinnamon-coloured animals roam the vast plains of the Patagonian steppe but few persist in the Gran Chaco. Only three isolated and remnant populations remain in Bolivia, Paraguay and Argentina, each numbering fewer than 200 individuals.
In 2007, to help protect the guanaco and its habitat, Cuellar devised a course to train members of three ethnic groups native to the Gran Chaco – the Guarani, Ayoreode and Chiquitano – as parabiologists.
In conservation, parabiology is accepted as a powerful and sustainable approach, since local people learn scientific methods and ultimately gain the skills required to lead and maintain environmental protection. Indigenous parabiologists can be influential in conveying the value of conservation to indigenous communities, and Cuellar's work has received national and international attention.
She has founded two Bolivian nonprofit organizations focused on conservation and is coordinator of the Bolivian Committee for the Species Survival Commission of the International Union for Conservation of Nature.
Encouraged by her successes in the national park, Cuellar will use her Rolex Award to extend her work to the wider Gran Chaco region, which spans parts of Bolivia, Brazil, Paraguay and Argentina.
The two other 2012 Rolex Award winners are honored for work that is not primarily environmental.
Mark Kendall of Australia is a bio-engineer who is developing a Nanopatch to replace needles in vaccination. The technology has the potential to save millions of lives by making the process painless, safer, cheaper and more effective.
Aggrey Otieno of Kenya is working to save the lives of hundreds of mothers and babies in a Nairobi slum each year by providing them with a lifeline to obstetric medical care through a telemedicine center.
Rolex will open applications for the next round of the Rolex Awards for Enterprise on June 30, 2012. The 2014 Awards will be devoted to young candidates aged between 18 and 30 years. The first set of Awards devoted to Young Laureates took place in 2009 with the idea of supporting visionary young men and women at a critical juncture in their careers.
Applicants are asked to submit projects that tackle the world's most pressing issues in five areas: science and health, applied technology, exploration, the environment, and cultural preservation.
Rolex says, "Candidates must demonstrate originality, feasibility, potential for sustained impact and, above all, their own spirit of enterprise."
Copyright Environment News Service (ENS) 2012. All rights reserved.
Environment News Service (ENS) © 2012 All Rights Reserved.