Europeans Fund South African Dam for Urban Water Supply
ROSETTA, KwaZulu-Natal, South Africa, May 17, 2011 (ENS) – The Development Bank of Southern Africa and three European development finance partners Monday signed agreements to finance the Mooi-Mgeni water supply project that will provide clean drinking water to more than six million people in South Africa's KwaZulu-Natal province.
The 225 million euro project includes construction of the Spring Grove Dam on the Mooi River at Rosetta in the KwaZulu-Natal Midlands and a conveyance system to transfer water to the Mgeni River catchment.
The project will provide water to the Mgeni system that supplies water to 6.3 million people living in the municipalities of Ethekwini (Durban), uMgungundlovu (Pietermaritzburg) and uMsunduzi in KwaZulu-Natal, a province on South Africa's east coast.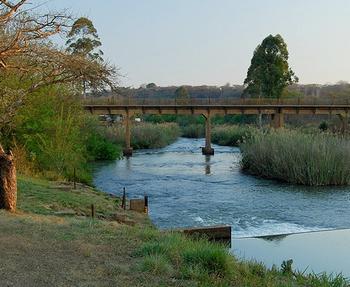 Mgeni River in KwaZulu-Natal (Photo by Ossewa)
The agreements were signed at an event in Rosetta to mark the start of construction for the project.
The European Investment Bank, the French Agency for Development and KfW Entwicklungsbank, the German Development Bank, signed contracts to provide loan funding totalling 195 million euros (ZAR 1.8 billion), to the project manager Trans-Caledon Tunnel Authority. The Authority is a state-owned entity specialized in water management and responsible for bulk raw water implementation in South Africa.
Water access and supply is one of the priorities of the South African government.
South Africa's Minister of Water and Environmental Affairs Edna Molewa and KwaZulu-Natal Premier Dr. Zweli Mkhize were on hand for the signing ceremony in Rosetta.
Molewa said construction work on the Spring Grove Dam and its water transfer system is expected to begin next year, with the completion date set for 2014.
"This is a multi-year project which will have a long term impact on South Africa's economic development and it will contribute a great deal to our new economic growth path imperatives," Molewa said.
KwaZulu-Natal is among the provinces that have been affected by a shortage of water, with officials saying the situation is likely to deteriorate in the future.
In February, experts told delegates at the inaugural South African Water and Energy forum conference in Johannesburg that South Africa faces a water crisis and could start having critical shortages as early as 2020.
Molewa said her department will be using events such as the National Water Week to remind South Africans of the importance of saving water. "South Africa remains a water scarce country therefore all water sources need to be protected," she said.
Work at the site began today with a sod-turning ceremony. Once constructed, the project is expected to improve the security of supply of water in the region, provide an extra 60 million cubic meters each year and address water delivery backlogs.
Plutarchos Sakellaris, European Investment Bank Vice President for Africa said, "Availability of clean water is crucial for life and contributing to improved water supply in South Africa is a priority for the European Investment Bank. We are pleased to contribute to more effective financial support for this flagship initiative as lead financier under the Mutual Reliance Initiative."
Dov Zerah, General Manager of the French Agency for Development underlined "the key importance of securing access to water to guarantee a sustainable urban development in South Africa."
"The project makes a significant contribution to the improvement of the environmental protection in the greater area of Durban and supports the economic development of the region," said Dr. Norbert Kloppenburg, member of the Executive Board of the German Development Bank.
"Our financial commitment in this project is in line with our mandate of assisting government in the expansion and rehabilitation of infrastructure which is one of the priority sectors. This contribution will go a long way in ensuring that millions of South Africans have access to clean water," said T.P. Nchocho, Development Bank of Southern Africa Group Executive.
The Mooi Mgeni water project is the first time that the three institutions have streamlined financial cooperation in South Africa, under their Mutual Reliance Initiative intended to enhance the efficiency of large scale development finance projects.
The three European institutions also signed a Common Project Terms Agreement that outlines their respective roles and common engagement. All public development finance institutions, they implement the European Union's, French government's and German government's respective development policies.
Copyright Environment News Service (ENS) 2011. All rights reserved.