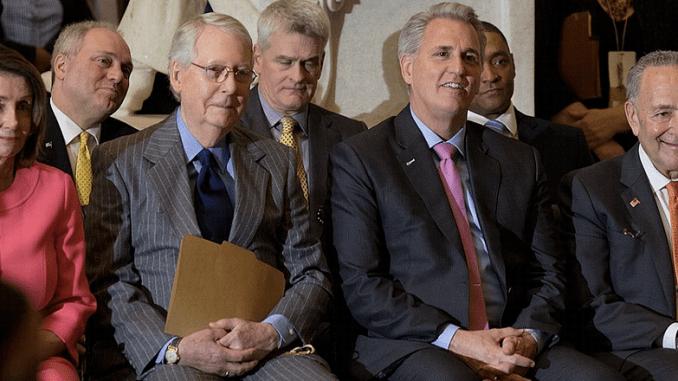 WASHINGTON, DC, March 12, 2022 (ENS) – In a bipartisan vote of 68-31, the U.S. Senate has passed an appropriations bill that will fund government climate, energy, water and wildfire activities, and provide $13.6 billion in new aid for Ukraine, sending the $1.5 trillion bill to President Joe Biden's desk for signature.
President Biden on Friday signed a separate bill to fund federal government operations just through March 15, averting a government shutdown before a March 11 midnight deadline, and allowing a few days for the $1.5 trillion Omnibus spending bill to make it to his desk.
President Biden is expected to sign the larger spending bill, now formally known as the Consolidated Appropriations Act, 2022.
Showing that the Senate can move like lightning when it must, it was March 9 – just two days before deadline – when Senate Appropriations Committee Chairman Patrick Leahy, a Vermont Democrat, and Vice Chair Richard Shelby, an Alabama Republican, released the full text of the bipartisan $1.5 trillion fiscal year bill then called the 2022 Omnibus Appropriations Bill.
The House passed the measure on March 9, while the Senate passed it on the night of March 10, both houses by bipartisan majorities.
While the measure funds both defense and non-defense spending, it includes a 6.7 percent increase for non-defense discretionary programs, the largest increase in four years.
Democrats fought for this increase to allow Congress to make new investments in science and research, health care, climate change adaptation and mitigation, and implementation of the bipartisan infrastructure bill, among other priorities.
"This bill makes bold investments in critical areas that went underfunded or even neglected in the previous administration, including education, childcare, healthcare, the environment, science and research, and many more," Senator Leahy said, announcing Democrat agreement with Senate Republicans on the committee.
"The bill includes $13.6 billion in emergency assistance to Ukraine and our NATO allies. It includes $15.6 billion in emergency assistance to continue to combat the COVID pandemic, ensuring we have the vaccines and therapeutics needed combat this virus, including critical aid to fight the virus abroad," Leahy explained.
"It is unquestionably in the interest of the American people that the House and the Senate act quickly to pass this bill and send it to the President," Leahy said. "This agreement is the product of months of hard work and compromise."
For their cooperation, Leahy thanked his Vice Chairman Richard Shelby, an Alabama Republican; Congresswoman Rosa DeLauro, the Connecticut Democrat who chairs the House Appropriations Committee; and the Republican Ranking Member of that committee Congresswoman Kay Granger of Texas.
Senator Shelby said today, "After many months of work, in close cooperation with Chairman Leahy, we have reached an agreement to fund the government for the remainder of the current fiscal year. Throughout this process, I have insisted upon dollar-for-dollar parity for defense and non-defense increases, preservation of long-standing legacy riders, and the exclusion of partisan poison pills. I am pleased that we have achieved all three goals."
"The bill includes a $42 billion increase in defense spending, provides robust funding for border security, and preserves policies that protect life. It also provides critically needed emergency assistance for our allies that are resisting Russian aggression in Ukraine without decreasing base defense funding by a single dollar. … The House and Senate should act quickly and send it to the President."
Lake Protection
Senator Leahy ensured that his home state of Vermont has some of the environmental funding in this bill, particularly for Lake Champlain.
A freshwater glacial body of water, Lake Champlain lies between the Adirondack Mountains of New York and the Green Mountains of Vermont – 125 miles long from the Canadian province of Quebec south to Whitehall, New York.
Polluted rainwater and snowmelt runoff from parking lots, roads and streets, logging roads, farm fields and croplands, and lawns is reaching Lake Champlain from the streams and rivers draining into it.
Phosphorus is one of the nutrient pollutants found in the runoff and is the greatest threat to clean water in Lake Champlain. Too much phosphorus pollution stimulates growth of toxic algal blooms that can turn Lake Champlain water green and poison people and their pets.
Roughly 20 million gallons of water are pumped from the lake every day to supply drinking water to about 145,000 people from the 100 public water supplies that are monitored and regulated by the states and Province of Québec. About 35 of these are community water systems; the rest are motels, trailer parks, restaurants, and other businesses.
The Omnibus bill includes more than $30 million for restoration of this unique lake.
Lake Champlain Basin environmental infrastructure and habitat restoration projects $5.25 million.
Leahy secured $20 million, a $5 million increase, for the Lake Champlain Geographic Program, which is a U.S. Environmental Protection Agency program designed to implement a comprehensive pollution prevention, control and restoration plan for protecting the Lake Champlain Basin.
Climate Change and the Environment
"The climate crisis poses a significant threat to human health and the environment," the bill states. It includes:
• $3.2 billion – a historic level of funding and a 12 percent increase – for Energy Efficiency and Renewable Energy (EERE) to support vehicle technologies, wind power, solar energy, weatherization assistance programs, and renewable grid integration.
• $2.94 billion at the Department of Energy to support research, development, and demonstration of cybersecurity, grid innovation, and carbon-free power sources keeping the United States at the forefront of energy innovation.
• $1.903 billion to the Department of Transportation to mitigate the effects of climate change in our transportation system.
• $1.234 billion for the new Carbon Reduction program to help reduce transportation related greenhouse gas emissions.
• $425 million for the Environmental Protection Agency's clean air programs to tackle the existential threat of climate change and address the continuing burden of harmful air pollution on communities across the country.
• $92 million for diesel emission clean up grants that take high polluting diesel engines off the streets and out of communities.
• $31.97 million for Tribal Climate Resiliency funding through Bureau of Indian Affairs to help Tribal communities address and prepare for the effects of climate change.
• $2.7 billion for State Revolving Loan funds to build climate resilient water infrastructure and address other priority water challenges.
• $1.23 billion for EPA's Superfund program to create jobs and protect the public by cleaning up hazardous waste sites and $46 million for brownfield grants that tackle contaminated properties and power local economic growth.
• $5.877 billion, an 8 percent increase, for the National Oceanic and Atmospheric Administration (NOAA) for, among other things, climate modeling and prediction and helping communities adapt to a change climate. This amount includes a more than $40 million increase for various NOAA climate-related projects and programs, such as $18 million for climate research and $6.25 million for offshore wind permitting and expansion.
• $41.5 million, a 24 percent increase, for the Assistance to Coal Communities Program within the Economic Development Administration at the Department of Commerce to support communities transitioning away from coal-fired power plants.
• $587 million in EPA geographic programs to restore and build the resilience of priority waterbodies across the country through community-led initiatives.
Wildland Fire and Fire Prevention
"Increasingly intense wildfires have destroyed communities across the country," the bill states. Funding in the bill includes:
• $5.7 billion, a 5.5 percent increase, for the Forest Service to radically improve forest restoration and fire risk reduction efforts and to increase year-round staffing to carry out this work.
• $2.45 billion for the Wildfire Suppression Operations Reserve Fund.
Energy and Water Development
The Energy and Water Development fiscal year 2022 appropriations bill totals $54.971 billion in new discretionary budget authority, $3.2 billion more than fiscal year 2021. The bill provides over $10 billion to improve the nation's water infrastructure, which includes funding for the Army Corps of Engineers' Civil Works program at $8.3 billion, an increase of $548 million over fiscal year 2021.
Funding for the Corps will be used to build projects that reduce the risk of storm damage, improve the efficiency of U.S. ports, harbors, and inland waterways, and restore aquatic environments.
The bill also includes $1.924 billion for the Bureau of Reclamation, an increase of $233 million over fiscal year 2021, to assist the Western states in maintaining water supply for Tribes, rural communities, and parts of the country experiencing drought conditions.
U.S. Senator Dianne Feinstein, the California Democrat who chairs the Energy and Water Development Appropriations Subcommittee, said, "I'm pleased that the omnibus federal spending bill the Senate will soon consider includes significant investments to modernize our water infrastructure and boost funding for clean energy."
"The bill includes more than $10 billion for the Corps of Engineers and Bureau of Reclamation to complete water infrastructure projects, many of which will help California better respond to severe drought," Senator Feinstein said.
"The bill also includes more than $45 billion for Energy Department programs to fight climate change, expand renewable energy programs, conduct research at national laboratories and universities, improve cybersecurity capabilities and continue nuclear nonproliferation efforts," she explained.
The bill provides $1.924 billion for the Department of Interior, which is $233 million over fiscal year 2021. This amount includes $23 million for the Central Utah Project, which moves water from the Colorado River basin in eastern Utah to the western slopes of the Wasatch Mountain range where population and industrial development are rapidly growing.
Funding for the Bureau of Reclamation of $1.747 billion includes $155 million to advance Western long-term drought strategies, such as water storage, water recycling and reuse, and desalination.
Department of Energy funding provides a historic level of $3.2 billion for the Department of Energy's Energy Efficiency and Renewable Energy division, EERE, a $339 million increase over fiscal year 2021 levels.
These increased funds will support EERE efforts to decarbonize vehicles, hydrogen research and development, marine, wind, and solar energy, and weatherization assistance programs, and renewable grid integration.
"These programs are foundational to facilitating our nation's ongoing transition to a clean energy economy," the bill states.
Energy Sector Cybersecurity
The agreement provides $185.8 million for Cybersecurity, Energy Security, and Emergency Response (CESER), $29 million over 2021 levels. The increased funding will ensure continued success of the Department's programs aimed at strengthening the security and resilience of the U.S. energy sector. Further, the CESER funding will expand the Department's ability to coordinate and respond to threats facing the energy sector by leveraging the private sector, industry, and National Labs.
Nuclear Energy
The agreement provides $1.654 billion for nuclear energy research and development, $147 million over fiscal year 2021 levels. The funding continues to fund two advanced reactor demonstration projects approved in the last month of the Trump administration as well as small modular reactors. The agreement would also support a high-assay low-enriched uranium, HALEU, program for advanced reactor fuel development.
Fossil Energy and Carbon Management
The agreement provides $825 million for Fossil Energy and Carbon Management, an increase of $75 million over fiscal year 2021 levels. The increase in funding is focused on negative emission technologies like direct air capture and industrial carbon capture. Funding will expand research on how to turn captured carbon dioxide into usable products.
Defense Environmental Cleanup
The agreement provides $6.7 billion for Defense Environmental Cleanup activities, an increase of $284 million over fiscal year 2021 levels. Weapons research and development production dating as far back as World War II has left behind millions of gallons of hazardous waste. The bill provides increases across defense cleanup sites in: Washington, Idaho, California, Nevada, New Mexico, Tennessee, and South Carolina.
Nuclear Weapons
The Omnibus Bill goes in two directions simultaneously on nuclear weaponry – nonproliferation and armaments.
The bill provides $2.354 billion for nonproliferation activities, an increase of $94 million over fiscal year 2021. The bill funds efforts to secure radiological materials in the U.S. and abroad, to conduct research and development activities on nuclear proliferation and detonation detection, and installation of radiological detection equipment at border crossing and seaports around the world.
The bill provides $15.92 billion for nuclear weapons activities, an increase of $575 million over fiscal year 2021 levels and nearly seven times the amount set aside for nonproliferation.
The bill fully funds life extension programs for the B61, W88, and W80-4 warheads. Increases are also included to address deferred maintenance among NNSA's facilities and improve its ability to modernize the nuclear stockpile.
Naval Reactors
The bill funds Naval Reactors at nearly $2 billion, a $234 million increase over fiscal year 2021. The agreement includes funds for operations and infrastructure activities at facilities in Idaho, which provides for storage of spent fuel from U.S. Naval reactors; New York and Pennsylvania. The U.S. Navy currently operates 95 total nuclear power plants including 71 submarines, 10 aircraft carriers, and four prototype plants.
To view the full text of the Consolidated Appropriations Act, 2022 as well as section by section details, click here.
Featured image: From left: House Majority Leader Nancy Pelosi, a California Democrat; Senate Minority Leader Mitch McConnell, a Kentucky Republican; House Minority Leader Kevin McCarthy, a California Republican; and Senate Majority Leader Chuck Schumer, a New York Democrat. January 16, 2020 (Photo courtesy Senate Democrats via Wikipedia)