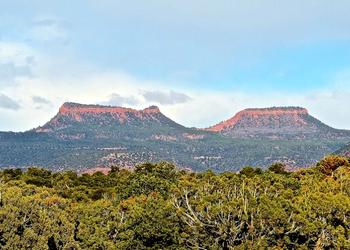 WASHINGTON, DC, June 13, 2017 (ENS) – The 1.3 million-acre Bears Ears National Monument designated by President Barack Obama last December in Utah should be "right-sized," Secretary of the Interior Ryan Zinke has recommended to President Donald Trump.
Bears Ears National Monument in southeastern Utah protects one of most significant cultural landscapes in the United States, with thousands of archaeological sites, ancient rock art and cliff dwellings, as well as ceremonial kivas surrounded by  sandstone canyons, desert mesas, forested highlands and the monument's namesake twin buttes. These lands are sacred to many Native American tribes.
The recommendation responds to Trump's executive order in April directing Zinke to "conduct a review of all Presidential designations or expansions of designations under the Antiquities Act made since January 1, 1996, where the designation covers more than 100,000 acres…"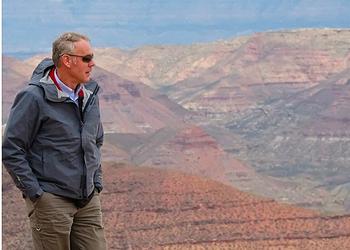 The designations should reflect the Act's "requirements and original objectives" and "appropriately balance the protection of landmarks, structures, and objects against the appropriate use of Federal lands and the effects on surrounding lands and communities," the executive order states.
It affects at least 24 monuments established under Presidents Bill Clinton, George W. Bush, and Barack Obama.
"Today, we are putting the states back in charge," Trump said in April at his signing ceremony at the Interior Department. He said that his order would "end another egregious abuse of federal power, and … give that power back to the states and to the people, where it belongs."
The Antiquities Act of 1906 was signed into law by President Theodore Roosevelt, who created 18 national monuments totaling over a million acres, including the Grand Canyon. According to the National Park Service, 15 other presidents, both Democrats and Republicans, have designated a total of 170 national monuments on land and at sea.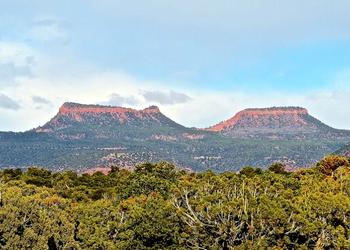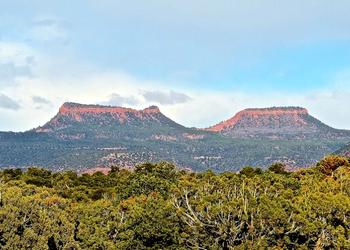 Never has a designated national monument been revoked or diminished, but that is what Secretary Zinke is advising President Trump to do. He is responding to Republicans in Utah who argue that the Bears Ears national monument will harm the state's economy, although others maintain that protected lands attract visitors to the state.
The Antiquities Act does not give a president the authority to revoke national monument designations, but a president can change the boundaries of a national monument.
That is what Zinke is recommending. Submitted to the president June 10, Zinke wrote, "There is no doubt that it is drop-dead gorgeous country and that it merits some degree of protection, but designating a monument that – including state land- encompasses almost 1.5 million-acres where multiple-use management is hindered or prohibited is not the best use of the land and is not in accordance with the intention of the Antiquities Act."
Zinke wrote, "I've submitted my 45-day interim report to President Trump expressing my belief that the monument needs to be right-sized and that it is absolutely critical that an appropriate part be co-managed by the Tribal nations. I also recommend that Congress take action to protect some areas."
Utah's long-serving U.S. Senator Orrin Hatch, a Republican and one of the most anti-public-lands members of Congress, applauded Zinke's Bears Ears recommendation, saying it was arrived at following a "thoughtful and inclusive review process."
Utah's junior U.S. Senator Mike Lee, a Republican, also supports the recommendation, saying "The report confirms that President Obama abused the Antiquities Act by not limiting his monument designation to the smallest area compatible with the proper care and management of cultural artifacts and areas of importance."
But U.S. Senator Tom Udall of neighboring New Mexico, a Democrat who serves on the Senate Indian Affairs Committee and on the Senate Appropriations subcommittee that oversees funding for the Interior Department, called Zinke's recommendation "deeply disrespectful and insulting" to the Native American Tribes who urged protection for the culturally significant region.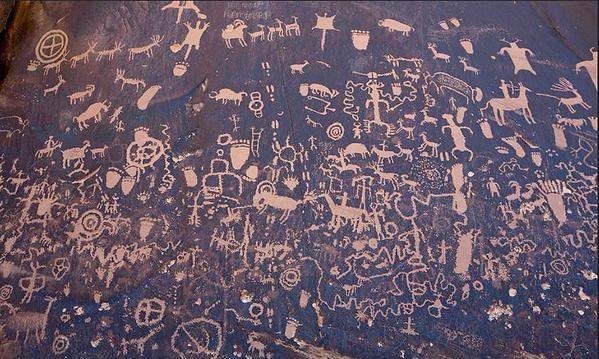 Udall predicted that if the administration acts on Zinke's recommendation and attempts to alter the size of the monument, the decision will be challenged in court.
"I do not believe that President Trump has the legal authority to rescind or shrink a monument," Udall said. "And if President Trump asks Congress to put this region at risk by reducing the amount of protection, I will fight him every step of the way."
"On the campaign trail, the president pledged to carry on the conservationist legacy of Teddy Roosevelt. But this review violates that legacy. It is a political move that will waste limited resources, hurt business and jobs, and unnecessarily add uncertainty for the community," said Udall. "And it's part of a larger effort by the Trump administration to privatize public lands and help big polluters. Our communities – and the next generation – will pay the price. I won't stand by and let the Trump administration try to open the door to selling our public lands off to the highest bidder."
Environmental groups are urging their members and the general public to make use of an unprecedented public comment period that extends through July 10.
Prior to his four-day trip to Utah in early May, Zinke opened the first-ever formal public comment period for monuments designated under the Antiquities Act.
Due to the 120-day final review period for Bears Ears National Monument, the formal public comment period for Bears Ears will be extended through July 10th and will close with the overall comment period. Comments may be submitted on regulations.gov or by postal mail.
"Local input is absolutely critical when it comes to federal land management decisions and as such, I'm extending the public comment period for Bears Ears. I want every advocate to have their voice heard," said Zinke.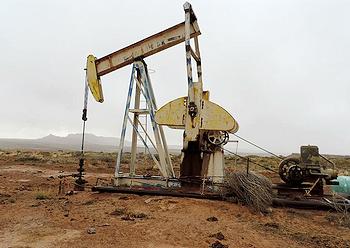 But supporters of Bears Ears National Monument believe Zinke needs a hearing aid to listen to public comments. More than 685,000 messages of support for protecting the monument were submitted in the 15 days allowed for public comment.
Environmentalists complain that the regulations.gov website displays each bundle of comments submitted from concerned groups as a single comment, significantly understating the number received.
"Trump and Zinke need to listen to the American people for once instead of corporate polluters. The people have made it crystal clear that they stand with Bears Ears and in solidarity with the Bears Ears Inter-tribal Coalition," said Kierán Suckling, executive director of the nonprofit Center for Biological Diversity, based in Arizona. "They won't stand by while Trump and anti-public lands zealots plunder and pillage the country's most stunning landscapes and cultural treasures for profits."
"Trump's order to 'review' national monuments is a sham. A president doesn't have the authority to change or rescind national monuments," Suckling said. "The designation of Bears Ears followed years of advocacy by tribes to protect their ancestral lands and sacred sites. The public wants this magnificent landscape and the natural wonders within to be protected for future generations."
Copyright Environment News Service (ENS) 2017. All rights reserved.
Environment News Service (ENS) © 2017 All Rights Reserved.