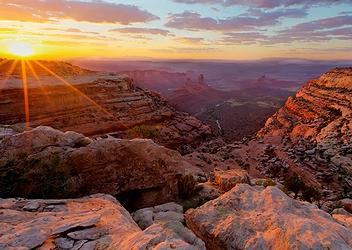 WASHINGTON, DC, August 24, 2017 (ENS) – Interior Secretary Ryan Zinke recommended to the White House today that none of 27 national monuments under review by the Trump administration be eliminated, but he says land should be removed from some of them.
The secretary is recommending changes to a "handful," of monuments he told the Associated Press on Wednesday. The list of monuments Zinke wants reduced in size has not yet been released.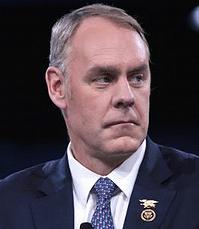 During the public comment period of Zinke's review, 2.8 million comments submitted; 99 percent were in support of maintaining or expanding the existing national monuments
The monuments, designated under the Antiquities Act of 1906 by four presidents over the last 20 years, would remain public lands owned by the people of the United States, and none would be changed to new ownership, the secretary said. Public access for hunting, fishing or grazing would be maintained or restored.
Zinke declined to tell the AP whether parts of the monuments would be opened to oil and gas drilling, mining, logging and other resource extraction industries for which President Donald Trump has advocated.
The secretary also mentioned protecting tribal interests and historical land grants, citing monuments in New Mexico, where Hispanic ranchers have opposed two monuments proclaimed by President Barack Obama – Organ Mountains-Desert Peaks National Monument and the Rio Grande del Norte National Monument.
Maite Arce, president and CEO of the Hispanic Access Foundation, said in response, "Sec. Zinke's recommendations that national monuments should be reduced in size is in direct contrast to why these monuments were established in the first place. Hundreds of thousands of local residents spent years uniting as a diverse coalition of supporters and worked together to encourage presidents to take action."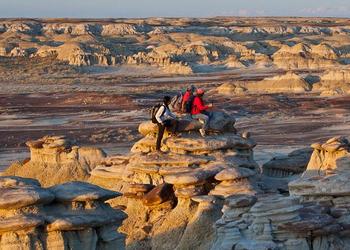 Arce said the recommendation to shrink some national monuments, "…fails to embrace the will of those closest to these sites. For example, the Latino communities in the California desert make up nearly 50 percent of the desert population and they were adamant supporters of the Mojave Trails, Sand to Snow, and Castle Mountains national monuments and actively worked to preserve these places through community trips, participating in public meetings, and jointly asking President Obama to protect these public lands for present and future generations. The same could be said for San Gabriel Mountains, Organ Mountains-Desert Peaks, and so on."
"These monuments were established to represent and celebrate amazing natural and historic resources, including unique wildlife, Native American sacred sites, unsurpassed scenery and geologic wonders, and many diverse recreation opportunities. We need to be good stewards to protect these special places and our cherished outdoor heritage," Arce said.
In a summary of his review process released today, Zinke acknowledged support for monuments as they are now, saying, "Comments received were overwhelmingly in favor of maintaining existing monuments and demonstrated a well orchestrated
national campaign organized by multiple organizations."
"Opponents of monuments primarily supported rescinding or modifying the existing monuments to protect traditional multiple use, and those most concerned were often local residents associated with industries such as grazing, timber production, mining, hunting and fishing, and motorized recreation," Zinke said.
"Opponents point to other cases where monument designation has resulted in reduced public access, road closures, hunting and fishing restrictions, multiple and confusing management plans, reduced grazing allotments and timber production, and pressure applied to private land owners encompassed by or adjacent to a monument to sell," said the secretary.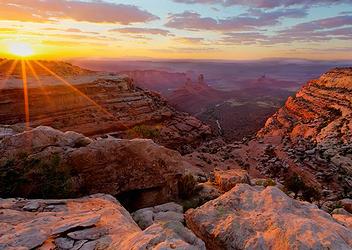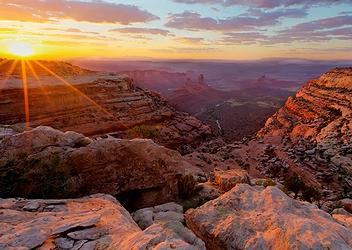 The review found that each monument was unique in terms of the objects used for justification, proclamation language, history, management plans, economic impact, and local support, Zinke remarked in his summary.
He said that, "Adherence to the [Antiquities] Act's definition of an 'object' and 'smallest area compatible' clause on some monuments were either arbitrary or likely politically motivated or boundaries could not be supported by science or reasons of practical resource management."
Still, said Zinke, "Despite the apparent lack of adherence to the purpose of the Act, some monuments reflect a long public debate process and are largely settled and strongly supported by the local community."
"Other monuments remain controversial and contain significant private property within the identified external boundary or overlap with other Federal land designations such as national forests, Wilderness Study Areas, and lands specifically set aside by Congress for timber production," he said.
Environmental groups reacted with outrage to the suggestion that some of the monuments might be altered by the Trump administration.
"Zinke's sham review was rigged from the beginning to open up more public lands to fossil fuel, mining and timber industries," said Randi Spivak, public lands director at the Center for Biological Diversity. "He and Trump will not be allowed to rob Americans of their public lands. They're asking for a court battle, and they'll get one."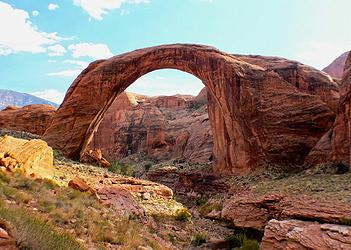 "This review has been troublesome right from the start, politically motivated and clearly in support of an anti-public lands agenda," said Trust for Public Lands in a statement. "From day one, there have been no clearly stated criteria for the proposed reductions, making the whole exercise seem arbitrary and capricious. Now, the list of national monuments affected is being strongly guarded by The Administration."
From Whitefish, Montana, Chris Saeger, executive director of the Western Values Project, said, "Secretary Zinke is selling out Montana values and putting at risk the economies of Western communities solely to appease a few special interests. From the beginning, this review has been a sham that was designed to reward the political allies that backed Secretary Zinke for this post so they could exploit lands that belong to all Americans."
While it's not surprising that Secretary Zinke was willing to let lobbyists in Washington D.C. decide the fate of Western public lands, we remain confident that the administration has no legal path to implement this unprecedented attempt at executive overreach," said Saeger.
Western Values Project is continuing a six-figure television and digital ad campaign targeting Zinke in his home state of Montana. A poll conducted in Montana last month found that Secretary Zinke's popularity falls drastically after residents learn about his plans to hand over public lands to the special interests that have bankrolled his political career.
Dr. M. Sanjayan, CEO of Conservation International, one of the largest U.S. environmental groups, urged President Trump to maintain the monuments as they are, saying, "Conservation and careful management of our world's precious natural resources is critical to long-term growth and prosperity. President Trump ought to reject any recommendation to reduce conservation areas held in trust for the American people. The United States has long led the world in conservation. Any recommendation to reduce protections is unworthy of that proud legacy."
Zinke said in a statement today,"No President should use the authority under the Antiquities Act to restrict public access, prevent hunting and fishing, burden private land, or eliminate traditional land uses, unless such action is needed to protect the object.The recommendations I sent to the president on national monuments will maintain federal ownership of all federal land and protect the land under federal environmental regulations, and also provide a much needed change for the local communities who border and rely on these lands for hunting and fishing, economic development, traditional uses, and recreation."
Copyright Environment News Service (ENS) 2017. All rights reserved.